The editorial staff members of New Times are used to answering questions about the paper from curious readers, but Nov. 2 was one of the first times they needed the help of a Russian translator to do it.
That morning, the paper's publishers, editors, and reporters hosted a delegation of journalists from Russia who'd been traveling around SLO County for the past week, meeting with elected officials, university professors, and local newspapers as part of a leadership exchange program sponsored by the U.S. House of Representatives.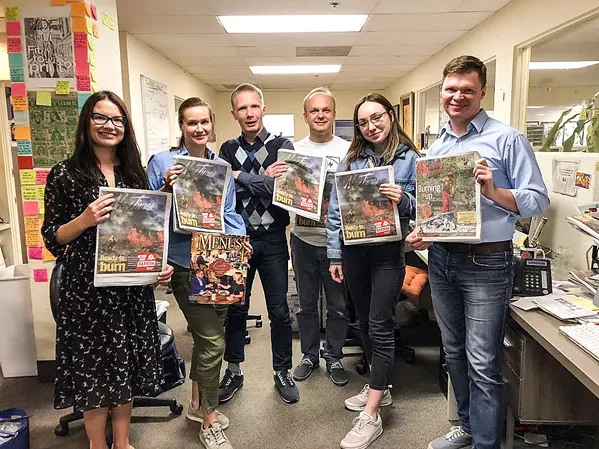 Photo By Alex Zuniga
VISITORS A group of Russian journalists stopped by the New Times office as part of a weeklong visit to SLO County.
"This is called citizen diplomacy," said Bob Fonarow, the Paso Robles Rotarian who hosted the group during its stay in SLO County.
Members of the delegation included Yevgeniya Potekhina, Yelena Burdovskaya, Nataliya Poplavskaya, Yevgeniy Belyanchikov, and Konstantin Alekseyev. They were joined by facilitator Pavel Bodrykh and translator Alexander Krainiy.
The hour-long discussion between the two groups covered a range of topics, including freedom of the press, editorial independence, and the impact of the internet and social media on the journalism industry.
"What I thought was interesting was that many of the questions they asked were some of the same questions we get from the population at large here in San Luis Obsipo," said New Times Editor Camillia Lanham.
Joe Payne, managing editor of New Times' sister paper, the Sun in Santa Maria, said he was also struck by how many topics of the conversation mirrored discussions and debates going on within the U.S media.
"Many of the concerns that they had about changes in the industry are exactly what we talk about here in our newsroom and what the overall American print media culture in this country is discussing," he said. "At the end of the day these folks are just trying to get papers out, update their websites, and inform and engage their readers."
The delegation's visit was sponsored by the Open World Leadership Program, a congressionally operated exchange program that brings emerging leaders from Eurasian countries to the U.S. to meet and engage with government officials and other professionals.
"The Open World Leadership Center administers the first and only international exchange agency in the U.S. legislative branch that is completely controlled by Congress," the organization's website states.
"The founders of Open World were united in the belief that widespread, direct contact between American leaders and those of other nations would greatly benefit all involved."
The delegation visited Washington, D.C., before traveling to SLO County. In addition to their visit to New Times, the delegation met with the Paso Robles Daily News and professors and students from Cal Poly's journalism department. The group also met local politicians, including Paso Robles Mayor Steve Martin and SLO County 1st District Supervisor John Peschong.
Fast facts
• Hitachi Zosen Inova USA LLC will host an opening ceremony for its Kompogas SLO Anaerobic Digestion Facility at 4300 Old Santa Fe Road in SLO on Nov. 15. The facility will process up to 36,500 tons of collected yard and food waste annually, converting it into renewable energy. The ceremony will take place at 11 a.m. and include speeches from company representatives and local elected officials.
• The County of San Luis Obispo Public Library is launching an online tutoring service for all ages and levels. The e-learning program, called Brainfuse HelpNow offers personalized homework help in core subjects including math, reading, writing, science, and social studies, and even SAT preparation. The program is available to all patrons on the library computers Monday through Friday, as well as Saturday and Sunday. All you need is a library card. Δ
Chris McGuinness wrote this week's Strokes and Plugs. Send tips to strokes@newtimesslo.com.