Near Port San Luis and the entrance to the Diablo Canyon nuclear power plant, where an RV camping spot without water, sewer, or electric hook-ups is only $25 per night, the weeds don't have much time to grow through the packed dirt between the time one camper rolls away from the oceanside parking and another takes its place.

In the summer and on the weekends, the RVs form a solid line of aluminum paneling and rubber just off the road between Cal Poly's pier and Port San Luis. It's a little dusty, and there's little private space between the campers, but inside, these coaches contain all the modern American conveniences: generator-powered microwave ovens, climate control, and satellite TVs.

An elderly couple with a 40-foot camper said it cost them about $400 to fill their gas tank, an expense they said was so painful, they never let the needle drop below half a tank. A full tank, they said, would take them 800 miles.

Even these days, with gas prices high and the economy at a low, it turns out a lot of people don't mind paying $2 per mile to travel with the perfect comfort and familiarity an RV offers. Almost across the board, when New Times talked to RV campers on a recent weekday, the appeal of traveling by personal bus was described in similar terms: An RV offers the comfort of a hotel, they said, but with a view they could never otherwise afford.

Each year they come in droves to the shores of SLO County, to the local lakes and recreation areas. So who are these tourists, living their own mobile versions of the American dream, and where are they coming from? Why are they all traveling with small animals? And what's the secret to getting a good parking spot?

While RVing rivals golf as a the number one sport for people passing time in their post-working lives, it turns out RVs aren't just for retirees driving into the sunset. Many of the campers at the local outdoor destinations didn't fit the mold of Midwestern retirees on permanent vacation, and most of them didn't even have to fill their tanks to get here.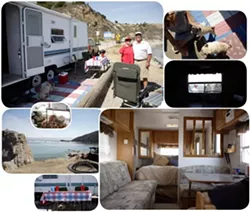 PHOTOS BY STEVE E. MILLER
PRAISE AND PARK:
"I prayed before I came," Mike Brewster proclaimed, standing outside a modest "coach" attached to a truck. "I said 'Give me a good spot, God!'"
Apparently, God delivered. Mike, his wife Janet, and two pugs named Bubba and Baby were parked on some of the best real estate in Avila, just feet from the edge of a bluff that plunged straight into the Pacific Ocean. While day-trippers on the beach below toiled with umbrellas and struggled to keep sand in its place, the Brewsters watched the tides from their perch in comfort.
The Brewsters' approach to parking is less scientific than some, but for the pastor and his wife, at home in a makeshift living room of folding chairs and a barbecue pit, it seemed wholly appropriate. Mike was boisterous, laughing at his own jokes, and pausing to grab the attention of his audience, no matter how small, before describing his various blessings, which included having once landed a free pair of tickets to the US Open golf tournament. That's where the camper came in; God may have provided tickets, but He forgot to throw in a hotel room, which Mike said was going for $400 a night that weekend. So they bought a camper and the Brewsters, who live in Cambria, have been enjoying staycations all over the county ever since.
"We just think the Central Coast is perfect," Janet said. "We didn't want to spend a lot of time traveling to get some place that's just as nice as where we live."
"This area is so good," Mike Brewster continued. "It's so expensive that we can't afford to visit. That's why we have to live here."
PHOTOS BY STEVE E. MILLER
DRIVING INTO THE SUNSET:
Frank and Bobbi Lewis have been driving for 19 years, ever since Frank retired from Los Angeles County, working for the road department.
"We're just doing nothin'," Frank said. "When you work forever, you deserve a little time off."
The pair has been all the way from Fairbanks, Alaska to Cabo San Lucas, Mexico in their RV. They've also been east to west, missing only Georgia and North Carolina of the contiguous states (they were planning to see those also, but took a detour to see a Dolly Parton concert). On this day, they were making their way north to Canada with an impish cat named Daisy who has learned to open the screen door of the coach.
"She loves [traveling]," Bobbi said of Daisy. "She gets underneath the seat when we drive, ever since she was a kitten."
Shy at first, they opened their movable 40-foot palace to a pair of reporters, offering miniature cans of soda and non-alcoholic beer as a hospitable gesture. The pair lives in Covina, California when they're briefly not on the road.
Over the past two decades the group, including Daisy, survived a fire in their motor home. They perfected their fresh-water fishing and their culinary skills with fish, especially trout.
"She fries it," Frank said, "And she's got a knack for it. She cooks it just so you can lift the bones right out and eat the rest."
Bobbi's the better fisherman, too, he said.
PHOTOS BY STEVE E. MILLER
LOOKING FOR THEIR TRIBES:
At these RV spots one learns there are entire clubs, traveling groups whose only bond is the type of trailer they pull, such as Airstreams, the classic American camper that looks like a space pod, which hasn't changed since Sputnik. Ron and Debbie Lawrence have been to these campy camp-outs more than once since they got their motor home four years ago. First they went to the bigger events, where they found most of the other campers were "older, kind of stodgy," but eventually they met their tribe.
"We usually camp with a group of four or five, and we all have Airstreams," Ron said. "We like older and different vehicles."
The Lawrences were on a three-week tour this time, up the coast to Laguna Seca with a pair of hounds and a cat. In a world of square, white boxes with wheels and folding chairs with American flag print, the Lawrences were looking undeniably cool.
Outside their camper, they reclined in chairs set side-by-side, reading novels with a calm disposition that said "We know how to relax." Next door, a huge camper attached to a truck sat temporarily abandoned. A pack of dogs barked, laying in the dirt and shade of the trailer. Their owners, drunk and loud, left for the county fair several hour earlier, but had not returned to give the beasts even a drink of water.
"I don't think there's a typical RVer," Ron said, "I think we thought that before we started, we sort of thought it would be mostly older people, but there's all kinds."
Then, gesturing to the five dogs, he said "There's dumb people that camp too."
PHOTOS BY STEVE E. MILLER
HOME AWAY AT HOME:
A couple of campers down the beach there was a group of moms—three of them, and nine kids between them. Several bikes and toys were strewn around, a lop-eared, yellow dog keeping an eye on it all, and no husbands in sight. Bethany Fisher, Andrea Ffrench (yes, that's the proper spelling) and Kerry Sherer met in an online mommies' group. They were all pregnant at the same time, and now they've got a rambunctious brood ranging in age from 18 months to 10 years old who wander from camper to camper seeking snacks while chatting noisily. It's not clear which kid belongs to whom, or who owns the dog.
Fisher, who lives in Atascadero, is in what she calls the "ghetto mobile," a tan and humble camper that looks to be the same age or older than she is. Outside she's got a stack of homemade "Wahdinger sticks," which may be the best camping invention ever.
"You take a big biscuit," she said, "and pull it over the top and bake it in the fire."
When it's finished baking, there is a cup shaped biscuit on the end of the stick that pulls off.
"I like to fill it with blueberries and ice cream," Fisher said, "They're fun with friends."
Sherer, also from Atascadero, is in a 40-footer, she's "glam-ping." It's the opposite of roughing it; it means Bloody Marys in the morning and breakfast with all the fixings. A kid who looks like he might be hers hangs from a sapling off the side of a small cliff, well above the beach.
"He's had stitches in his head three times," she explained. "I give up."
Fisher said it's her first summer camping with the ghetto mobile, but it doesn't sound like her last.
"It's actually a lot easier than tent camping," she said.
You can say that again.
New Times staff writer Kylie Mendonca can be reached for comment at kmendonca@newtimesslo.com.