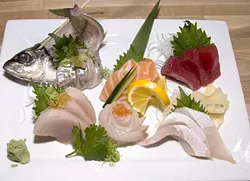 PHOTO BY DAN HARDESTY
CHEF'S CHOICE: The omakase plate, literally meaning "I'll leave it to you," allows the sushi chef to choose the sashimi providing six types of raw fish.
I'm excited to share the news about my favorite new Japanese restaurant that opened early this month in Shell Beach: Kanpai Sushi. This outstanding new eatery offers fine Japanese cuisine with excellent choices of cooked foods for those who don't eat raw. I loved the pork belly which can be ordered traditional style or crispy but prefer the latter modern style that's lightly crisp outside and tender within. The delicate, lace-coated tempura with fresh broccoli, squash, carrot, sweet potato, and onion was addictive ($8 and $9 respectively). But I must admit it's the honest, premium-quality sashimi, and fabulous sakes that will draw me back over and over again.
Most of the sashimi and sushi is quite reasonably priced at Kanpai considering the quality of the fish served. However, we couldn't resist a recent special of Spanish Bluefin tuna that was exotic and delicious but pricey at $32 for a sashimi plate. We loved the Scottish salmon yet can't wait for local wild salmon to come back into season. Although we start out the meal with sashimi, we like to follow it with a California roll with real crab ($10) which was awesome, or a rainbow roll ($13) for its delicious array of five fish toppings.
The atmosphere is friendly and fun thanks to the personable servers who are enthusiastic and always helpful. The site, formerly Pezzulo's Italian Restaurant, has been totally remodeled with large windows up front that brighten the room. The space is simple, clean, and quite comfortable. A private dining space in the back is perfect for larger parties. There are several booths that easily accommodate small families, some open tables, and the sushi bar. We prefer the bar, and it has been great to find that most people sitting at the sushi bar are friendly and chatty, like sitting at the "community table" now featured in many trendy restaurants. Sushi chefs Noda-san, Takashi, and Tony are adept with their knives and creative. It's fun to see the colorful presentations of sushi and rolls they prepare and hand to diners seated at the bar. Nearly everyone on staff is of Japanese descent including two sushi chefs who were born and raised Japan, and all three chefs were professionally trained in Japan. Kanpai's artistic presentations of delicious fish, both raw and cooked, are creative and original.
PHOTO BY DAN HARDESTY
A TASTE OF SCOTLAND: The six-piece Scottish salmon with salmon roe is one of Kanpai Sushi's most popular sashimi orders.
In the hot kitchen, the chef who trained the cooks owns an izakaya (a bar that serves food) in Japan. First time visitors here will be surprised to find the popular local sports talk show host "CJ" Silas seating guests, she's the restaurant manager. The owner, an L.A. based businessman, preferred to stay unnamed but the managers said he plans to relocate here in the near future.
Kanpai serves fish that's honest and pristine which we thoroughly enjoyed whether we ordered daily specials, or the chef's choice of an 18-piece sashimi platter with three pieces each of six types of fish ($37). The menu offers a huge selection of enticing specialty rolls, and main course dinner choices that include rice, miso soup, house salad, shumai dumplings, dynamite, and tempura with your choice of organic chicken, salmon, beef, yakiniku (grilled meat) barbecue, or sashimi as the entrée ($27 to $33 per person).
The word Kanpai is literally used to share a toast among friends and to drink your glass dry. So it's ironic that this is where I discovered how little I knew about the complexities of sake. For instance, I thought that sake served warm meant it was an inferior product, and I wasn't interested. I also, mistakenly, thought that sake was high in alcohol like vodka. I learned it's barely higher in alcohol than fine wine, and that's why so many people can enjoy both sake and beer while dining in a Japanese restaurant. For the record, fine wines are usually 14 to 14.5 percent alcohol, sake is only 15 percent and comes in a 720-ml. bottle rather than the 750-ml. wine bottle. In the cooler northern climates of Japan, locals prefer to drink premium quality sake warm.
When Kanpai's managers invited me to sit in for an educational sake tasting with the staff, I was appreciative. I met Kris Elliott, a certified sake specialist, who works with the fine wine and spirits distributer Young's Market. During his "sake 101" class he explained that only 17.7 percent of the Japanese restaurants in the U.S. are owned by Japanese people. Elliott, who was born and raised in Japan, calls on their West Coast clients to trains the servers about the many varied sakes available, and how to pair them with Japanese dishes.
"We're changing the list to feature premium sake brands you won't find everywhere else like the common sake brands," Elliott explained. "There are 17,000 brands, mostly made in Japan where sake is the national beverage. All of the historic sake producing centers were developed around a celebrated water source." Truly an expert despite his youthful appearance, Elliott started his career working in a small, hands-on sake brewery in northern Japan.
"Sake-making has more in common with beer than it does wine, that's why we call the processing plant a brewery. There are only four ingredients in sake: rice, water, koji, and yeast. Sakamai rice is grown solely for sake production. The grains are 25 percent larger and higher in starch." Elliott noted the center of the rice is concentrated white starch covered with a translucent coat containing fat and proteins. The outer layer is ground off in a hopper, and the more of the outer layer they remove, the more elegant the resulting sake.
"Thirty percent of the rice has to be removed to be considered premium quality sake. If 50 percent of the outer layer is removed the rice expresses itself with more finesse and depth in the sake. Remember this, the rice determines the flavor, the water determines the texture. Soft water produces sake that is soft and melting, which is often described as feminine. Hard water produces sake that is crisp and compact that's described as masculine." There's so much more to this story, like the fact that some of the unique aromatics come from the added koji and yeast used in the fermenting process to make sake.
When dining at Kanpai, ask your server to suggest the perfect sake pairing to make your meal an authentic Japanese dining experience.
Contact Cuisine columnist Kathy Marcks Hardesty at khardesty@newtimesslo.com.