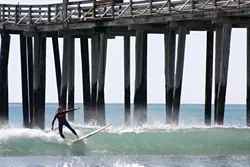 PHOTO BY JEREMIAH SERPA
SURF QUEEN : Miranda Joseph took home the trophy as the all-around winner of the 2009 contest.
Female surfers will converge at the Cayucos pier on Saturday, March 20 to compete in the Third Annual All Girls Contest, hosted by local surf shop Good Clean Fun. An after-party and award ceremony in the shop's warehouse will follow the surfing and feature art and craft booths from the local collective Craftinista with live music by The Ragged Jubilee.
For several years, shop owner Steve Hennigh had arranged annual contests focused on men's surfing and featured a small women's competition. Three years ago, he decided it was time for girls and women to have their own event.

"A lot of times, the guys take themselves too seriously," said Hennigh. "The girls are serious, too, but there's more camaraderie, more fun. A lot of these riders say this is the most fun event they'd ever been in."

One of those riders is Annette Reder. She's been surfing for five years and competes in several other contests. She's ridden in both of the previous All Girls Contests.

"I'm really stoked about this contest," she said. "It's unique in the way everyone's welcome. The whole family comes to hang on the beach. It's always had gorgeous weather, cool chicks, and a lot of fun."

Reder described the difference between this all-female event and other competitions with an anecdote from last year's contest. Everyone shows up a little early to paddle out and warm up before the battle. She was out there, bobbing on the waves with the other competitors, chatting with friends, when they looked around and suddenly fell silent.

"There was this really cool realization that there was no testosterone out there," she said. "No one was wanting to snake waves and put other competitors down. We all wanted to push each other to do better."

Surfers will be judged in several categories including best move, longest ride, and even best effort. There's a mother-daughter pairing, where families wear matching colors and some surfers are as young as six. The winner won't receive money but will earn bragging rights and a fine trophy hand crafted by local glass artist Ted Emerick. For more information call Good Clean Fun at 995-1993.

Fast Facts
Morro Bay will host its first annual Beer Fest and Chili Cook Off on Saturday, March 13 at the Morro Bay Community Center. The event will feature several Central Coast breweries, chili and salsa from more than 40 businesses and individuals, and music by Lenny Blue and the Otter Guys. Thirty dollars will buy 10 beer tasting tickets and a wristband for unlimited chili samples. ...

A serene, creekside skin and body care salon has opened in downtown SLO in the courtyard at 1023 Nipomo Street. A French Touch offers hair and nail services, massages, and custom skin care. Call 785-0340 …

Meet and mingle with like-minded professionals at the Women's Network of San Luis Obispo's annual business expo on Wednesday, March 17 from 11 a.m. to 1 p.m. At least 40 local businesses will attend. This opportunity for education, communication, and relationship building is free for the public. Visit slowomensnetwork.org for more details…

The Community Action Partnership for Adult Day Services is hosting a trivia challenge. There is a registration fee of $25 per player, and all proceeds from the event will benefit the nonprofit, which provides care to older adults suffering from Alzheimer's disease, stroke, Parkinson's disease, and other ailments associated with aging. Clients pay according to their income level. The fundraiser will take place on Saturday, March 20 from 2 to 5 p.m. at the Paso Robles Senior Center located at 270 Scott Street.
Thousand Hills Pet Resort in San Luis Obispo will host a free egghunt Saturday, March 27 from noon to 3 p.m. The event will include a dog and owner treat hunt and an egg hunt for parents and children. Participants will receive a free lunch, courtesy of Spencer's Fresh Market. All proceeds of the nonprofit pet resort support the Alpha Academy, an on-site program that motivates young men to achieve successful, charitable lives. For more information call 596-0112 and visit thousandhillspetresort.com.
Intern Nick Powell compiled Strokes&Plugs this week. Send your nonprofit and business news to strokes@newtimesslo.com.