There is an Avila Beach that isn't depicted much in press releases, but is still remembered vividly by those who lived there "back in the day." In the '70s and '80s, the seaside town wasn't simply a "fun tourist stop" or "great place to retire." Avila was a real place. And like any real place, it was full of idiosyncrasies and characters and teenagers with wild dreams. Of course, there were also lots of suntanned bodies strutting across the sand, too.
This is the Avila Beach that artist Colleen Gnos (and a lot of other people) remembers growing up as a kid. Gnos thought a lot about the old days—both the ones she remembered and the decades that passed before her time—while creating an anticipated series of murals that will soon grace two Avila Beach lifeguard towers
PHOTO COURTESY OF COLLEEN GNOS
SHORELINE STORIES: Avila native and ocean-obsessed artist Colleen Gnos has created a unique public art mural that will soon grace two lifeguard towers in Avila Beach. A community celebration unveiling of the work—the first of its kind on the Central Coast—is in the works.
"There were sandbars and people surfed. The Hells Angels almost took it over in the '60s and my mom remembers being terrified," Gnos said. "As an unincorporated part of the county, it didn't have a mayor and it still doesn't. It really felt like the wild West at the beach."
The art project marks the first public installation to be displayed on two lifeguard towers on the Central Coast and is also one of the first created in the state. The community is invited to join with the Avila Beach Community Foundation and ARTS Obispo for a celebration and unveiling (with date to be determined) at 443 Front St. Partners also include Port San Luis Harbor District and the County of SLO along with sponsors Chevron, PG&E, and the Sara Horne Art Fund.
"The Avila Beach Community Foundation is delighted to bring this public art project to our town," said Rick Cohen, executive director of the Avila Beach Community Foundation. "We hope it will be embraced by those who live in the area, and that some will be inspired enough to help us launch additional projects through monetary support."
With such close ties to the area, Gnos was a natural pick to craft the artwork (she'll talk in depth about that history during the community celebration). The artist's maternal grandparents moved to Avila Beach in the 1930s; her grandfather worked as an abalone diver, donning bulky diving gear to plumb the black depths. The abalone industry may be long gone, but Gnos' mural, which depicts a retro scene of sunbathers, seamen, and bustling pier activity—is an homage to all that came before.
"There has been a significant amount of community engagement, including two community paint-ins at which the community was invited to come help paint the base colors of the murals at Colleen's studio," said press representative for the foundation Paula Dempsey. "This project is super unique in that there are 13 separate mural pieces to each tower, and the process of creating and scaling a mural to fit on the lifeguard towers is in itself a very interesting process."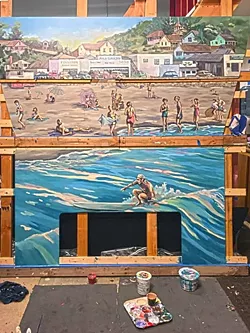 PHOTO COURTESY
OF COLLEEN GNOS
Looking through black and white photographs and reading testimonials by old timers helped fill in any holes in Gnos' memory or imagination.
"There were so many people who made their livelihood from the sea, the ocean," Gnos said. "There's still people carrying on that tradition today, and I wanted to convey that. I think a lot of people come here—after the oil cleanup—and they don't see that history."
It's true. Many visitors fail to see the cluster of fishing boats dotting the blue horizon or the historic sites crammed in among the glossier developments. Hardly anyone will stop to read a plaque or nudge an old guy to ask, "What do you remember?"
These murals aim to spur that conversation.
"Avila, and Front Street, was unchanged from the '30s through the '80s. It was a fun place to be," Gnos reminisced. "My aunt had the surf rider rental stand under the pier, and ran it from the '60s to the '80s. As a teen, I remember riding the old surf boards, the salt water taffy, bumming cigarettes off the bikers at the lighthouse."
The artist—whose watery, ocean-inspired work you'll see hanging at Kelsey See Canyon Vineyards, among other venues across the region—knows her stuff. In fact, she conducted a swath of community interviews before putting brush to paint, asking longtime locals what they remember and what they'd like to see for the town's future.
A surprising look back came from a group of elderly folks, whose candid thoughts and recollections were recorded during a 1993 Avila Beach reunion.
WAVES OF GLORY: A celebration and artist talk on Colleen Gnos' mural installations will be held at a date to be determined. Email PaulaDempsey4@gmail.com for more information. For more information on Gnos' work, go to colleengnos.com.
"Community members asked these old timers what their favorite memories of Avila were and where, and I got to go through all these stories," Gnos said. "Here they were, these 80- and 90-year-old people saying their favorite memories were 'girls, girls girls,' or 'the hot guys on the beach.'"
Like shaved ice on a hot day or the sound of seagulls begging for snacks, some things never change in Avila.
"Back in the '30s the guys were checking out the girls and the girls were showing off for the guys," Gnos said with a laugh. "It really was a salty little town."
Hayley Thomas Cain is ready for a beach day. Contact her at hthomas@newtimesslo.com.
Note: This story has been edited to correct the current status of the project. The original unveiling, scheduled Jan. 14, has been postponed due to rain. JAN. 7, 2017