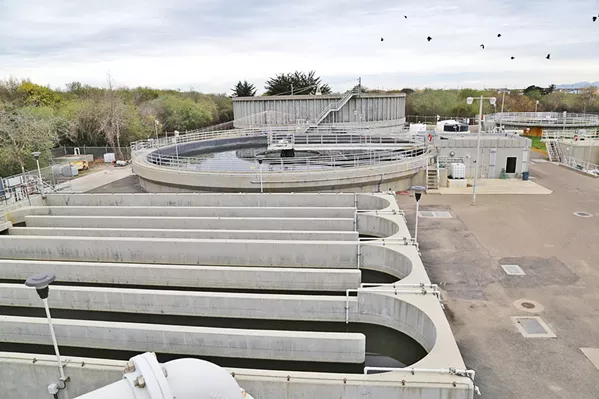 File Photo
CHANGES Wastewater plant Superintendent John Clemons is leaving his post at the South SLO County Sanitation District. He will a receive $150,000 severance payment as part of a separation agreement with the district.
After the resignation of its embattled administrator and the investigation and public censure of one member of its board of directors, the South San Luis Obispo County Sanitation District announced that wastewater plant Superintendent John Clemons would leave his position with the district.
Clemons, who had been placed on paid leave for nearly seven months by former district administrator Gerhardt Hubner, officially resigned from the district Oct. 13, and will receive a $150,000 severance payment as part of a separation agreement with the district.
"I have enjoyed the opportunity to serve with the district's employees, board, and public in the important work of operating the Oceano wastewater treatment plant," Clemons said in a written statement issued by the district.
Despite the conciliatory tone of his comments, Clemons' final months at the district were marked by clashes with Hubner, who left his position with the sanitation district in July.
Clemons was placed on paid administrative leave by Hubner in March. At the time, the district did not specify the reasons behind the decision, but a complaint Clemons filed with the California Department of Fair Employment and Housing (DFEH) indicated that Clemons believed it may have been payback for a complaint he made against his then-boss.
According to the documents, Clemons said he filed an internal complaint of "racial harassment" against Hubner with the sanitation district's human resources office Aug. 17, 2016. In January 2017, Clemons said he received a notice from the district that he was being investigated for allegedly threatening a former sanitation district board member and her friend.
"I believe that this investigation is in retaliation for my internal discrimination complaint," Clemons wrote to the DFEH in March.
According to his separation agreement, Clemons will leave the district in "good standing"; agrees to dismiss his complaint with the DFEH; and releases the district, its officers, and the board members from any future legal claims. The agreement also includes a non-disparagement clause, which states that both he and the district are barred from making "reckless" or false comments about one another.
Clemons' exit comes as his supporter on the district's board was publicly reprimanded for overstepping his authority.
Members of the district's board of directors voted 2-1 to formally censure board member and Arroyo Grande Mayor Jim Hill at an Oct. 4 meeting. Oceano CSD board member Karen White and Grover Beach City Councilwoman Barbara Nicolls, who were both filling in for sanitation board members Linda Austin and John Shoals, voted in favor of the censure, while Hill voted against it.
The board's public reprimand of Hill came after an investigation into his conduct as both a member of the sanitation district board and as Arroyo Grande's mayor. Its findings stated that he shared privileged attorney-client information and documents with unauthorized third parties.
"Serving on an elected board is like being on a sports team," White said prior to the censure vote. "You play by the rules or you get penalized."
The investigation's findings also stated that Hill overstepped his bounds as a sanitation district board member by inserting himself into confidential personnel matters. As evidence, a report on the investigation pointed to emails from Hill to the district's legal counsel in which he appeared to unilaterally call for them to drop the personnel investigation into the complaint against Clemons.
One of Hill's emails was sent Jan. 16, just hours after one of the district's lawyers, Wendy Stockton, sent Clemons the notice that he was under investigation.
"This issue doesn't warrant any investigation," Hill wrote to Stockton.
When Stockton responded that the district had little choice but to pursue the matter, Hill fired back a response calling her assertion "nonsense."
"Stop the harassment of our employee now!" Hill wrote.
In its report, the law firm of Liebert Cassidy Whitmore raised concerns over the exchange, noting that personnel investigations fell under the purview of the district administration, characterizing it as "compelling" evidence of Hill's involvement and interference in personnel matters.
"This series of events, which began at the very end of 2016, objectively appears to have been aimed at stifling and indeed preventing district investigation in response to this complaint," Shelline Bennett, an attorney for the firm, wrote in the report.
At the Oct. 4 meeting, Hill pushed back against the report and its findings, asserting that the investigation was politically motivated.
"I've rebutted the charges completely," Hill said. Δ
Staff Writer Chris McGuinness can be reached at cmcguinness@newtimesslo.com.

Note: The status of the individual allegedly threatened by John Clemons was updated to reflect that they were a "former" sanitation district board member.