It's a sad day indeed when a grown man can list "elf" on his professional résumé.
But when the elf in question is legendarily hilarious and sarcastic essayist David Sedaris, all moments big and small from the elf interview process to Christmas Eve are up for the audience's viewing pleasure.
PHOTO COURTESEY OF JAMIE FOSTER PHOTOGRAPHY
ALL ELFED UP: David Sedaris (Kevin Harris) quickly realizes he's in over his head when he takes on a seasonal gig as an elf at Macy's.
Based on a story from Sedaris' book, Holidays on Ice, comes the one-man play The Santaland Diaries (adapted by Joe Montello), starring San Luis Obispo Little Theatre's own Kevin Harris and directed by Suzy Newman. The play tells the all too true story of an unemployed and desperate Sedaris, who comes across an ad looking for elves for Santa's Village at Macy's in New York City.
The Santaland Diaries is part of the theatre's After Hours series, so leave the kiddos at home since the show starts past their bedtime and contains some not so nice behavior. But grown-up good girls and boys can show up a bit early to grab a treat (beer or wine) that they can enjoy throughout the show.
Using a repurposed set from the evening's earlier showing of A Christmas Story, this one-man show features a comfy throne for Santa surrounded by presents.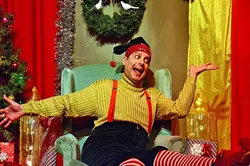 PHOTO COURTESEY OF JAMIE FOSTER PHOTOGRAPHY
SANTA OR SATAN?: When one customer tells Sedaris, "I'm going to have you fired!" he wants to throw back, "I'm going to have you killed!"
In spite of the fact that the show's cast is only Harris, he does a magnificent job at keeping the audience's attention, embodying Sedaris' personality, and dejectedly stripping down from his street clothes into his jolly but hated elf uniform, complete with green knickers and a chipper Santa hat.
The Santaland Diaries takes us through Sedaris' transformation to Crumpet the Christmas Elf, who becomes bitter and weary after seeing one too many Macy's customers who are lacking in holiday spirit.
At one point a grown man tells Crumpet that he "looks fucking stupid." But because he's paid to be merry no matter what, Crumpet has to bite his tongue and happily shout, "Thank you!"
PHOTO COURTESEY OF JAMIE FOSTER PHOTOGRAPHY
THIS IS MY WORK UNIFORM: In exchange for some cash over the holidays, David Sedaris (Kevin Harris) becomes Crumpet the Christmas Elf at Macy's where he witnesses the best and worst humanity has to offer, from a kid peeing in the fake snow to a seemingly legit Santa bringing families together.
Other memorable moments include a child peeing on Santa's lap, Santa Doug obliviously spitting all over Crumpet, and Santa Santa forcing Crumpet to do solo performances of a classic Christmas song.
Stuff also gets pretty real, as it's bound to around the holidays.
"Today a child told Santa Ken that he wanted his dead father back and a complete set of Teenage Mutant Ninja Turtles," Crumpet said. "Everyone wants those Turtles."
While other elves call in sick and bail on Christmas Eve, Crumpet feels energized enough to stick it out until the bitter end, like this is what all his elf training has been preparing him for. But eventually, the end must come, when Crumpet bids good-bye to his elfin boss.
"I touched her arm and said, 'I have to go now.' She laid her hand on my shoulder, squeezed it gently, and continued her conversation saying, 'Don't tell the store president I called you a bitch. Tell him I called you a fucking bitch, because that's exactly what you are. Now get out of my sight before I do something we both regret.'"

SANTA CLAUS IS LEAVING TOWN: The hilarious and witty one-man show The Santaland Diaries is showing at the San Luis Obispo Little Theatre through Dec. 19. Tickets range from $15 to $20 and can be purchased online at

slolittletheatre.org

. David Sedaris' book, 'Holidays on Ice', which includes the story 'Santaland Diaries', can be purchased online at Amazon, Barnes and Noble, or wherever books are sold.
At 5 feet 1 inch, Ryah Cooley would be at the top of the short list for elf hires at rcooley@newtimesslo.com.