Arigato Sushi Executive Chef Sky Rah stacks his plates with an irresistible kaleidoscope of color, flavor, and texture. You could say all fine dining chefs know how to seduce the senses like this, but Rah is at the very top of the class—a true Romeo.
Lately, he's had such sumptuous ingredients to play with: The best cuts of glorious bluefin tuna, well-marbled Wagyu beef, delicate micro greens, and creamy raw halibut so pristine it appears almost translucent when wrapped around a perfect oval of tender sushi rice.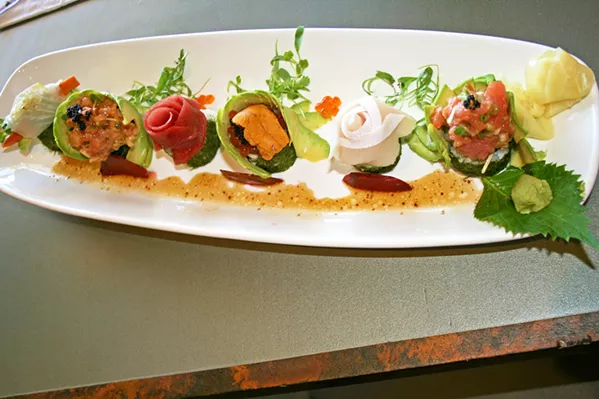 Photo By Hayley Thomas Cain
PACFIC DREAM Arigato Sushi's impressive Pacific Street roll features spicy tuna and cucumber within, plus a healthy helping of tuna, yellowtail, halibut, ikura (salmon roe), uni, and avocado throughout.
Yes, Arigato Sushi has claimed its spot at 667 Marsh St.—the former location of Sumo Sushi—as an elegant, elevated place to devour rolls, sashimi, and steak (yes, filet mignon is on the menu, topped with shiitake shrooms and paired with rosemary potatoes).
"Fusion" can be such a blasé term for such a beautiful and bold explosion of flavors.
It is more than that.
My recent visit to Arigato was a whirlwind of creamy, fatty toro (melts in your mouth on contact), tangy balsamic reduction, firm ahi transformed into gorgeous rosettes, playful citrus, salty roe, and real, fresh wasabi—made not from cornstarch and horseradish, but from taking the time to actually grate the wasabi rhizome.
Photo By Hayley Thomas Cain
FREESTYLE At Arigato, ahi and salmon sashimi mingle with zesty citrus and a dose of herbaceous Spring greens.
Rah, who graduated from the Culinary Institute of New York, worked for nearly a decade at the Grand Hyatt in Manhattan and has lent his skills to the Mandalay Bay in Las Vegas, where he studied under French Chef Olivier Dubreuil.
A true artist, Rah balances the clean flavors of Japanese cuisine and the lusty charms of Europe with equal parts style and joy. Trained in French and Italian cooking as well as the skilled art of sushi, he knows his way around whole hamachi, a pot of demi glace, and any herb you can throw at him.
Arigato owner Sang Park, who also owns Sushiya in SLO as well as Mikado Sushi in Santa Maria, has had his hands in the sushi world since 1995. It took about six months to transform this restaurant into his ultimate vision: welcoming red walls, warm lighting, and an altogether lofty menu.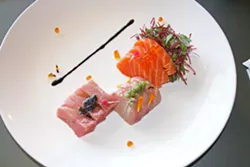 Photo By Hayley Thomas Cain
SAMPLE THE SEA The Arigato sashimi sampler is laden with thick slices of the freshest bluefin tuna, yellowtail, and salmon; topped with salty masago; and accompanied by tender microgreens and a drizzle of balsamic reduction.
"It had to be high-end, upscale sushi," Park said during an interview where I tried (and failed) not to splash delicious miso soup down my chin. "It's about extremely good quality fish, but also the presentation. You'll get Japanese style, but mixed with the European and the French flavors. These plates are just really awesome."
When it came to choosing a head chef, Park knew it couldn't be just anybody. Finding Rah through friends was the ultimate good omen. Rah relocated from Las Vegas to SLO to take the job.
The chef said his philosophy has always been about 30 percent Japanese, 70 percent European, give or take (just try the Mediterranean inspired cubed sashimi tuna with capers and couscous, and you'll understand).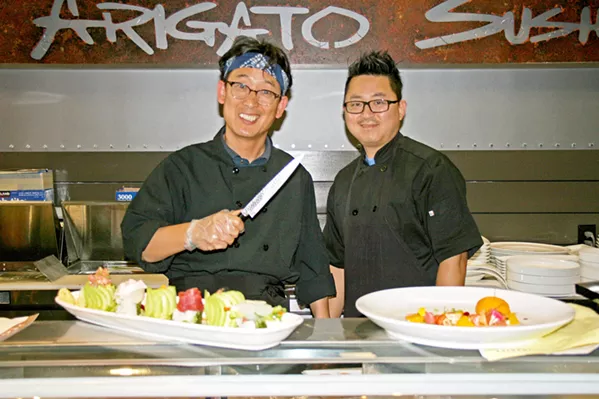 Photo By Hayley Thomas Cain
TEAM ARIGATO From left, Arigato Sushi owner Sang Park pictured with Executive Chef Sky Rah.
With beloved traditional haunts like Goshi, more modern fusion spots like Naked Fish, and fast casual sushi options throughout the area, Arigato General Manager Aaron Reantazo had one question to answer.
"We asked ourselves, 'How we can make something totally different for the people of SLO?' We're not just using Japanese sauces, but also European sauces and even some new vegetables, like roast peppers, into the mix," he said.
Yes, there's a lot to take in on this menu: sushi rolls, oysters, scallops, noodles (both Japanese and Italian), New York strip steaks, roasted chicken, and black cod drizzled in red miso umebashi (Japanese salt plum) reduction.
A local wine list will soon be added, too.
Not sure where to start?
Both Park and Rah recommend the stellar chirashi—a Japanese rice bowl topped with raw fish and brimming with sweet, sour, salty, spicy, and crunchy textures.
Photo By Hayley Thomas Cain
UPGRADED Arigato Sushi has transformed the former Sumo Sushi location into an upscale and stylish hangout where steak and sashimi are served side by side.
That said, if you really want to get acquainted with Arigato, I say make a beeline for the sushi bar.
Clear your mind and clear your palate (a nub of ginger will do just fine).
Now, prepare to plunge head first into a wondrous watery world. These fish are most certainly your friends.
"When in doubt, get the fish," Park said. "Start with the fish, end with the fish." Δ
Hayley Thomas Cain is swimming with the fishes. She can be reached at hthomas@newtimesslo.com.