In case you forgot about the drought California's facing, there's a sign on Highway 58 to remind you. Heading east off Highway 101, it looms on the right above a chain-link fence as the speed limit slows down to 45, then 35, miles per hour.
In big red letters, the sign erected by the SLO County Public Works Department spells out mandatory water restrictions: Santa Margarita residents can only water outdoors on Mondays and Thursdays.
Scraggly bleached-beige—and not lavish forest-green—lawns are dominant on that strip of highway and the roads that bisect it. Like the blades of a double-edged piece of grass, the little water district is facing the potential of higher bills because of the mandatory water conservation measures imposed by the state. Use 25 percent less water than you did last year, and you get to pay more, too.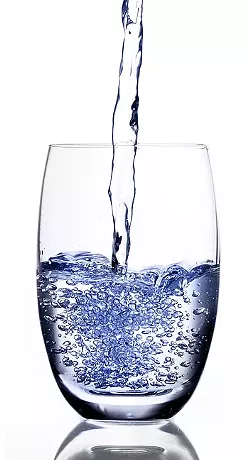 Of course, the same is true for homeowners across California. But while most of the state accepted inevitably drier yards with thinner wallets, Santa Margarita fought it. The town of fewer than 2,000 people pulled together to use 32 percent less water than the year before and to successfully block a county-imposed water rate increase in September. It was a first for the county, but the SLO County Board of Supervisors approved a new proposal on Oct. 27. The increase that now faces off against potentially disgruntled landowners armed with protest slips is slightly greater than the last one.
The math is simple: CSA 23 (County Service Area 23) is spending more than it's bringing in. With fixed costs to serve water to customers—staff, pipes, tanks, pumps, wells—the CSA is charged with billing just enough to cover costs. It hasn't been achieving that goal.
According to county staff reports, in four out of the last five fiscal years, Santa Margarita CSA 23's water fund operated in the red. In 2014-2015, the most recent fiscal year, the CSA brought in approximately $296,000, or about $66,000 less than was needed to pay the bills. On Oct. 20, the SLO County Board of Supervisors approved a $60,000 loan from the county's general fund to make up for a projected revenue shortfall in the current fiscal year.
"If we didn't borrow that money, we would probably run out of cash at some point this [fiscal] year," said Will Clemens, who takes care of finances for the Public Works Department.
So, in addition to making up a revenue shortfall, the water district's customers have a new loan to pay off. Clemens added that the county was trying to hold out until 2018, which is when the CSA will finish paying off a state loan that enabled the district to drill a second water well.
"We were kind of hoping to limp along until we paid off that loan, … when we'd have kind of a relief on our expenses, but it didn't happen that way," he said.
The drought pretty much drowned that plan in what little water is left. And the reserves stashed away in lush years, when people watered more and paid higher bills, are pretty much gone.
Community protest
Linda and Warren Scott have the kind of yard that helps line CSA 23's bank account. They readily admit it, too.
"We're high water users," Warren said.
During the summers, they pump about 80 units (1 unit equals 100 cubic-feet) of water every two months onto green lawns, flower-filled beds, and through ponds and fountains. That's $350 to $400 every two months into the service area's budget. This year, the Scotts slashed that use by almost 50 percent and got rid of their ponds. They still have a green lawn, though. Linda said it's gray bath water that does the trick.
As 30-year residents, the couple knows Santa Margarita, its quirks, and its water situation. A very dry Santa Margarita Creek bed butts up against a retaining wall on the backside of their property. Every year, runoff rushes by, brown and gurgling. Every year, that water seeps into the shallow aquifer beneath town, filling it quickly for Margarita residents to use. The Scotts said the town has never run out of water. Although in the early '90s, it came pretty close.

DATA FROM SLO COUNTY PUBLIC WORKS DEPARTMENT
FUNDS IN TROUBLE: In four out of the last five years, County Service Area 23 has operated a deficit.
They know about the $2 million loan residents need to pay the USDA for repairing water pipelines and installing a much-needed newer, bigger water tank in 2009. They know about the fight against tying CSA 23 into the state water pipeline for emergency water purposes, and they are well aware of a recent grant paying to hook residents up to Atascadero Mutual Water Company in case the wells run dry.
The couple added to that knowledge this year by jumping onto the CSA 23 advisory board. In fact, the whole board is pretty new. Most of the members have only served for the last six months, getting a crash course in water rates, use, and politics in the process.
When the increase was put before the board earlier this summer, nobody really knew how to make sense of it, Linda said.
"This was new to all of us—a water rate increase? What's this?" she said. "You go through a learning curve."
The proposal was this: A base rate of $44.64 per two-month billing cycle, plus $4.55 per unit of water used. The service area currently operates on a tiered system with a base rate of $61.51 per two-month billing cycle. The first 10 units of water are included in that base rate; customers using between 11 and 16 units pay $2.63 per unit, and customers using greater that 16 units pay $3.76 per unit.
The Scotts signed both their names on the petition that brought 262 community signatures together to protest that proposed increase. Santa Margarita needed 261 to successfully thwart it. Proposition 218 gives property owners and ratepayers the opportunity to protest rate increases.
"It was really special that the protest got together enough signatures," Linda said. "I'm ecstatic that the petition happened and we got a chance to re-evaluate."
Cal and Tami Gunther, who didn't return a New Times phone call and declined an invitation to meet at the Porch Café in Santa Margarita, spearheaded the petition effort, knocking on doors to gather the necessary signatures. The Gunthers presented their case at a community meeting on the subject on Sept. 10. Linda said she came away from that meeting thinking that the proposal from the county needed to change.
The biggest premise Linda said the Gunthers argued was that nothing was built into the rate proposal that guaranteed a rate decrease once water use started to go back up.
"We know when the drought ends people are going to want to go back to watering their yards again," Warren said.
"The county would be making money on the deal," Linda said.
The Scotts said the county—Clemens from public works spoke at the meeting—countered that it wasn't allowed to make a profit from providing water to a service area.
"He kept saying 'trust us, we'll give you the money back.' But what if they found new uses for that money?" Linda said. "People don't want to pay more taxes and then have it refunded. They want to keep it in their pocket."
Jim Joffee, another fairly new CSA board member and almost 30-year Margarita resident, also signed his name on the petition. His reasoning is different from the Scotts'.
"I just thought the water rate was too high," Joffee said. "Nobody looked at where can you cut, and I didn't think that was right."
He pulled a piece of 8-by-11-inch cardstock out of a white three-ring binder full of graphs, tables, staff reports, and research about the water district.
It was thick, heavy, and printed on two sides: One in English, the other in Spanish—another in-case-you-forgot-about-the-drought reminder to residents about water conservation and mandatory drought restrictions. It was mailed out to CSA water customers earlier this year.
"Is that heavy stock? Is that four-color on two sides?" Joffee asked rhetorically. "They used our money to print this thing up. That cost a fortune. … If they're not minding the store on something like this, what are they doing on everything else?"
It's a small point he said, but a good example of where a little bit of money can be saved. After the successful protest, the CSA knew the county would come back with a new rate increase, but what was presented to the board was unexpected.
"We thought they'd come back with something slightly less than the rejected one," Joffee said. That thought quickly changed. "We realized there wasn't going to be any compromise in a downward way."
Options to pay more
The county gave Santa Margarita three options in lieu of the rejected water rate increase:
• Option A—$44.38 bi-monthly base rate plus $4.70 per unit
• Option B—$69.74 bi-monthly plus $3.10 per unit
• Option C—$104.52 bi-monthly plus $0.91 per unit
Essentially, every water user who pumps more than one unit of water every two months should expect to pay more on their water bills than if the community hadn't rejected the county's initial proposal. And anyone who uses more than three units of water should expect to pay more than they're paying now.
DATA FROM SLO COUNTY PUBLIC WORKS DEPARTMENT, INFOGRAPHIC BY ALEX ZUNIGA
THE COST OF CONSERVATION: The town of Santa Margarita used 32 percent less water in 2014-2015 than it did the previous year. Reducing consumption is causing the service area's revenue stream to fall short of expenses.
That math is brought to you by a handy little Excel spreadsheet Joffee created. The CSA chose option B as its recommendation for the county. The vote was 5-1 with Joffee carrying the sole vote against it. He wanted the county to go with option A.
"If you look at my numbers, it's real obvious as to what's going on," he said. "The more you use the more you save."
If a Margarita resident uses 50 units of water now, they pay $211.81. With the rejected rate, that bill would have been $272.14; option A will cost $279.38; and option B, $224.74.
"A third of our community uses three units or less," Joffee said. "It hurts these small users, and a lot of these users live in the trailer park.
"The system should not be designed to reward high water rate users."
The Scotts, who voted for option B, counter that argument by saying that everyone needs to chip in to pay for the system. A higher base rate ensures that even when people aren't using a ton of water, they're still sharing the burden of paying off loans for infrastructure improvements that ensure they receive what municipal water they do use.
"None of the options are that great," Warren said.
"What [Joffee's] saying is that we're punishing the low-end users and glorifying the high-end users. But I just don't see it that way. I see it as finding balance," Linda added.
The biggest problem, Warren said, is the fact that nobody in town will get 10 units of water with their base rate anymore. That hurts everybody.
Clemens from public works said the thing that makes Santa Margarita's situation especially hard to handle is that CSA 23 has to raise its rates at the same time it's legally obligated to replace a tiered water rate system. A California Supreme Court decision handed down in April (Capistrano Taxpayers Association v. city of San Juan Capistrano) basically says tiered water rates are unconstitutional unless they can be tied to actual increases in the cost of delivering more units of water.
Tiered systems were designed to encourage water conservation, Clemens said, so the more water you use, the higher your unit cost. Santa Margarita's current system has three tiers, starting with the 10 units of water that come with the base rate. The only way CSA 23 can maintain a tiered system is if using more than 10 units of water causes it to be delivered from a different, more expensive source than the groundwater basin. State water, for instance, costs more to deliver than groundwater.
But Santa Margarita only has one water source (the basin), so the county can't legally justify having a tiered rate system.
"Court decisions like San Juan Capistrano are sort of going against what the state wants to do with water and conservation," Clemens said. "It kind of ties the hands of municipalities and how they manage their water."
Preventing a default
Clemens said if residents do successfully launch a second Proposition 218 petition against the new version of a proposed rate increase, the county Board of Supervisors has several choices. None of them are especially nice.
It can let CSA 23 default on its loan payments.
It can allow the service area to continue borrowing from the county's general fund.
Under the current ordinance, in the case of an emergency—like potentially defaulting on loan payments owed to the federal government—the board can set a maximum unit allowance per customer. Say it's four units a month. Anything used over that amount could be charged $6 a unit.
"I don't think they would want to have that rate structure for very long," Clemens said. "We're hoping we don't get the protests this time, and we don't have to go that route."
SANTA MARGARITA RATE OPTIONS: • Current rate: $61.41 bi-monthly with 10 units free; using between 11 and 16 units, $2.93 per unit; using more than 16 units, $3.76 a unit
• Rejected rate: $44.62 bi-monthly, plus $4.55 per unit
• Option A: $44.38 bi-monthly, plus $4.70 per unit
• Option B: $69.74 bi-monthly, plus $3.10 per unit
• Option C: $104.52 bi-monthly, plus $0.91 per unit

If the county does get its way, and public works makes it through the protest period, which ends in December, the rate increase goes into practice on the very next billing cycle. That starts in February. With two-month long billing cycles, the CSA won't see any additional revenue until April or May. A new fiscal year starts a couple of months after that, which is why it needed the recently approved $60,000 general fund loan.
A community meeting on the rates will be held on Nov. 18 at the Santa Margarita Community Hall. Linda is predicting that residents won't pull together as they did during the last go round. She said it was a lot of work to gather all those signatures, and the new system has a rate reduction included should the drought lift and people start growing green grass again.
But although reduced rates are authorized by the proposed rate system, Clemens said there's no guarantee that residents will get that break.
"We may have a big line burst and we may need money to repair that," Clemens said. Why? There aren't any other funds to pull cash out of.
The CSA has two sources of money—a water fund and a parent fund—to help pay for water, lighting, and drainage. The water fund is earmarked for its namesake only. The parent fund can be used for all three areas the CSA is responsible for. Because water's been running with a deficit for several years in a row, it's depleted the parent fund to nearly zero.
"We've been loaning water from the parent fund to keep the water fund solvent," Clemens said. "We don't have to, but the intention is that once we start bringing money in, we'll start putting money back in the parent fund."
On Oct. 27, the Board of Supervisors approved option B—the option Joffee was fighting against. A protest hearing is set for Dec. 15 before the Board of Supervisors.
Joffee spoke during the hearing that day, urging the Board of Supervisors to rethink the recommendation to approve option B, asking them to think of the people who might not be able to afford their new water bills—the low water users, many of whom are also low income and some of whom live in the mobile home park. He was trying to get them to go with option A, which has a lower base rate.
Fifth District Supervisor Debbie Arnold, whose district includes Santa Margarita, responded to Joffee's concerns during the meeting, saying there's help out there for people who can't afford their utility bills. Arnold said she understands the concerns about low income residents, but she can't vote against a 5-1 recommendation from the CSA advisory board. She added that CAPSLO is canvassing the mobile home park in early November and is planning to help residents with the new rates.
Joffee spoke to New Times after the hearing. He was disappointed with his supervisor's response.
"That sucks. That's not a solution," he said.
Editor Camillia Lanham can be reached at clanham@newtimesslo.com.