Kick the dirt in just about any prime local spot, and you're likely to be in a place where others lived their lives before you. The soil under our feet has some compelling stories to tell about the "SLO life" of the past 8,000 or 10,000 years.
Photo by Jesse Acosta
EAGER READER : Archaeologist John Parker describes archeological sites as libraries filled with information about the past but threatened by the developments of today.
# But unread books and even whole libraries full of these stories are being destroyed all around us, according to some archaeologists and Native American tribes.
"This is just ghastly. It's like throwing books in a bonfire," said archaeologist John Parker, shaking his head as he walked by towering piles of bulldozed earth at a hillside construction project on Rockview Street.
The largest and oldest known archaeological site in Morro Bay dubbed SLO-165 by archaeologists is a football-field sized place, including Rockview, where the countless shells, bones, and tools left behind in six feet of topsoil show that people have lived and worked here for thousands of years.
Parker and the Northern Chumash Tribal Council filed formal complaints with the SLO County grand jury last month, charging that by approving the construction of new houses on Rockview without what they believe to be adequate protection for cultural resources the city of Morro Bay failed to comply with state environmental laws.
Morro Bay's city attorney, Rob Schultz, said he believes the city did follow the procedures outlined in environmental laws, but said he's likely to recommend improvements to the process for the future.
The recent alleged destruction of artifacts due to construction projects in Morro Bay and also in Pismo Beach amounts to "cultural genocide," according to the Chumash complaints.
"You've got a library full of books no one's ever read," Parker said.
"There's a book over here about what species inhabited the bay, and how big the bay was. There's another book about how humans reacted to overpopulation. Over here there's a book about disease, specifically osteoporosis, and what kind of diet made it worse or better. This is one volume in the encyclopedia of the human situation, and it can give us answers. Should we pull it off the shelf and throw it in the fire without ever reading it?"
Archaeologists like Parker can "read" the stories left behind in the soil but only if it hasn't been disturbed by earthmoving equipment.
When construction is proposed on a significant archaeological site, the California Environmental Quality Act (CEQA) mandates protection of the resource by designing buildings to avoid it by capping or covering the archaeological sites with a layer of soil before building or as a last resort mitigating the impacts by excavating and analyzing a portion of the site.
Parker pointed to a group of houses built on his recommendation on caissons over a thick layer of fill to protect the underlying archaeological information.
"By putting fill on the site, I've saved the book. It's in storage till we need the information for a future time," he said.
His detailed analysis of the shells, stones, and bones recovered by his team from holes drilled for the caissons and trenches dug for the utilities indicates that the bay was much larger during the last ice age.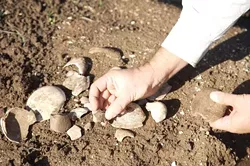 Photo by Jesse Acosta
PIECES OF THE PAST: Shells, rocks, and assorted other items can speak volumes to experts who know how to interpret the fragments resting in the soil beneath our feet.
# "By studying this site and the people and resources available to them, we can recreate what the environment was. All that information is in the ground. You can't really put a value on it," he said.
So who decides whether a site is "significant" or "unique" and should therefore be protected under the law?
The SLO County planning department keeps a list of approved archaeologists considered "qualified and capable of preparing adequate reports," according to John Nall, senior environmental specialist for the county though there's no state licensing program for archaeologists, and no peer review of the reports they prepare for decision-makers.
Clay Singer of Cambria is on that list. He was hired by the landowners on Rockview, where Parker has been watching the bulldozers working. Singer's recommendation: The site isn't significant, and should be monitored as it's developed.
Parker alleges that Singer's mitigation plan archaeological monitoring only relies on an earlier site proposal for a single-family home built on caissons, with fill over the cultural resources. Current plans call for two single-family homes and three duplexes, all on standard foundations with no cap over the soil.
"The archaeological mitigation plan written for a single house being built on caissons was not designed to mitigate the impact of trenching required for standard footings," Parker wrote in his grand jury complaint.
John Belsher, an attorney for the Rockview developers, said he doesn't believe caissons are "the magic answer."
"Caissons are not always a less-intrusive method of construction. They go deeper, and you may get into a deeper site," Belsher said, adding that there are other ways to avoid site disturbance. He also noted that the time to protest about the mitigation plan was during public hearings on the project.
Singer defended his recommendations for the Rockview site, saying the site had already been disturbed in the past, and that there's already been adequate archaeological data recovery, including radiocarbon dating and analysis.
"I've been in the archaeo-business for nearly 40 years," Singer said. "You'd be hard-pressed to find a project in this county where the archaeological sites are preserved and not destroyed. It's the system that's to blame. It has so many holes, and it's driven by money, ever since CEQA made archaeology into a business.
"If you bring in archaeologists from outside the county, they say there's no problem, then you hire a monitor to watch you grade it away," he added. "There's an entire industry of Native Americans who stand around with their arms folded and watch sites being graded away and get several hundred dollars a day."
The fact that developers are the ones who make the decision about what happens to archaeological artifacts on their land is "a quirk under state law," according to Belsher.
One big problem is the lack of a depository for artifacts, he pointed out.
"There's less and less curation and depository space available. No group wants the artifacts. The city doesn't want it, Native Americans don't want it, local archaeologists don't want it, museums don't want it. Who would you have make the decision, since nobody wants to be a repository? It's a problem. That's why it's still in the hands of the landowner," Belsher said.
Local decision-makers don't care enough about cultural resources to have an archaeologist on staff, Singer said. There's no local museum for archaeological discoveries. Native Americans, archaeologists, government officials, and developers represent four sides of the table, and "all have different sets of values," he explained.
"The business of government is financed by development. You don't make money by conservation. Archaeologists have sold out to developers, and the Indians aren't organized enough to stop them," Singer said.
"If you find a site where you want to develop, you hire someone from the list, and your problem goes away. Lots of archaeologists can do the job without finding anything," he added.
If an archaeologist says a site is not significant or unique, often there's no requirement for on-site monitors.
"If nobody's there, and nobody sees, who knows how many burials have been hit over the years?" asked archaeologist Parker.
But developers aren't necessarily looking for the most lenient consultants, according to Jerry Bunin, spokesman for the local Home Builders Association.
"I don't think builders look for an archaeologist who will do a favorable job," he said. "You really want a high-quality report."
So why are there differing opinions among archaeologists about the importance of protecting important sites?
"For the same reason some people get upset when they watch people burning books, and some say it's not important. But remember the quote from a German poet: 'Where books are burned, men will soon be burned,'" Singer said.
Singer hired a representative of the Salinan tribe of Native Americans Patti Dunton of Atascadero to work with him to monitor the Rockview site. The two have been there every day, he said.
For Dunton, her monitoring work around the county packs an emotional punch.
"Sometimes it's horrifying to see sites destroyed," she said in an interview. "To me, it's part of my people. I pick something up and start shaking, because I know it's something my family could have touched."
Photo courtesy Patti Dunton
LINK TO THE PAST : Patti Dunton is a Salinan monitor who is attended many development sites in North San Luis Obispo County.
# Dunton is also critical of the planning procedure for archaeological sites, which she called "a bad process." She also decried the lack of a public museum where recovered artifacts can be displayed, saying instead it all goes to "sit in boxes at a private club" run by the SLO County Archaeological Society.
"We don't have access to all these pestles and mortars, all these shells, so we can learn from them," she said.
The archaeological society's president, Luther Bertrando, also welcomed the idea of a public museum for cultural resources. He said the group's archaeological teaching collection with Native American tools, arrowheads, spear points, beads, flake stones, and the like, collected at the turn of the last century in SLO County is open for public viewing by appointment, if a volunteer is available. The storage facility is at Camp San Luis, adjacent to Cuesta College, where access is more difficult since 9/11, he said. Professional archaeologists and interested members of the public are welcome to join the county society, and are asked to sign an agreement to respect archaeological sites and not to engage in any commerce with the artifacts.
Dunton agrees with Singer's assessment that the Rockview construction site "doesn't contain anything interesting" because it was disturbed years ago, when the U.S. military installed a gun emplacement at the top of the hill during World War II.
Still, she's glad to be around at sites "if something comes up," so she can ensure that cultural items including bones and other remains are treated with respect. When Dunton's brother, Salinan John Burch, is considered the Most Likely Descendant (MLD), he makes a decision about what to do with any uncovered human remains, she explained.
"We like to leave it in the location, as least disturbed as possible," she said. "There are a lot of burials under homes in this county. Now they have to disclose if there's a burial there. People would be amazed how many Native American burial sites there are in this county."
A Native American burial site was discovered during archaeological testing for another recent development, next to the Salinas River in Atascadero. Two of the six human remains were left in place, while the rest were removed and reburied on site, after consultation with Salinan representatives, according to developer Dennis Moresco, president and CEO of Midland Pacific Building Corp.
"It's up to the owner of the land. The choice is mine. You try to work with the next of kin. It's like a negotiation," he said.
"While very expensive, my experience was a good one. Was it worth it? My honest answer: I don't think so. I spent over $300,000. We don't like to spend money, but we're happy to comply with the laws and we're happy not to be sued," he added.
Northern Chumash Tribal Council spokesperson Fred Collins is calling for the preservation of all archaeological sites including "sacred sites" that are on or eligible for the national registry.
"It should be an important issue in San Luis Obispo County because of the unique quality of life the Chumash had here," he said. "We were the first people here, and we need protection.
"Your grandma's bones are protected in a cemetery," Collins noted. "My grandma's bones are just destroyed by developers who want to build."
His tribal council last month sent letters asking the cities of Morro Bay and Pismo Beach to stop "the continuation of cultural and spiritual genocide upon the Chumash Nation" through the destruction of archaeological information.
Collins praised the progress that has been made with some other city councils and with the county, adding, "They talk to us all the time.
"We're not trying to stop development. We just want to have a say. We want you to respect our ancestors," he said. "If we're going to lose something, we need to gain information from it."
The Northern Chumash representative believes it's important to protect archaeological sites in an undisturbed state for future generations.
"Maybe in the future, they'll be able to take a teaspoon of the site and create a hologram of the way it was," Collins said.
He explained that a state law known as SB 18 which mandates tribal consultation "has been a real door-opener, so local government sees our requests are not unreasonable."
The Chumash complaint of "cultural genocide" by Pismo Beach is overstated, according to the city's attorney, Dave Fleishman.
"The Northern Chumash are interested in being consulted on every development project in Pismo Beach. But that's not what SB 18 says. Consultation is required only for amendments to the general plan or the local coastal plan," Fleishman said.
The Morro Bay City Council is concerned about the Chumash Council's recent allegations over the Rockview development, according to city attorney Schultz. His draft reply to the 12-page complaint states that the city followed procedures outlined in environmental laws.
"It's a nuance of CEQA. The City Council doesn't deal with CEQA very often, especially the 'alternatives' section [which includes a range of alternatives to a proposed project]. We don't have an architect on staff. We don't have an archaeologist on staff. We have to take the developers' word," Schultz said.
For consulting archaeologist Singer, "Every site destroyed is one piece of the history of people who don't exist. It's like tearing down every temple in Rome."
He pointed out that San Luis Obispo county has a history of what he called "wholesale ripping up of Indian sites" the world's largest collection of local Native American artifacts is in a museum in London.
"It's tragic for Native Americans and for every American who's losing their history," Singer said.
To save the story under our feet, he recommended improvements in local policies dealing with archaeological sites, with better regulations, peer review, and quality assurance for archaeologists, and more communication.
As Collins of the Chumash tribal council concluded, "I'd love to sit down with everyone and just lay out how to adhere to the regulations properly. We need a sit-down powwow where we can all talk."
Freelance journalist Kathy Johnston may be reached at kjohnston@newtimesslo.com.