Santa Barbara County is reimbursing San Luis Obispo County for its help during the Thomas Fire and subsequent mudslides to the tune of more than half a million dollars.
The SLO County Board of Supervisors voted June 17 to accept $613,651 for expenses incurred by the SLO County Sheriff's Office and other local law enforcement agencies when they sent personnel to assist Santa Barbara County during the 2017 fire and 2018 mudslides as part of a mutual aid agreement.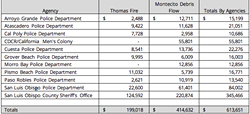 Graphic Courtesy Of Slo County
MUTUAL AID The SLO County Sheriff Department and other local law enforcement agencies sent personnel to help with the response to fire and mudslides in Santa Barbara County.
The Thomas Fire began on Dec. 4, 2017, in Ventura County, and spread into Santa Barbara County. The wildfire burned more than 281,800 acres and forced the evacuation of more than 100,000 individuals. After Santa Barbara requested aid from the SLO County, 30 personnel from the Sheriff's Office and other allied area law enforcement agencies were sent to help on Dec. 16. They staffed road closure points around the fire, helped residents evacuate, and performed other law enforcement duties, according to the sheriff's department.
SLO County was once again called to assist after significant rainfall hit the burn area above the hills of Montecito beginning Jan. 9, causing catastrophic mudslides that destroyed 100 homes and killed 21 people. The SLO County Sheriff's Office and other local police agencies sent 40 personnel, including members of the Sheriff's Search and Rescue Team, to Santa Barbara County.
The reimbursement funds will be distributed between the Sheriff's Office and 10 other agencies including the California Men's Colony, police departments from Cal Poly and Cuesta College, as well as the Arroyo Grande, Atascadero, Grover Beach, Morro Bay, Pismo Beach, Paso Robles, and SLO police departments.