Closets and drawers all around the house are secretly filled to the brim with old vintage photographs. Some come from flea markets, antique shops, or collectors, but they all find their way to the house on the outskirts of Gainesville, Fla.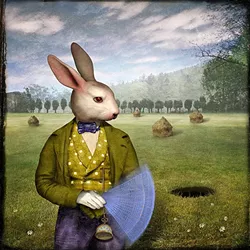 PHOTO COURTESY OF MAGGIE TAYLOR
SOMETIMES, JUST ONE SECOND: In the piece 'It all Seemed Quite Natural,' Maggie Taylor's take on the white rabbit involved many layers, including scanning a porcelain white rabbit figurine onto the computer and scanning a stuffed animal to give Wonderland's timekeeper a realistically fluffy texture.
Maggie Taylor's artistic process is a lot like a scavenger hunt, and it starts with the search for that perfect vintage photo to serve as the base for her digitally enhanced creations.
"It's a fun challenge, but it's hard to make decisions about which photos to buy," Taylor said. "You have to think about what you want to do with it and be exact."
Her work is reminiscent of another, older, maybe better time. But you could never pin it down to a year or even a decade, and that's just what Taylor wants.
In her college days, Taylor took black and white photos of real life. Now, her work has a dreamlike, almost fantastical quality to it. In the mid 1990s, her then-husband was commissioned by Adobe to do an art project. With Photoshop right there in her home, Taylor got to experimenting and liked what she could do.
"Back then, people sort of thought if you use a computer it's too easy and even a monkey can do it," Taylor said. "Now, I think people are just accepting of it. You see it [digital art] everywhere now."
The process for creating one of Taylor's digital pieces is anything but quick or simple. It starts with Taylor finding that perfect vintage photo, preferably one that was made by creating a direct positive on a thin sheet of metal (otherwise known as a tintype photo). That perfect photo, which will likely only be used once, could run Taylor anywhere from $1 to $1,000. Then, there's still more bits and pieces to find before the computer work even begins. For her 2013 book, Alice's Adventures in Wonderland, she hunted for things like miniature oysters and a walrus to create 45 original images to accompany Lewis Carroll's (who was also a photographer) complete text. Once everything on the shopping list is checked off, Taylor gets to work on scanning photos and objects into the computer where the bits and pieces are layered together to make something new.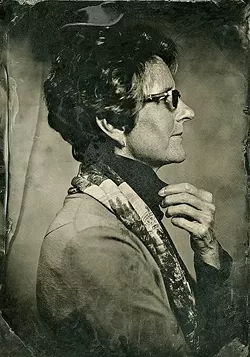 PHOTO COURTESY OF MAGGIE TAYLOR
PORTRAIT OF AN ARTIST : Maggie Taylor started out as a photographer and stumbled across digital art in 1996 when her then-husband was commissioned by Adobe to do an art project. The software was downloaded onto their computer and Taylor now works exclusively with digital art, adding many layers and elements to pre-existing photographs.
"I just realize that a lot of elements in the story of Alice's Adventures in Wonderland are images that I'm drawn to," Taylor said. "It's a visually rich text. It's just kind of charming to me."
The white rabbit makes frequent appearances in this series. In the image It All Seemed Quite Natural, he stands prim and proper with a green jacket and vest as well as a purple bow tie and pants. His signature pocket watch is jutting open and he holds a moving purple fan in his white-gloved hands. Although the subject matter is a talking bunny, the Victorian photo base manages to give the creature from Wonderland a realistic quality. This image and others from the world of Wonderland, along with Taylor's other works, are currently on display at the Vault Gallery in Cambria. On April 30, the Florida-based digital artist will stop by to sign copies of her books, including Alice's Adventures in Wonderland and No Ordinary Days.
Like Alice jumping down the rabbit hole, Taylor never knows quite where her creative musings will take her.
"Sometimes I'm just inspired by everyday ordinary stuff," Taylor said. "I don't have a preconceived notion of how it's going to turn out; it's an organic process."
Ryah Cooley photographs OK at rcooley@newtimesslo.com.

A MOMENT IN TIME : Images from Maggie Taylor's books, Alice's Adventures in Wonderland and No Ordinary Days, are currently on display at the Vault Gallery in Cambria. Taylor will be at the gallery on April 30, from 1 to 3 p.m. for an exhibition and book signing. Visit

maggietaylor.com

and

vaultgallery.com

for more information.
PHOTO COURTESY OF MAGGIE TAYLOR
THE BIG GUYS UPSTAIRS: 'The Architects' by Maggie Taylor started with an 1870s tintype photo of two men standing side by side that the artist came across. Taylor added in the homes below by scanning in miniature houses.