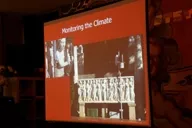 PHOTO BY DENNIS EAMON YOUNG
BETTING ON THE MUSES: Pictured is a slide from the most recent Science After Dark event, "Saving the Nine Muses: Chemistry and Art Preservation at Hearst Castle."
On a recent Wednesday night in San Luis Obispo, a crowd of around 60 people gathered at Steynberg Gallery for an educational talk called "Saving the Nine Muses." Two famed art conservationists and one Cal Poly professor discussed the 10-year process of restoring an exquisite marble sarcophagus dating back to 230 A.D, named the Nine Muses for its intricate carving of the nine goddesses of inspiration. The work, brought from Europe to Hearst Castle in the '20s, had long sat outdoors, where it languished under the elements. Conservationists Constance Faber and Zdrovko Barov, both of whom previously worked at the Getty Museum, were charged with restoring the work to its final glory. At their Steynberg presentation, they explained to a rapt audience just how.
From this description, you'd be forgiven for imagining "Saving the Nine Muses" as an art talk. In fact, the central topic of the evening was chemistry. The marble consisted of calcium carbonates, sulfates, and hydroxides, the experts explained.
Through analysis of the sarcophagus' chemical structure, the team had been able to trace the marble back to the quarry in Greece where it had originated. Traces of pigments were analyzed and determined to contain the elements Sr, Pb, Zn, and Fe—all of which would have been available in 230 A.D. Based on their findings, the experts concluded that the sarcophagus had once been painted a copper color, which, over the centuries, had almost completely worn away.
The talk was one in a series called Science After Dark, a program of the Central Coast STEM Education Collaborative, or CCSTEM, and the City of San Luis Obispo. The goal of the collaborative is to enhance STEM (Science, Technology, Engineering, and Mathematics) education and achievement.
Dawn Hinchman, a CCSTEM volunteer and Science After Dark coordinator, sees the goal of the series as twofold.
"Our point in doing it was to, first of all, to get word out in the community that the Central Coast STEM Collaborative exists," she explained, "and then the idea that there's more and more opportunities for kids to experience science, but not so much for adults. So this is an opportunity for adults to learn about science in an informal setting that seems to be getting more and more popular."
Inspired by the emergence in other cities of so-called "Pub Science Nights"—in which university professors give science-y lectures in drinking establishments—Hinchman and other organizers began brainstorming ways to bring the phenomenon to San Luis Obispo.
The first local Pub Science Night was held last spring at Creekside Brewery.
"I called Dr. Raul Cano, who is also a retired Cal Poly professor, who I'd heard about back in the early '90s for extracting DNA from insects that were trapped in 30- million-year-old amber," said Hinchman.
Back then, she'd contacted Cano to ask if her then-preschool age, Jurassic Park-obsessed boys could visit his lab. He'd agreed.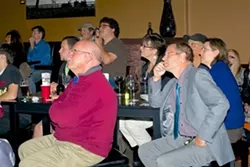 PHOTO BY DENNIS EAMON YOUNG
RAPT ATTENTION: Attendees of a "Pub Science Night" at Luis Wine Bar made a captive audience.
"Twenty years later, I see an article where he's extracted yeast spores from this ancient amber and started re-growing this yeast, and then making beer out of it," said Hinchman.
DNA? Ancient yeast spores? Beer? Cano was the perfect candidate for a Pub Science talk. He gave a presentation to a full house. More Pub Science Nights (topics: milk; snakes; a laser array jokingly referred to as the Death Star, for its potential to be developed to deflect asteroids from hitting Earth) soon followed. After receiving a grant from the city to promote more family-friendly events, and partnering with the San Luis Obispo Children's Museum, the series' name was changed to Science After Dark (abbreviated SciAd, which sounds cool and futuristic; not SAD, which sounds sad.)
The emphasis on alcohol may have been expunged from the series' title for the sake of the children, but that doesn't mean you can't indulge in a cocktail at the next Science After Dark event, "An Evening of Molecular Gastronomy," which takes place after hours at the Children's Museum on Dec. 11. From the sound of it, this will be a truly rare occurrence: An evening of science and food for adults (it's 21-and-over!), at a children's museum, with a full bar courtesy of Creeky Tiki. Admission is somehow 
only $5.
Dr. Nanine Van Draanen, Cal Poly professor and department chair of chemistry and biochemistry, will demonstrate some of the techniques of molecular gastronomy, a relatively recent food trend described as "a subdiscipline of food science that seeks to investigate, explain, and make practical use of the physical and chemical transformations of ingredients that occur while cooking, as well as the social, artistic and technical components of culinary and gastronomic phenomena in general."
It's not by accident that the series' new name denotes parallels to Art After Dark, the city's monthly art walk. While the goal of SciAD is to promote understanding of the sciences—not the arts—the events seem to transform into cultural gatherings in which the two frequently overlap. Moreover, Hinchman pointed out, locals are used to the "after dark" concept, and can expect a similar structure; something intellectually stimulating, yet relatively informal and highly social. Only this time the discussion might be about chemistry or biology, rather than painting or sculpture.
"That was kind of the idea," said Hinchman of the parallels. "I did ask the Art After Dark people if they had a problem with us using that name, Science After Dark, and they were excited about it."
THE SCIENCE OF IT ALL: The next Science After Dark event, "An Evening of Molecular Gastronomy," takes place at 6:30 p.m. at the SLO Children's Museum on Dec. 11. The event is 21-and-over; admission is $5. Visit Science After Dark on Facebook for more on the series, or go to ccstem.org for more on the Central Coast STEM Collaborative.
January's SciAD evening, "180° of Science," takes place at Cal Poly's new Warren J. Baker Center for Science and Mathematics. The free, all-ages event will feature a tour of the new facility, a math-and-science-themed art walk (think fractals, planets, etc.), and an "un-magic show" by Dr. Seth Bush.
"He's phenomenal. He's a real entertainer," said Hinchman. "His magic show is all science-related."
If SciAD events have an overriding theme, it seems to be that science, much like art, can enlighten and entertain, whether used to restore a 3rd century sarcophagus, craft beer out of ancient bug yeast, or smash bananas with liquid nitrogen. Toss a cold one into the equation, and things only improve! So here's to learning about snakes, and milk, and lasers.
Arts Editor Anna Weltner can be reached at aweltner@newtimesslo.com.