I'm going to go ahead and admit it: I think sea glass is beautiful. Big whoop. Want to fight about it? You better not, because I will stab you right in the face and then sleep the sleep of the just until the morning sun gently wakes me with colorful promises of a brand new day, as it shines through the jars of sea glass that line my window sill.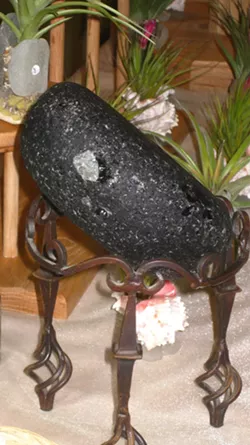 PHOTOS BY NICK POWELL
MAGIC ROCK: This chunk of industrial glass from a factory in London glows under black lighting. It's called "Vaseline glass," which means it's old and chock full of uranium. Fun!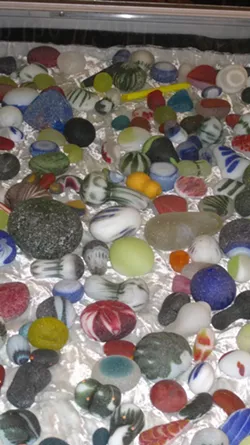 OLD ART, NEAT GLASS: Some of James Lundgren's finished work sits in the Smithsonian; these botched throwaways were tossed by waves for decades to become the cool collection pictured here.
I guess what I'm saying is that I'm a thugged-out gangster, and I like things that are smooth and shiny.
Sea glass is great, but don't take my word for it. Just ask the hundreds of people who came out March 10 and 11 for the Cayucos Sea Glass Festival, or talk to Krista Hammond, an avid collector who turns her finds into jewelry and other neat things.
"Everything good in my life has come from the ocean," Hammond said. "The fact that it can take our trash and turn it into gems is simply amazing."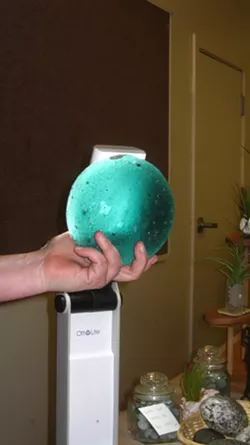 Hammond happens to be a sea glass expert, which, it turns out, is an actual thing. She explained that it takes 10 to 20 years of tumbling through sand and rocks for broken glass to lose its sharp edge. Flawlessly smooth beads take 40 years to produce.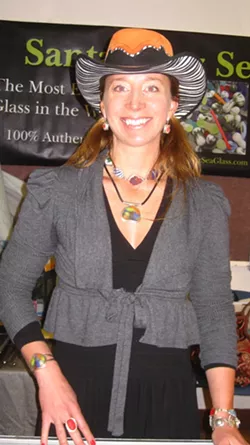 LADY OF THE GLASS: Every morning, Krista Hammond walks the Davenport beach near famed 1970s glass blower James Lundgren's old studio in search of his discarded pieces that occasionally wash ashore. She finds something maybe once a month.
If you went to the festival and bought stuff, great. You had a good time, know what it was like, and can quit reading right now. Don't even bother with the next few paragraphs.
Are they gone? Sweet. Here's the thing. Sea glass festivals are a freakin' gold mine. People will apparently pay $5 for a single rock of the stuff. Little pebbles can be packed into cute stopper jars and sold for $10. Creative people with talent can string sea glass into necklaces or wrap them with gold wire to make earrings that sell for $40 plus. And people literally lined up to trade cash for stuff you can find on the beach for free.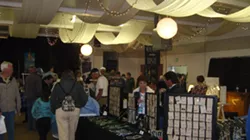 A REAL CROWD PLEASER : Swarms of people answered the siren song of sea glass on March 10, lining the Cayucos pier to await entrance to the Vets Hall's displays. By March 11, the turn-out was smaller, but still decent.
"Oh my God. It's been really fantastic," said jeweler Susannah Brin. "There were so many people in here yesterday that they could barely walk. And everyone was so nice."
Translation: I made bank.
There's a beach, like, right outside my house, and my dog needs a walk practically every day. You can bet I'm going to be out there all the time scouring the shoreline for green gold over the next year. Then, I'm setting up a booth at the Cayucos Sea Glass Festival, where I'll pull enough loot to retire early and probably buy a plane or something. So long, suckers.

Calendar Editor Nick Powell means no disrespect to the organizers, who did a fabulous job. He just likes sarcasm and schemes and can be reached at npowell@newtimesslo.com.