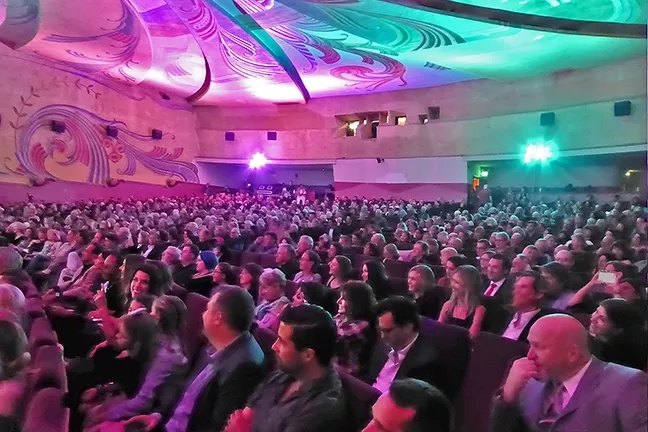 PHOTO BY GLEN STARKEY
FULL HOUSE: There was nary a seat in the house available at the Fremont Theater.
It's Saturday, March 18, and I'm pretty sure by the end of the night I'll be hanging out with Josh Brolin and Jeff Bridges. They just arrived on the red carpet in front of the Fremont Theater, where Jeff will be giving Josh (Yeah, we're on a first name basis like besties) the King Vidor Award, the festival's top prize. Since I've phone interviewed them both—Jeff for his last concert at the Fremont Theater and Josh for the March 9 cover story—and since they were both super friendly on the phone, I'm guessing they like me, they really like me, and they'll want to chill, you know, and talk and stuff. I mean I wore a suit and everything!
Weirdly, as they make their way into the theater lobby and then down to their seats, smiling broadly to the throng of film lovers assembled here, they don't make eye contact with me, even though I'm looking right into their big, dreamy eyes. I get it, Josh and Jeff. We'll see each other after the show.
Soon, festival director Wendy Eidson is up on stage, thanking all the folks who work so hard to mount this festival year after year, thanking sponsors and volunteers, and eventually calling up guest presenters to give out the awards. I'm called up third to present the Best Documentary Short, which I do. Congratulations, makers of Refuge!
Well, now that Josh and Jeff have put a face to the name on the phone, surely it's just a matter of time until they seek me out to thank me for such wonderful interview questions and for getting their quotes right and for being such a great guy, whom they've been dying to meet in person ever since we chatted on the phone.
PHOTO BY GLEN STARKEY
HOME TOWN BOY: During his SLO-IFF King Vidor Award acceptance speech, Josh Brolin waxes poetic about living in the North County.
I imagine Josh leaning forward to whisper in Jeff's ear, "Wasn't he a great interviewer? I bet he'd be fun to have a beer with at the after party."
"Oh, yeah, man. He just totally gets my vibe, man," I imagine Jeff responding.
Eventually, Wendy calls Jeff up to stage, and he starts talking about what a wonderful actor Josh is, and I agree. He's great. And then they run through clips of Josh's films, everything from Goonies and Thrashin' to No Country for Old Men and Hail, Caesar!
Finally, Josh goes up and he and Jeff enjoy a manly, heterosexual embrace, not unlike the one I imagine I'll be getting from both of them when the night finally comes to an end.
"Glen, so great to finally meet you in person! I've got to get you and your wife up to the ranch one of these days."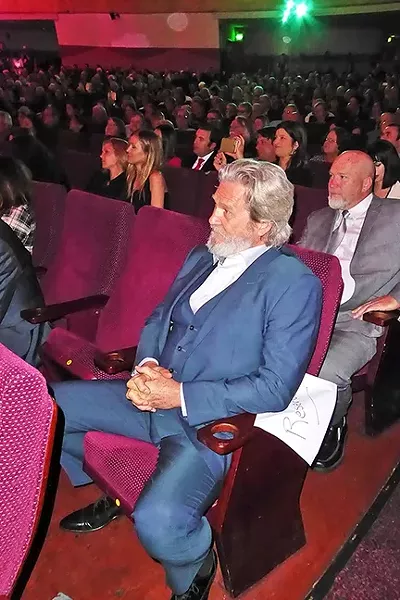 PHOTO BY GLEN STARKEY
THE DUDE ABIDES: Jeff Bridges listens to his friend Josh Brolin talk about his incredible career.
"Hey, Josh, thanks! We'd love that!"
"Glen, dude, you totally abide! The next time I come up to play the Fremont, you need to come backstage after the show so we can hang again, man! This was great!"
"Jeff, dude! That would be awesome! See you guys next time."
My reverie is broken once TCM's Ben Mankiewicz takes the stage and starts interviewing Josh, who's just as nice and charming and forthright with Ben as he was with me. Clearly, both Ben and I are equally special to Josh, who basically charms the pants off the audience.
When the interview is over, Josh, Jeff, and everyone else who isn't staying for the screening of No Country for Old Men heads out to the SLO Masonic Lodge for a special after party, where I'm sure to be hanging with my homies—the Two Js, as I'll come to call them, but first I see fellow film aficionado and all around mensch Bob Whiteford in the lobby, and then, in walks living film critic legend Leonard Malkin, who we've got to talk to! He's super cool, there with his family, so we get a photo with him and finally make our way to the Masonic Lodge. I'm so excited to meet Josh and Jeff in person! I bet they're looking for me now!
PHOTO COURTESY OF GLEN STARKEY
MALTIN!: Famed film critic, film historian, and author Leonard Maltin (center) was kind enough to pose for a photo with me (left) and fellow film aficionado Bob Whiteford.
We check in, make our way up the stairs, grab a couple gratis beers from the hosted bar, mow through some hors d'oeuvres, and go in search of the Two Js.
"Oh, they already came and went," someone tells me. "They kind of got mobbed and took off."
What? Really?
Well, I did get to chat with Leonard Maltin. Call me, Leonard! We can hang out!
Contact Senior Staff Writer Glen Starkey at gstarkey@newtimesslo.com.