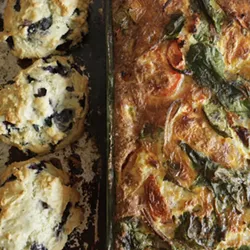 PHOTO BY STEVE E. MILLER
CHOICES, CHOICES : The lengthy list of delicacies keeps changing and growing, always dynamic; soon the café will expand to offer happy hour treats.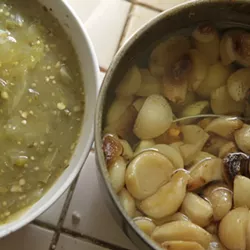 O
ver the past couple of years several friends told me about the good food served in a quaint little Shell Beach café, among them restaurant reviewer Teri Bayus, who co-owns the Mail Plus mail service in Pismo Beach. But one thing led to another and I just didn't take the five-mile drive over there, until I became really motivated after reviewing chef Mark McNeil's Mediterranean Kitchen in Arroyo Grande. During our interview he told me the Seaside Café was one of his favorite places to eat in South County. I realized it was time I checked it out, and I am very glad I did.
I arrived late on a Wednesday morning to get there between the rush at breakfast and lunch. There's no menu. Their choices and daily specials are written on chalkboards, and I was surprised by the number. I asked co-owner Tim Begovich what I should try for my first taste. He had never met me, nor did he have any idea who I was. I never announce in advance I'm there to review the place. He suggested their popular eggs Benedict, the traditional version or their "sunset Benedict" with steak, $14.95, instead of ham or Canadian bacon. At the moment the tostada with corn tortillas, roasted garlic-mashed sweet potatoes, black beans, baby greens, fried egg, and cheese was more appealing, I added a side of avocado. I really appreciated the fresh, tasty ingredients, even though I didn't care so much for the mashed sweet potato. I have to admit I always prefer traditional dishes so I would've liked more black beans on that tostada. But that was just a personal preference and had nothing to do with the quality of the food.

A PLACE IN THE SUN: Seaside Café & Bakery, 1327 Shell Beach Rd., Shell Beach, 773-4360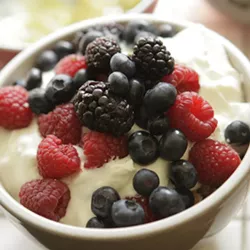 My friend, Peggy Bojduj, went with me and ordered the crustless quiche with a side of mixed greens with shredded cheddar and jack cheese, $6.95 à la carte, $9.99 with a choice of side salad or roasted potatoes. While we were eating, Tim came over to show us one of his wife's housemade English muffins. The huge, pebbly muffin, obviously handmade, impressed me. Then he introduced his wife, chef Liz Lynch Begovich, who handles all of the cooking and baking. He tends to customers and whips up his special coffee drinks with Illy Italian espresso or the Graffeo coffee from San Francisco. He doesn't boast that he's a barista (Italian for bartender or bar owner), but he certainly is expert at the task; his regulars rave about his coffees and specialty drinks, which range from $1.60 to $4.95.
After talking with Tim and Liz a bit, Peggy couldn't hold back any longer and told them I am New Times' Cuisine columnist. They were surprised but admitted they had been expecting me; McNeil tipped them off. I was honest about my take on the tostada, but told Tim I couldn't wait to come back and try more of their delicious foods. When I returned, Tim, once again, recommended the Sunset Benedict. I went for it and it was excellent, a comfort-style dish that was way too much food for me in one sitting. I took the other half home.
Nearly everything Liz cooks is housemade, like the toasted English muffin and the hollandaise. The tender beef filet was thin-cut but perfectly medium-rare with a sauté of deliciously fresh chanterelle mushrooms, topped with two fried eggs. Every Benedict comes with a side of Italian-style roasted potatoes, onions, and roasted garlic cloves. I also had to try one of her decadent desserts. Tim prepared the rich brownie, which is huge and loaded with chocolate chunks and walnuts for $2.50, then he gilded it with powdered sugar, streaks of caramel sauce, and a dollop of whipped cream. That dessert would have satisfied a starving stevedore. Her desserts are downright bargain-priced, ranging from $1.50 for cookies to $3.50 for fresh fruit strudels. I love the fact she offered chocolate and bran muffins made with wholewheat flour.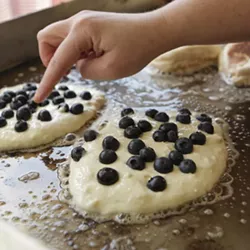 I've read their reviews on Yelp.com, which often said the food is too expensive, perhaps so if your usual haunt is McDonald's or Taco Bell. But in my travels, the prices here are totally fair considering the quality and the portions.

Not to mention being housemade by the passionate and talented chef Liz. She brought up the Yelp comments, which I told her are ridiculous, and explained: "We portion our food according to the price, and we never serve out-of-season cantaloupe or green melon."
Before she met Tim, Liz worked at such local restaurants as Popolo's and the Art Café, the latter of which she described as: "during the Oprah times when Margo Skye owned it." The popular talk-show host loved the café so much she invested in it. At the time, Liz was their pastry chef. She met Tim at Mother's Tavern, and found they had much in common. Tim's parents opened the Adriatic Restaurant in Saratoga, California, which ran for 25 years. He was only one-year-old when it opened and remembers, "I grew up in it."
When he started dating Liz, he was so impressed by her fabulous baked delicacies he told her he could sell them. Together they created the Simply Delicious Bakery, and he began selling her cheesecake, carrot cake, tiramisu, and two-ton chocolate fudge cake to such restaurants as Custom House and Alex's Bar-B-Q, as well as Cal Poly. "We made $8,000 a month in wholesale cake sales," Tim remembered. "Then we took over the Seaside Café and added, 'and Bakery' to the name." His parents, Ed and Neda Begovich, retired from the restaurant business in the early '90s and relocated to SLO County. They own the building that's home to the Seaside Café. Tim and Liz were married last year, and they are still there running their Seaside Café for lunch and dinner daily.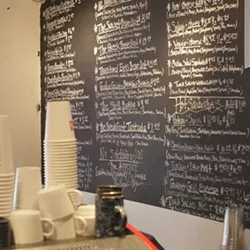 There's more space behind the current café, which Tim and Liz plan to expand into soon. They've applied for a beer and wine license and will offer happy hour and tapas from 4 p.m. to 6 p.m. once the expansion is completed. They still offer catering services and baked goods that you can pre-order. Liz said she can cater a party as small as four persons, or events up to 250 people.
During my last visit, Allan, a regular customer, devoured his warm apple turnover and chided Tim: "I hated it, but figured I'd better eat it." I laughed aloud at the absurdity. I really appreciate an intimate eatery like the Seaside: it's the perfect little neighborhood breakfast and lunch café. Every day it fills up with regulars who all know each other, and they come here to share in the great meals by chef Liz that are reasonably-priced in a relaxed, fun ambiance. Every neighborhood could use a place like the Seaside Café & Bakery.
You can reach New Times' Cuisine columnist at khardesty@new timesslo.com