PHOTO COURTESY OF THE BLIND BOYS OF ALABAMA
HEAVENLY HARMONIES : The Blind Boys of Alabama bring their exuberant holiday show to the Performing Arts Center on Dec. 16.
Perhaps it's no coincidence that "rejoice" rhymes with "voice." The sheer power achieved by human vocal chords resonating together in song can evoke deep feelings of joy and connectedness, a universal experience felt by people of various cultures throughout the ages. In our culture, it's the winter holiday season that acts as a catalyst for the powerful concoction created by singing and rejoicing.
Gospel music is a primary example of the spirituality of song, and the undisputed living legends of gospel are the Blind Boys of Alabama. Their achievements over the decades they've been performing are remarkable: five Grammy Awards, a Lifetime Achievement Award from the National Endowment for the Arts, members of the Gospel Music Hall of Fame, performances at the White House … the list goes on.
The Blind Boys of Alabama formed at the Alabama Institute for the Negro Blind in 1939, playing almost exclusively on the black gospel circuit for the next 40 years, in churches, auditoriums, and stadiums across the country. Their recordings influenced many gospel, R&B, and rock'n'roll artists over the years, even as they stayed true to their calling. Joining the civil rights movement of the 1960s, they performed at benefits for Dr. Martin Luther King. An important turning point for the Blind Boys came in 1983 with their role in the smash hit and Obie Award-winning play The Gospel at Colonus, which brought their timeless sound to an enthusiastic new audience. They continue to earn praise for their remarkable interpretations of everything from traditional gospel favorites to contemporary spiritual material by acclaimed songwriters such as Curtis Mayfield, Ben Harper, Eric Clapton, Prince, and Tom Waits.
The group has formed fast friendships with an impressive array of musicians, and they've appeared on recordings with Bonnie Raitt, Randy Travis, k.d. lang, Lou Reed, Peter Gabriel, Charlie Musselwhite, Susan Tedeschi, Solomon Burke, Marty Stuart, Asleep at the Wheel, and many others.
Their latest recording, Duets, is a special anthology that features 14 collaborations, ranging from rock to reggae, country to contemporary Christian, and blues to ballads, all unified by the Blind Boys's deep, soulful harmonizing. The CD includes a tune they sing with Marva Wright, previously only available on video on the Blind Boys's Live in New Orleans DVD, plus tracks they've performed with a diverse group of artists.
The Blind Boys of Alabama will belt out their impeccable, joy-filled harmonies on Thursday, Dec. 16, at 7:30 p.m. at the
Performing Arts Center on the Cal Poly campus. "Go Tell It on the Mountain" will feature Jimmy Carter (vocals), Bishop Billy Bowers (vocals), Ben Moore (vocals), Eric "Ricky" McKinnie (drums), Joey Williams (lead guitar), and Tracy Pierce (bass). Their special guest is Ruthie Foster, who alone is reason enough to catch this concert—as many folks know from her performance at the Live Oak Music Festival. Get ready to rejoice with the sound of the human voice! Tickets range from $16 to $42, available at calpolyarts.org or by calling 756-2787.
PHOTO BY JULIAN MURRAY
THOUGHT PROVOKING : Hip hop artist Brother Ali is part of the How the Grouch Stole Christmas Tour coming to SLO Brew on Dec. 19.
Hip hop for the holidays
SLO Brewing Co. is dishing up one last show before taking a well-deserved holiday break. For your listening and dancing pleasure, it's the How the Grouch Stole Christmas Tour, featuring some of hip hop music's finest: The Grouch, Brother Ali, Eligh, and Los Rakas.
Brother Ali has been making quite a name for himself in the national media scene. As NPR's All Things Considered intoned last year, "If you must see one rapper this year who happens to be Muslim, albino, and legally blind, it should be Brother Ali."
Born Jason Newman in 1977 in Madison, Wisc., Brother Ali converted to Islam at age 15. As he points out on his latest recording, "I started rhyming just to be somebody/ to make people notice me at the party." His debut album was released only on cassette only in 2000, and quickly became an underground favorite. Since then, Brother Ali's recording credits include Rites of Passage, Shadows on the Sun, Champion EP, The Undisputed Truth, The Truth is Here, and his latest, released on the Rhymesayers Entertainment label, Us. His song, "Uncle Sam Goddamn," attracted national attention with its criticism of the U.S. government and a political system addicted to war.
The beats on Us are courtesy of Ant, whose mixtures of lush strings and haunting choirs—with the grounding pulse of funk-inspired synthetic bass and talk box—provide the perfect musical bed for Brother Ali's thought-provoking musings. Called the Street Preacher by his friends, Brother Ali has dealt with a turbulent first marriage and homelessness. His raps examine the human condition, including underbelly topics like drug abuse, slavery, homophobia, and divorce.
The Grouch is an indie rapper and founding member of the Living Legends crew in the Bay Area. The group is known for eschewing the gangsta posing of some rappers and hip hop artists, instead offering clear-eyed raps about real life issues. The Grouch's 2002 recording Crusader for Justice featured guitar and organ played by Grouch's father Stu Blank, an important Bay Area musician.
Eligh is an outside-of-the-box MC and producer, an important contributor to the development of California's hip hop underground in the '90s with the Living Legends. Eligh joined the Grouch in 2000 to issue G&E Music.
The How the Grouch Stole Christmas Tour, featuring the Grouch, Brother Ali, Eligh, and Los Rakas, livens up SLO Brew (1119 Garden St., SLO) on Sunday, Dec. 19, at 7:30 p.m. Tickets for the all-ages show are $22 advance (Boo Boo Records and ticketweb.com) and $24 at the door.
More music …
Jazz vocalist Gabriela Welch croons at Coalition (974 Monterey St., SLO, 595-1010) during the "Give a Gift that Counts" celebration on Thursday, Dec. 16, from 6 to 9 p.m. You'll find in-store specials, along with food and drinks, so what are you waiting for?
Do you think music should be taught in local high schools? Of course you do! Your chance to support a local high school music department is here. The Templeton High School Band and Choral will perform their winter concert on Thursday, Dec. 16, at 7 p.m. at the Templeton High School Performing Arts Center (1200 S. Main St., Templeton, 434-5888).
Frog and Peach Pub (728 Higuera St., SLO) presents two fine bands, with music that's just perfect with beer. It's The Real Nasty on Thursday, Dec. 16, and Dub Seeds on Friday, Dec. 17. The music usually starts around 10 p.m.
PHOTO COURTESY OF WENDY OLIVER
BEAUTIFUL BELLIES : The seventh annual Tribal Fusion Faire at the SLO Vets Hall celebrates all tribes Dec. 17 to 19 with belly dancing, music, workshops, and cuisine.
PHOTO COURTESY OF RAS DANNY
REGGAE MAN : Jamaica-born Ras Danny and the Reggae All Stars will provide live music at the Tribal Fusion Faire in SLO on Dec. 17, 18, and 19.
It's time once again for the Tribal Fusion Faire, celebrating all tribes with dance, music, food, and, of course, shopping, Friday through Sunday, Dec. 17 to 19, at the SLO Vets Hall on Grand Avenue. Jamaica-born Ras Danny and the Reggae All Stars are among the performers at this seventh annual event, taking the stage for a Friday night live music mixer and again on Saturday at 4:20 p.m. You can catch a special Saturday night belly dance show from 8 to 11 p.m. (tickets $10), or attend various workshops throughout the weekend ($40 each), taught by visiting experts from around the world and covering topics including cardio belly dance, tribal makeup, henna, fundamentals of the fan veil, custom bra making, improvisational tribal style, and music mixing. Hey, there's even a male belly dancer, Steven Eggers! Call Wendy Oliver at Bali Isle at 544-7662 for details or visit medddevi.com/tribalfusionfaire.
Santa Barbara County favorite Soulamente brings their unique brand of danceable music to Harry's, SLO County's most enduring night spot (690 Cypress, Pismo Beach, 773-1010) on Friday and Saturday, Dec. 17 and 18, at 9 p.m. The cover charge is $5. You gotta love Harry's, bringing you live music every night of the week! Work off those extra calories, folks!
If it's salsa dancing you prefer, check out De la Bahia, a local salsa band that'll be pumping out some spicy tunes during a free show at the Otter Rock Café (885 Embarcadero, Morro Bay) on Saturday, Dec. 18, from 8 to 11 p.m. As music fans know, the Otter Rock is a great place to catch live music, complete with a picturesque view over the Morro Bay Estuary, a fun staff, and no cover charge. No doubt they'll have to move some tables out of the way to make room for all the salsa dancers! De la Bahia consists of Karl Welz on sax, Bob Harway on piano, John Van Eps on bass, Mike Raynor on timbales, and Rick Collins on congas. Olé!
"Breathing life into the music of the masters." That's the motto of the Cuesta Master Chorale, a megagroup that certainly combines "voice" and "rejoice" into a beautiful and sometimes breathtaking whole. These dedicated singers—there're more than 100 of them!—have been known to memorize pages and
pages of German lyrics, sung in perfect harmony and with quite passable accents. Their holiday season concerts are always a hit. This year, it's "Voices of the Season," featuring works by Bach, Mendelssohn, and Vaughn Williams, plus a traditional carol medley arranged by Robert Shaw and Robert Russell Bennett. Guest soloists are Sarah Viola, soprano, and Jacalyn Kreitzer, mezzo soprano. The Master Chorale Orchestra will perform along with the singers. Did you know that the Cuesta Master Chorale is a class offered by the Cuesta Music Department? The group's leader, Dr. Thomas Davies, has held the position since 1985, as well as being a Cal Poly music professor and director of Choral Activities and Vocal Studies. The chorale's holiday concert takes place on Saturday, Dec. 18, at 8 p.m. at the PAC's Christopher Cohan Center. Tickets cost $13 to $28, available at pacslo.org or by calling 756-2787.
Local recording artist Athena (who needs a last name with a first name that pretty?) performs in a benefit for Templeton Hills Seventh Day Adventist Christian School, set for Saturday, Dec. 18, at 6:30 p.m. at the American Legion Hall (805 S. Main St., Templeton). Admission is free, but donations are gratefully accepted. More info at 4athena.com or 434-1638.
The Basin Street Regulars present a concert of "America's Music," featuring Bobby Gordon's Blueblowers, the Basin Street Regulars, and the Creole Syncopators on Sunday, Dec. 19, from 11 a.m. to 4 p.m. at the Pismo Beach Veterans Memorial Building (780 Bello St., Pismo Beach). Tickets are available at the door for $5 and $10. Want to know more? Call 550-4865 or log onto pismojazz.com.
PHOTO COURTESY OF CURTIS REINHARDT
BIG AND BRASSY : The Estero Bay Brass Quintet is just one of the many performers at the third annual Christmas and Holiday Concert and Sing-Along, set for Dec. 19 at the Clark Center in Arroyo Grande.
Now it's your chance to sing! No, not in the shower—in public! Feel the joy, folks! It's the Third Annual Christmas and Holiday Concert and Sing-Along at the Clark Center in Arroyo Grande, set for Sunday, Dec. 19, at 4 p.m. Practice up on your favorite carols, including "Deck the Halls," "Silent Night," "Let It Snow," "Jingle Bell Rock," and "Frosty the Snowman." You aren't the only singing star at this show, though. You'll also be able to hear the Village Carolers of Studio Sing, Sing, Sing, along with the Nipomo High School Band and the Estero Bay Brass Quintet. And still more singers, from the Combined Choirs of the Arroyo Grande United Methodist Church and the Grover Beach First Presbyterian Church. Get ready for the grand finale, featuring our own local piano man, Rudolph Budginas, playing an "O Holy Night" rhapsody, backed by the combined choirs. The Arroyo Grande Rotary Club is the event sponsor, and net proceeds go to the music and arts programs of various South County schools. Tickets are $10 for adults and $5 for children and students, available at clarkcenter.org or by calling 489-9444.
OK, turn off that shower water and prepare for another sing-along fundraiser, this time to benefit the Performing Arts Center's Youth Outreach Program. The fourth annual Forbes Pipe Organ Holiday Concert and Sing-Along comes to the Christopher Cohan Center on Sunday, Dec. 19, at 3 p.m. This heartfelt concert tradition features performances by the Vocal Arts Ensemble and the Central Coast Children's Choir, with Cal Poly University Organist Paul Woodring playing a collection of holiday carols on that magnificent Forbes Pipe Organ while audience members—that's you!—sing along. Tickets cost $15 for adults, $8 for students, available at pacslo.org or by calling 756-2787. La, la, la, la.
The Otter Rock is once again holding its annual Christmas party for all its regulars—and irregulars, too! It's an all-star jam featuring the Mighty Croon Dogs on Sunday, Dec. 19, starting at 5 p.m. Bring along your favorite foods for the potluck, and don't forget those dancing shoes!
PHOTO COURTESY OF KELLY MCFARLING
RHYTHM AND BLUEGRASS : Atlanta native Kelly McFarling joins Shady Maples Band at a Songwriters at Play showcase on Dec. 21 at the Steynberg Gallery in SLO.
Steve Key's Songwriters at Play showcases continue with some visiting musicians from out of town. Two San Francisco-based bands are well worth hearing: Kelly McFarling and Shady Maples Band. They're touring together, with six different musicians collaborating on original rhythm and bluegrass, plus psychedelic folk rock. They're taking the stage along with other songwriters on Tuesday, Dec. 21, at 6:30 p.m. at the Steynberg Gallery (1531 Monterey St., in SLO). The cover's $5.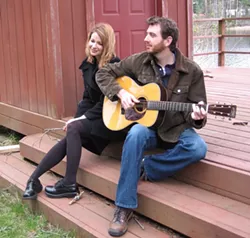 PHOTO COURTESY OF THE COMFORTERS
TAKE COMFORT : Eugene, Ore.-based duo the Comforters takes center stage at the Songwriters at Play showcase on Dec. 23 at the Porch in Santa Margarita.
And mark your calendar for the next Songwriters at Play showcase, when the Comforters, a two-piece orchestra from Eugene, Ore., deliver their heartbreaking and heartwarming songs. Their show is set for Thursday, Dec. 23, at the Porch in Santa Margarita (22322 El Camino, 438-3376). There's no cover charge, but be ready to add to the tip jar. The pizza's good, too!
Contributor Kathy Johnston is doing her best to fill Glen Starkey's formidable shoes while he's on staycation. Ask him what he's doing at gstarkey@newtimesslo.com.