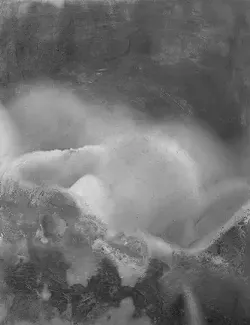 Lorna Teixeira must be having an exhibit; the walls of Steynberg Gallery are littered with red dots.
For her third show at the gallery—the first was in 2006 and the second in 2008—Teixeira opted to partner with abstract landscape painter and CorkStop Studios co-founder and resident artist Anne Stahl. The two artists—who are at once wildly unlike and startlingly similar in subject matter, method, and materials—met at CorkStop Studios.
For her part, Stahl has been reluctant to show locally, instead exhibiting her work in larger cities in the United States and internationally.
"I don't believe there is a market for contemporary artists in San Luis Obispo," she explained. "It is nice to be involved locally in the community if I feel that there's a certain support and interest, but I don't particularly feel that. Lorna's more connected. Lorna's more social. I'm a little bit more of a hermit."
Rather than coordinating a theme, the artists agreed to each bring a body of work to the gallery and surprise each other and the city—preferably in a positive fashion.
Teixeira works with plaster. Stahl works with encaustic on canvas.
Stahl uses layering as a means of exploring her theme, "senescence," otherwise known as the process of aging. Teixeira's work has a textural quality derived from the fact that she carves and etches into her work.
Encaustic paint isn't Stahl's only medium. She works with canvases and print, large and small, and considers herself an abstract landscape painter. In fact, her last two series concerned grass and then the landscape of the mind, suggesting a shift from a more traditional definition of landscape. For a series exploring the complexity of aging,
Stahl turned to encaustics.
"The idea was to have a core layer of avery bright and colorful image of something from nature—a blossom, petal, fresh leaf—and then layer the wax over it, almost to symbolize aging."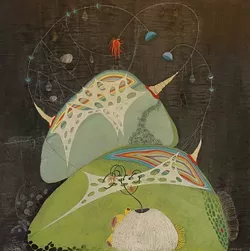 The metaphor is unmistakable.
"You start out fresh and bright, and then slowly it changes," Stahl explained. "It's almost like a time capsule."
Though she insists that her color palette comes from her "gut," Stahl admits that she tends to prefer organic colors, working with a monochromatic scheme, with the addition of a spark or splash of red. Next to Teixeira's whimsical paintings, Stahl's look moody and brooding. But at a closer angle, they reveal an ethereal quality that allows the viewer to fall into them. On average, the artist uses between five and 10 layers of encaustics on a single canvas, but that can expand to as many as 20, creating a riddle of color and shape that runs fathoms deep.
Titling her work is always an unwanted task for Stahl—a distaste she shares with Teixeira—but she's developed a method of addressing the difficulty. She runs Google searches on her theme and looks for new words that indirectly relate to it. Passport, for example, got its title after a search on "senescence" turned up a page that referred to aging as a journey and asked whether the reader had a passport prepared. In other cases, such as with the piece Feather, the title is self-explanatory. Stahl placed a feather at the piece's core.
Teixeira tends to approach new bodies of work differently. As she's working, she doesn't have a concrete theme in mind. It's only after a series is completed that she recognizes the cohesive thread and its relation to her own phase in life. In college, she explains, she painted couples. Love was on her mind. Later, it was figures within figures: babies. Most recently, painted in the wake of a stressful house re-design, Teixeira painted houses. So how do the bizarre shapes inhabiting the walls of the Steynberg Gallery correspond to her life?
"Now I'm kind of stepping back. I'm relaxing," she said. "I've got a new dog. And I'm hiking all the time. It's kind of fun taking walks and looking at spider webs."
Using nature—and, more specifically, cocoons, seed pods, and insect life—Teixeira allowed herself to re-imagine nature's shapes and colors into a fantasy world that pairs biology with an almost cartoon sensibility.
DUO: An exhibition of new works by Anne Stahl and Lorna Teixeira is on display at the Steynberg Gallery through Oct. 24. An artist reception takes place Oct. 1, from 6 to 9 p.m. The Steynberg Gallery is at 1531 Monterey St. For more information, visit steynberggallery.com, annestahl.com, or lornatex.com.
In Teixeira's paintings, a cocoon might measure a foot in size, though its inspiration was only a few inches long. Life forms that most closely resemble sea anemones are attached to bulbous and unidentified shapes that retain a startling organic quality.
The painter credits her vibrant color and texture palette to the plaster she works with. Though it initially took some getting used to, Teixeira is now confident in her materials and ability to manipulate them to their fullest potential. Plaster also allows the artist to invest time in the detail work that has become an important signature of her style.
Despite their differences (or perhaps because of them) and due to their similarities (or perhaps in spite of them), Teixeira and Stahl present a cohesive show that is part circus, part meditation, and exquisitely beautiful.
"I don't think a solo show of either of our work would have been as strong," Stahl insisted.
"We make each other look good," Teixeira added.
Managing Editor Ashley Schwellenbach is a seedpod. Send watering cans to aschwellenbach@newtimesslo.com.