As crowds of shoppers perused the fresh and colorful produce on display at the farmers' market in downtown SLO, a small group gathered solemnly in growing dark outside of Mission Plaza on March 2.
They lit six candles, each flame represented a life recently extinguished by violence.
Mesha Caldwell, 41. Shot to death Jan. 4 in Canton, Mich.
Jamie Lee Wounded Arrow, 28. Found dead in her Souix Falls, N.D., apartment Jan. 6.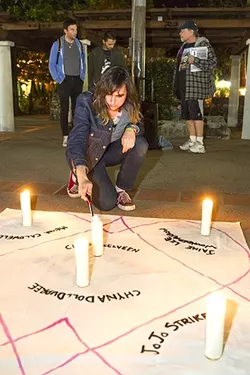 PHOTO BY JAYSON MELLOM
VICTIMS OF VIOLENCE: Robin Foss of The Queer Crowd SLO lights candles in Mission Plaza on March 2 for a vigil in memory of six transgender women killed in the U.S. in the first two months of 2017.
JoJo Striker, 23. Shot to death in Toledo, Ohio, Feb. 8.
Tiara Richmond, 24. Fatally shot in Chicago Feb. 21.
Chyna Doll Dupree, 31. Shot and killed in New Orleans Feb. 25.
Ciara McElveen, 26. Stabbed to death Feb. 27, also in New Orleans.
The vicitms all share one thing in common. They were transgender women of color. Their deaths followed a record high year for homicides committed against transgender and gender non-conforming individuals. That number was 23 in 2016, according to the New York City Anti-Violence Project, a nonprofit that tracks crimes against transgender people in the United States.
The group that met in Mission Plaza to hold a vigil in their memory were members of The Queer Crowd SLO. They hoped to send a single, important message: that black trans lives matter.
The club boasts about 220 members and was formed last year in the wake of the Pulse Night Club shooting in Orlando, Fla., with the goal of bringing SLO's queer, transgender, gay, lesbian community (as well as their straight allies) together to foster understanding and visibility of the LGBTQ community to the area.
"We don't have a West Hollywood or a Castro District," said Robin Foss, who spearheads the group's political activism and activities. "San Luis Obispo doesn't really have a cohesive queer community, but it could."
Foss and the other members of the group are among the many organizations across the country concerned with a reported rise in violence and anti-trans rhetoric during the campaign and election of President Donald Trump and Vice President Mike Pence. Trump's campaign drew praise from far-right fringe white nationalists and was even endorsed by David Duke, the former leader of the Ku Klux Klan. As Indiana's governor, Pence had a lengthy history of opposing LGBTQ rights, including signing into law a bill that allowed businesses to cite religious freedom when refusing to serve gay and transgender individuals in 2015, and has been repeatedly accused of supporting the controversial and medically debunked "conversion" therapy for gay and transgender teens.
"All the dignity and progress we are losing … this is a nightmare," Foss said.
Concerns about the incoming administration's stance on transgender rights were stoked further after the president rescinded an Obama-era directive that allowed protections for transgender students to use lockers and bathrooms corresponding with their gender identity.
Susan Utter, a marriage and family therapist who works with many transgender clients at her Pismo Beach practice, said the uncertainty and fear is hitting home, feeding worries that hard-fought gains for LGBTQ rights under the previous presidential administration will be rolled back or demolished.
"Now that we've had that joy, it really feels like the rug is being ripped from underneath us," Utter said.
In California, many of the state's top officials have pledged to continue protections for the gay and transgender community, creating hope that the liberal-leaning state and its laws could act as a buffer between any executive orders or directives coming out of Washington. For example, state Department of Education Superintendent Tom Torlakson noted in a statement that California has had a law protecting transgender students on the books since 2013. Douglas Heumann, a SLO County attorney, former president of the Gay and Lesbian Alliance of the Central Coast, and member of the Tranz Central Coast committee, indicated such laws could be bulwarks against attempts to circumvent or damage those rights and protections.
"I'm not saying it's a non-issue," Heumann said. "It is a fear issue, but we in California are sitting pretty good."
Still, Heumann noted that other states don't have the same protections for transgender youth and adults and that governments in other states may not be as ready to pass or defend those protections.
"Just because you have a law doesn't mean it's going to be enforced," he said.
For Foss of the Queer Crowd SLO, the issue goes far beyond the letter of the law. The Trump administration's rollback of protections has a direct correlation to the spate of anti-trans violence that claimed the lives of the six women her group held candles for at the vigil.
"The murders are the intended consequence of an announcement like that," she said. "The intention of these anti-LGBTQ laws is to give a kind of tacit permission for fanatics to commit violence against minorities."
For Foss and other members of the LGBTQ community in SLO and beyond, it's all the more reason to become more involved, organize, and attend events like the vigil.
"We are not going to survive this if people sit at home," she said.
Staff Writer Chris McGuinness can be reached at cmcguinness@newtimesslo.com, or on Twitter at @CWMcGuinness.