A slideshow of people on the streets and those transitioning off of them.
If and when the El Niño rains come as promised, rising water could displace hundreds of people in San Luis Obispo County. It could flood the homes of the county's most vulnerable population, taking tents, tarps, and belongings with it in a mad wet charge down local creek beds.
But those things aren't as important as the lives it could cost us. The population that calls the creeks home doesn't really have anywhere else to go if the rain comes pouring down.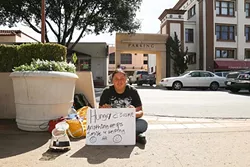 PHOTO BY DYLAN HONEA-BAUMANN
HOPE : On most days you can find Nicole Booth, 23, sitting in front of the Downtown Centre on Marsh Street. She's from San Luis Obispo, has been homeless for six years, and doesn't utilize area shelters, except for food. She camps in a tent and keeps a tarp over her tent to stay dry in the rain. Booth is hoping to find a place to live by April.
We—as a county—don't have many options for housing our homeless populations, which is why the SLO County Board of Supervisors unanimously passed an emergency shelter crisis declaration at the beginning of February. The declaration sunsets in April, because that's when the adverse weather supposedly goes away. It's a move that several people, including County Administrator Dan Buckshi, called "largely symbolic."
Meaning: We acknowledge that this problem exists.
"It wasn't that I thought it was going to solve anything. I was hoping it would start an earnest conversation," 3rd District Supervisor Adam Hill told New Times. "We still have not had the candid community conversation about the best way to approach homelessness."
So why make the declaration?
"Because we have a large number of people, who, even if they came to the warming center for shelter, we wouldn't have enough space to shelter them," said Laurel Weir, director of homeless services for the county Department of Social Services.
Basically, the declaration gives the county room to grow in terms of where a shelter can be opened. The county is free of certain liabilities if emergency shelters are set up. During that February meeting, county supervisors directed staff to look into options for buildings that could be used to temporarily house people, and they also asked staff to figure out why warming shelters aren't often filled to capacity when they are open.
According to the last Point-In-Time Homeless Census conducted in January 2015, 1,515 homeless people were counted in SLO County during one 24-hour period. Of those people, 392 were considered to be sheltered.
Since that time, Weir said the county's pool of "shelter" beds has decreased. If a count was conducted today, the county would have fewer people with a temporary roof over their heads. As it stands now, there are between 150 and 200 shelter beds on any given night—that includes 50 at the ECHO (El Camino Homeless Organization) Shelter in Atascadero, 50 at Maxine Lewis Memorial Center, 25 to 40 overflow beds at San Luis Obispo area churches, vouchers for motel stays, and domestic violence shelters in Paso Robles and San Luis Obispo.
When warming shelters open, if there's a certain percentage chance of rain or the temperature drops below a certain degree, Weir said up to 160 beds can be added to that mix. Prado Day Center opens in San Luis Obispo, the 5 Cities Homeless Coalition operates a warming center out of a Social Services building in South County, and Paso Cares operates a small warming center in Paso Robles.
But those warming centers aren't always full. And even if they were, it's a temporary solution—just until the rain stops or it warms up. A momentary respite from homelessness. Talking to Weir and homeless advocates such as Tim Waag, it's not so much about the county's shelter situation as it is about the county's housing situation.
"The real goal is to get people housed, not get them into what's basically a human warehouse," Waag said.
Barriers to entry
There are several reasons why someone without what society considers to be "shelter" would choose to stay where they are rather than rush off to a warming shelter whenever one opens up.
PHOTO BY DYLAN HONEA-BAUMANN
KICKED OUT: 49-year-old William Collins holds a sign in front of Chipotle on Madonna Road. He's been homeless for about 30 years, and spent the last 10 years in San Luis Obispo. He said the local shelters kick you out if you don't do what they tell you to do: "You cannot go to the night shelter for dinner, you cannot go to the day shelter for any kind of meals, no showers. No nothing."
According to the list that the county's Homeless Services Oversight Council (HSOC) is putting together: People don't always know that a shelter is open. Most warming shelters don't allow dogs, and people don't want to separate from their pets. People don't want to leave their belongings because of a fear of being robbed or ripped off. Warming shelters aren't always set up where homeless populations exist, and somehow people have to get from one place to another. Some folks aren't sure whether they will be welcome or not.
Waag, who's also volunteered at the Community Action Partnership San Luis Obispo's (CAPSLO) Maxine Lewis shelter and Prado Day Center, said the list of people who have been kicked out of Prado is massive. Plus, similarly to many shelters, CAPSLO won't admit people if they're under the influence of alcohol or drugs.
In addition to those barriers, though, there are also multiple reasons it can be hard to open a shelter in the first place.
Morro Bay, which declared a shelter crisis in the weeks following the county's declaration, is feeling that pain. The coast from Los Osos to San Simeon and beyond doesn't have a shelter, with the closest one being in San Luis Obispo.
Morro Bay's City Council voted to support any nonprofit willing to take on the task, but stated that a warming shelter wasn't something that could be spearheaded by the city. The big issues that came up at the mid-February meeting included finding funding and a willing pool of trained volunteers, as well as an appropriate building in which to house the temporary shelter.
The city sees Paso Cares as a good example of the direction it wants to go with establishing a warming shelter. The Paso Robles-based nonprofit opened for its first warming shelter night on Dec. 10, 2015, and has operated the shelter on 41 different nights since then, according to Cherie Michaelson who volunteers with the organization.
Paso Cares works with faith-based organizations—churches—to feed and house up to 12 people when the shelter opens due to inclement weather. Ride-On transports shelter seekers from the church where dinner is served to the church where people will be sleeping that night.
Michaelson said it's taken four years to get this year's pilot project warming station off the ground. So far, when Paso Cares is open for shelter, an average of between seven and nine people show up. And although it hasn't reached its capacity of 12 people, yet, Michaelson said that could change with the weather.
"None of the warming stations have been full this year, and I think, just because the weather's been nice," she said, adding that originally Paso Cares was set to close for the winter in April, but long-range forecasts are nixing that plan. El Niño is now predicted to rain, rain, rain in March, April, and May. "It's one thing to be cold, and it's another thing to be wet. Once they get wet, they can never get dry."
New shelter
Grace McIntosh, deputy director at CAPSLO, agrees with Michaelson about weather changing the shelter need, drastically. She said rising creeks create unsafe conditions for the people who have camps near them.
"They're not going to leave their belongings to come into a shelter. They're not going to leave their homes … unless they really have to, unless it's really bad," she said. "We haven't had the torrential rains that they said we would have. We're not really going to know [what the shelter need is] unless we get that."
Since Christmas, CAPSLO has opened the Prado Day Center as a warming shelter on 10 nights. McIntosh said usually the emergency shelter gets close to capacity, because it's operated consistently every winter for the past few years. But soon the day center will be no more. The site where Prado is located needs to be vacated so the city of San Luis Obispo can expand its wastewater treatment facility.
The plan is to combine Maxine Lewis, which is closed during the day, and Prado, which is closed at night, into the Homeless Services Center at 40 Prado Road, which will have 100 beds and be open 24 hours a day. The $4.2-million project is scheduled to start construction this summer. So far, CAPSLO has raised $3 million, according to McIntosh.
Although the project will have multiple homeless services in one building, including health clinics and counseling offices, it will not include housing units.
"We would love it, but we're under the land-use thing. You can't have permanent housing long-term in the airport zoning," McIntosh said.
Basically, the center will be sharing land with the Regional Transit Authority in a part of San Luis Obispo that doesn't allow long-term residential units. So even after the Homeless Services Center is built, it will still only provide 100 temporary shelter beds in a city that has an estimated 482 homeless people—and a county that has one other dedicated homeless shelter with 50 beds (and three domestic violence shelters) but more than 1,500 homeless individuals, according to the 2015 Point-In-Time Homeless Census.
So between 70 and 80 percent of homeless individuals in SLO County will remain without shelter—whether there's an officially declared crisis or not.
"All this work to get a shelter crisis, or a warming shelter crisis, I get it," McIntosh said. "But what we really have is a housing crisis."
County crisis
Something like land-use zoning is just one of several impediments to building affordable housing, according to Jerry Rioux with the SLO County Housing Trust Fund. He said the primary issue with housing in the county is a lack of available rental housing. The vacancy rate is 1.7 percent, according to Scott Smith, executive director of the Housing Authority of San Luis Obispo (HASLO).
Healthy communities, Smith said, should have a 5 percent vacancy rate, adding that as the rate reaches 3 percent the rental market starts to feel really tight.
"A lot of times, stuff gets rented before it even gets listed because of word of mouth," Smith said. "The reality is that [low- or no-income people] have a harder time competing on the market. They just don't look as good on paper … to a landlord."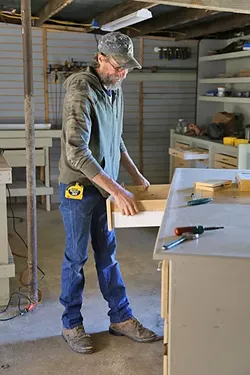 PHOTO BY DYLAN HONEA-BAUMANN
BUILDING HOME: Sunny Acres resident David Dieter has a background in the cabinet industry. Since he arrived at the facility four months ago, he's remodeled the wood shop. Dieter said he's battled alcoholism in his life, but because he's got so much to do at Sunny Acres, he hasn't been drinking. The sober living facility is in the process of trying to get its zoning changed so more people can get off the streets and into a bed on the property.
And while organizations like the Housing Trust Fund and HASLO are working on the supply side by funding and building (respectively) affordable housing projects, those projects take a long time to work their way through the planning process, cost quite a bit of money, and can only be built a handful of units at a time.
"It's a very complex issue," Rioux said.
He blames the county's housing dearth on restrictive zoning laws, the cost of building impact fees, the California Environmental Quality Act and environmental advocates that come with it, and a lack of adequate land to build on—land that's close to services or even connected to municipal sewer and water.
Weir from the Department of Social Services said programs, such as what used to be called Section 8, that provide subsidies to help individuals or families find housing are having trouble not only with housing inventory, but with affordability. Weir defines affordable housing as paying no more than 30 percent of income for rent. If someone is living off $800 to $1,000 in Social Security or disability benefits every month, affordable housing would be approximately $300.
"There's just not a lot out there for $300 a month. The only housing out there like that is subsidized," Weir said.
The funding HASLO gets from the federal Housing and Urban Development agency for Section 8 vouchers hasn't changed, but the cost of rentals has increased. Therefore, HASLO can't subsidize rents for as many individuals as it could before—and Weir said folks who do qualify for vouchers are waiting longer to get into housing in the first place.
"The rents are rising much faster than inflation," Weir said. "There's all kinds of agencies that are looking for housing right now for their clients. We're desperately looking for people who are willing to provide housing."
So what do we do?
"We have to be creative. We have to consider some alternative housing models that we might not have before. We need to get creative with the resources we already have," she said.
Non-traditional housing
Affordable housing advocate Anne Wyatt's been suggesting alternative models for years. She believes residential hotels are one great option—turning rundown hotels into affordable housing projects. Another good option is something she calls home sharing. And Morro Bay could be exactly the spot to start a pilot program for SLO County. Or at least that sentiment came up at a recent Estero Bay Alliance for Care meeting.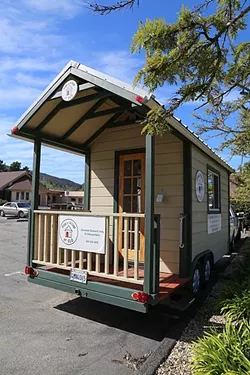 PHOTO BY DYLAN HONEA-BAUMANN
COMMUNITY VILLAGE: This tiny home on wheels is a mock-up of the structures that Hope's Village wants to someday build into a facility to help homeless people/families transition into a more permanent housing situation.
Morro Bay City Councilmember Christine Johnson explained that the city by the bay has a large percentage of "over-housed" seniors: retirees who live alone in multi-room houses. The home share program would match providers—homeowners with an extra room who maybe aren't craigslist-savvy—with seekers—people looking for housing.
"Basically, it's kind of a matching resource," Wyatt explained. "It creates this pool of affordable housing, expands the pool of affordable housing. … The lingo is kind of homeless prevention."
Basically, the program would do all the legwork, do background checks, make sure the housing is up to par, match people together, and help resolve conflicts should they arise. Wyatt said she wants to model the program after successful ones in San Diego and San Mateo, but she's currently looking for a nonprofit willing to take on the project.
There's also the potential to house more people on the Sunny Acres property off Los Osos Valley Road, which is basically a clean and sober living program designed to help people transition off the streets. The facility is in the midst of constructing a new residential building and it can only house 16 people due to zoning restrictions.
Although the Board of Supervisors has asked county staff to look into a way to possibly change the agricultural zoning of the property, nothing concrete has been proposed yet. Jim Bergman, director of the county Planning and Building Department, was unable to respond to New Times' request for comment.
Rioux from the Housing Trust Fund thinks another good, creative solution to SLO's housing woes could be allowing people to reside in tiny homes, which is currently illegal (the city of Fresno recently passed an ordinance making it legal).
"Local governments have pushed back and said it's illegal. Well, it's illegal because they don't allow it," he said. "They can allow it, and then it'd be legal."
Hope's Village is one nonprofit that could benefit from a county ordinance legalizing tiny-home living. The organization wants to take the concept of Sunny Acres and expand on it: a clean and sober living facility to help get homeless people into transitional housing; a central community space with showers, a kitchen, and recreational area; land for crops and animals; and what amounts to an RV park for tiny homes.
Other than the zoning, one of the major hold-ups to the project is land. Former Hope's Village board Vice President Craig Mesman said the nonprofit is looking for an approximately 5-acre land parcel close to services and public transportation routes. The point of Hope's Village is for it to be low-cost and easy to replicate, with the homes costing between $3,000 and $4,000 to build.
But, he added, Hope's Village would be more than just a place to live, it's a way for people who have been living in an ostracized world to create a new sort of community.
"It's really not about the physical structure. It's about having a place where people can reconnect and hopefully make their way back into society," Mesman said.
Editor Camillia Lanham can be reached at clanham@newtimesslo.com.