A special election is right around the corner. Up for grabs? The 15th District Senate seat vacated by Abel Maldonado. The district extends south from Santa Clara County to the northern part of Santa Barbara County.
Unless one candidate receives 50 percent of the votes plus one in the June 22 special election, all four candidates in the race (a Republican, a Democrat, A Libertarian, and one independent) would face off again in a general election on August 17. The candidate who receives the most votes in the general election would win. For the upcoming special election, New Times interviewed Republican candidate Assemblyman Sam Blakeslee and Democratic Party candidate John Laird about their priorities and approaches on district issues.
PHOTO BY STEVE E. MILLER
SAM BLAKESLEE: : "We're one of the least competitive states for business in the nation. Our taxes are actually driving companies away."
Sam Blakeslee
Blakeslee graduated from high school in San Luis Obispo, earned his doctorate at UCSB as a geophysicist, and worked for Exxon as a scientist and later manager, but left the company after it refused to implement a proposal he made to donate old oil wells to universities in California to study the causes of earthquakes.
After moving back to the Central Coast, he joined his family's firm and worked on several nonprofit boards before successfully running for State Assembly in 2004.
New Times: What are the biggest issues facing the 15h District?
Blakeslee: The biggest issues are twofold: One, we need to have more head-of-household jobs. Unemployment is unacceptably high. We're not a metropolitan area that has a lot of manufacturing. We need more jobs that are R&D, engineering, the sort of high-quality jobs that allow people to live here and buy a home. We need to have the economic activity that allows people to keep paying their mortgage and living in our community.
The second issue is that we're continually impacted by budget problems in Sacramento. We have California Men's Colony, Atascadero State Hospital, Allan Hancock College, and county governments that are all significant impacts to our local economy due to the boom-bust problems plaguing Sacramento for some time. One of the best things we could do locally is fix what's wrong in Sacramento: stop overspending. The irresponsible ups and downs that cause these very erratic levels of changes in spending make local governing very difficult.
New Times: How, then, would you go about fixing it?
Blakeslee: Twofold: One, seriously overhauling our tax code. We're one of the least competitive states for business in the nation. Our taxes are actually driving companies away. A major overhaul of how we tax, making taxes fairer and simpler, would eliminate the ups and downs, which is very bad for stable spending and is driving companies out.
Two: Budget reform. It's pretty simple: We need a spending cap so we overspend during good times, and a rainy day reserve for bad times. California has consistently spent every penny it receives. That sees spending explode during good times, and when bad times come, there's no money left to fund schools and critical services.
New Times: The 15th is a long district. How do you balance the needs of the northern part of the district against those of the southern?
Blakeslee: Four of five counties in the district have very similar issues: For Santa Barbara, San Luis, Monterey, and Santa Cruz, it's protecting agriculture. When you get into Santa Clara, you start to reach into Silicon Valley, with more high-tech and manufacturing jobs. The strategies that help agriculture—for example, the Williamson Act—are very different [from] strategies for a company that builds fuel cells. The fuel cell company can move to China, tomorrow. The Cabernet that's grown in SLO is not going to move to China.
New Times: What's your stance on offshore oil drilling?
Blakeslee: On the issue of the moratorium, I'm for protecting our coast from spills, and have been from day one. In every instance in the question of offshore drilling, I've chosen the option that best protects our coast. In 2008, when a resolution came before the Legislature during the "drill baby, drill" era, do you know how many Republicans in the Assembly voted for the moratorium? One: me.
Even when it was popular to drill offshore, I stuck with my principles and said the Central Coast was the wrong place for increasing risk. It's a very fragile place that needed an extra level of protection. When the compromise forged by [Environmental Defense Center's] Linda Krop and others to early retire four platforms was reached, I felt that was the best solution to protect our coast and supported it.
Reasonable people will realize that if someone says, "If you support that proposal [between the EDC and PXP to allow for new drilling from one platform off the coast in exchange for cessation of all drilling in 14 years], you're for unlimited drilling off the Central Coast," anyone who makes that assertion knows it's not accurate.
New Times: Anything you'd like to add?
Blakeslee As a moderate Republican, I believe that it's important for the state Legislature to have the kind of rational debate which produces compromise. Very powerful Sacramento interests want to create a two-thirds control of the legislature. They want to be able to implement any tax and override any governor's veto simply through Sacramento political machinations. My candidacy is, frankly, not only important for the kind of moderate, principled representation the Central Coast expects, but it's also very important statewide to make sure Sacramento doesn't have control to raise taxes at the drop of a hat on anyone and everyone.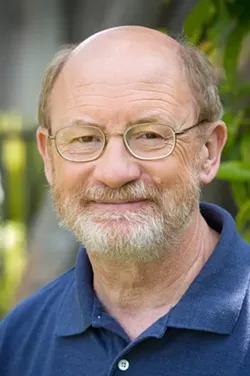 PHOTO COURTESY JOHN LAIRD
JOHN LAIRD: "We have to make sure we lower the greenhouse gas emissions across the state and are in a position to create green jobs as part of environmental protection."
John Laird
Laird represented the 27th Assembly district, which includes portions of Santa Cruz, Santa Clara, and Monterey counties, from 2002 through 2008, serving as chair of the Assembly Budget Committee from 2004 to 2008. He was one of the three original sponsors of AB 32, the Global Warming Solutions Act of 2006. Prior to his service in the legislature, he was a city councilmember and mayor of Santa Cruz and was the appointee of the Monterey Bay League of Cities Chapter to the Governor's Advisory Committee on Outer Continental Shelf Issues and was president of the Association of Monterey Bay Area Governments.
New Times: What are the biggest issues facing the 15th Senate District?
Laird: The biggest issues are how to bring back jobs to the Central Coast, how to protect the environment, and how to protect public education.
New Times: How would you respond?
Laird: The environment is a key part of the visitor-serving economy, and we have to stabilize funding for state parks. We have to make sure we lower the greenhouse gas emissions across the state and are in a position to create green jobs as part of environmental protection. I've worked to provide a long-term, stable funding source for the state parks system, which will benefit the visitor-serving industry, making sure there is adequate tourism promotion. I had the Natural Heritage [Preservation] tax credit that helped with the acquisition of the Hearst Ranch in trying to deal with storm water, the coastal trail, and other important environmental issues.
With public education, it's an issue of not just uprighting the budget with adequate support, but making sure it's good quality and making sure for higher education it's affordable to the middle class in California.
New Times: This district is very long, from north to south. How would you balance the needs of the northern areas of the district with those in the south?
Laird: I think there are common needs. This is a district that has agriculture, visitor-serving industry, and education and other government institutions at the heart of its economy. That is true throughout the district. It is a matter of making sure those basic needs are met regardless of location, but I think it's also very important in the district to be responsive to local needs. In the northern part, I helped to break a deadlock to move a veterans' cemetery forward, helped revive the governance to modernize the Monterey airport, helped Castroville get a library, helped get a flood-control project funded in the Pajaro Valley, and helped get a wilderness designation for a state park planned in Big Sur.
I want to do the same thing in the southern part of the district, to be responsive to the individual needs that are brought to me by citizens. Why should someone in San Luis Obispo County support me? I would say that at every step in my career, whether as a mayor or community college trustee or legislator, I have kept moving to a larger arena and in every case have worked to meet the needs of people in that new arena, in a way that after a little while they felt I was truly their representative. I look forward to doing the same thing in San Luis Obispo County.
New Times: What is your stance regarding offshore oil drilling?
Laird: I have a 25-year record in opposition to oil drilling off the California coast and was instrumental in a series of ballot measures that were passed in the 1980s to allow local voters to have a say in siting facilities related to offshore oil drilling. Those were ballot measures that passed in 1985 or 1986 in Santa Cruz, Monterey, and San Luis Obispo counties. I would not have supported any new offshore oil development as was attempted to be jammed through the legislature last year.
As a reminder, there are major air emissions from offshore rigs as well as safety issues. Rigs in state waters would be significantly closer to the shore than the rig in the gulf that blew up. There would be less opportunity to respond, less opportunity to control a spill. And I provided legislation during my Assembly service to make sure that oil-spill response was fully funded.
Nicholas Walter is a staff writer for New Times' sister newspaper, the Santa Maria Sun, and Ed Connolly is editor of New Times. Send comments to econnolly@newtimesslo.com.