PHOTO BY STEVE E. MILLER
THE MAN WITH THE NOSE : Alexandre Schmitt is from the University of Bordeaux, France. He conducts classes for winemakers—including a recent session at Tolosa Winery—to teach them to recognize aromas and flavors in various wines.
Could you swear you'd recognize your favorite scent even if you smelled it without being provided a clue as to what you were about to sniff? Well, like me, you might find it's not so easy once you've had lessons in smelling by an expert in perfumery. To my great dismay, I had that experience, and my sole consolation was the fact that my peers were equally surprised to discover they couldn't tell a lemon from a lime while smelling its scent blind. It's similar to a blind wine tasting, where the bottles are bagged so you can't tell who made it or what variety or blend is in the bottle, and, therefore, aren't judgmental. The olfaction seminar took place, thanks to some forward-thinking winemakers in the Edna Valley wine region, at Tolosa Winery, where I attended a wine and flavor seminar conducted by a perfume and wine flavor expert from Bordeaux, France.
Many SLO County winemakers have taken these illustrative olfaction classes to better understand the difference between strawberry and raspberry, or gardenia and orange blossom notes in sensory classes taught by Alexandre Schmitt, a teacher at the University of Bordeaux, France. Three local experts were so impressed by their teacher, that Edna Valley winemakers Nathan Carlson of Center of Effort (COE), Josh Baker of Edna Valley Vineyards, and Larry Brooks of Tolosa Winery asked each other how they could introduce the media to this extraordinary, enlightening class.
The winemakers came up with the idea of inviting 11 wine writers to participate in a session at Tolosa Winery. Unlike their usual full five-day course, we were invited for two half-day sessions focused on the variety for which the region is known worldwide: Chardonnay. Let me tell you, this was no simple aroma therapy session. It was like no other wine class I had ever attended before. The winemakers joined us as we focused specifically on identifying the flavors typically found in Chardonnay.

Although Schmitt instructed us not to resort to memories or images of what we thought the scent was, most of us found ourselves doing just that. One writer said of a woody scent: "This smells like my grandmother's cedar closet." Schmitt's guide on wine and flavors explains why you shouldn't use perception, which is a personal experience. It's because we have ideas linked to memories and images that differ from another person's memory of it. Instead, you must focus on the various components found in each scent.
"By describing each of their aromatic facets, we learn how to master and memorize smells. Cinnamon, for example has spicy, woody, leathery, sweet, almond-like, round, hot, resinous aspects, sometimes pharmaceutical ones, such as camphor," wrote the Bordeaux native, who trained himself to identify 1,500 smells.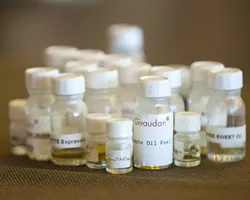 PHOTO BY STEVE E. MILLER
THE NOSE KNOWS? : Small jars contain essential oils and other liquids to be identified by smellers—a surprisingly difficult endeavor when the labels aren't visible.
During our seminar, 14 of us gathered around the table with Schmitt. He had dozens of small bottles of essential oils and chemicals, labeled so we couldn't read them. He would dip 15 paper strips into the compound oil or extract and then pass them around so we each had our own strip, including him. He instructed us to take our time smelling it and tell him what we thought it was by describing its components. A favorite moment was when we all smelled one and began discussing it: "lime, green, bitter, juicy, lemongrass, citrus, custard, game," were among our descriptors.
"Lemon is more acidic, while lime is silky," Schmitt noted, gently guiding us. Then he asked: "How many of you think this is lime?" Seven of us raised our hand, and I confidently noted that I frequently cook with lime. "No," he said impassively, "that is wrong; it's lemon, which is more acidic." Then he passed around strips scented with lime to drive the point home.
Schmitt, a teacher and author, studied chemistry at the University of Bordeaux where he now works, and perfumery at the International Superior Institute of Perfumery, Cosmetics, and Food Flavorings in Versailles, France. He began teaching perfumery and the formulation of aromas for medicines at the Bordeaux Pharmacy University. While there, he was invited to start teaching Olfaction at the Bordeaux Oenology University. He presents his olfaction classes in France, Spain, Portugal, Chile, Argentina, and California. He consults prestigious brands such as Chateau Pétrus, Chateau Margaux, Robert Mondavi Winery, and Opus One. It was Jean-Claude Berrouet, Pétrus' technical director, who suggested Schmitt become a specialist in wine.
I discussed the sessions afterward with Center of Effort winemaker Nathan Carlson, who admitted these classes aren't any easier on winemakers: "I remember the first class in a room filled with winemakers. We think we're pretty good with our senses, but then we'd hear, 'No, this is not lemon.' It was fun to watch as people who were normally confident struggled. We're lucky to have a guy of that level working with the wineries here."
I learned from Edna Valley winemaker Josh Baker that our classes were very much like those Schmitt conducts for winemakers: "People speak about what the smells remind them of at first, like grandma's cedar chest or a recipe. But it's interesting to watch—by the second day, they're more focused on the smells. It's a pretty powerful experience."
Baker advises consumers to learn by going through their spice collection and taking time to smell what's really inside the jar, or while in the grocery store, smelling fresh berries and citrus. He noted it's typical of the wine industry for people to spend time talking about the aromas in their glass. Schmitt's guide also had one unforgettable note for me: "The best musicians spend years studying music theory and practicing scales on a daily basis. Why should it be different for wine professionals who use their sense of smell every day?"

Contact New Times Cuisine columnist at khardesty@newtimesslo.com.