PHOTO BY TIM DOLPH
RETURN OF THE '70S : No, disco is not back, but '70s New York glam punk is, and The Heart Attacks are ready to stick it to you at Downtown Brew on June 6 by opening for headlining psychobilly act Nekromantix.
# New punk acts form about every five seconds, and most disband before they ever get out of the garage. Lately, the ones that seem to be making it are those with one foot in the past. I don't need to tell punk fans that the '70s New York glam sound is back. One of the newest proponents of this 30-year-old genre is The Heart Attacks, a quintet of kids waaaay too young to have experienced the '70s firsthand.
The band recently released Hellbound And Heartless, their Hellcat Records debut. They've already made fans of the likes of Tim Armstrong (of Rancid) with their hard, loud, uncompromising punk that harkens back to the Dead Boys and the New York Dolls.
The Heart Attacks' vocalist Chase (also known as "Teenage Haircut") sums up his band's sound with the typical tongue-in-cheek teen angst that drove the original glam movement: "Senseless, suicidal, and rock'n'roll."
The band's also become something of a media darling: "The Heart Attacks are living in the moment and rocking without a second thought to consequences," gushed Aversion.com's Matt Schild. "It's totally adolescent and totally rock." Meanwhile, The St. Louis Riverfront Times wrote, "The disc has the potential to trigger both a violent pogo-pit and an audience sing-along."
You can see The Heart Attacks when they open for Nekromantix (a returning favorite, purveyors of psychobilly) on Wednesday, June 6, at 7:30 p.m. for a 16-and-older, $13.30 show (Boo Boo's).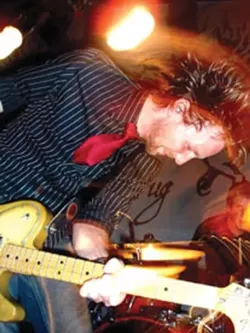 PHOTO COURTESY OF LOVEDRUG
HEAD-BOBBERS UNITE : Lovedrug is one of three bands, including Sparta and Straylight Run, set to rock your freakin' world on June 1 at Downtown Brew.
# Arena rock meets small club
The national press has been gushing about Texas punk act Sparta's new album, Threes. Rolling Stone called it "The most expansive album yet from [the] punk-schooled Texas quartet. The result is a dark, brawny record with intricate layers, complete with barnburners like the effects-heavy, Bush-bashing 'Taking Back Control.'" Alternative Press wrote, "Sparta finally seem intent on realizing their destiny as an arena-filling, life-changing band." Sparta sound like a good match for Lovedrug, with whom they share the bill at Downtown Brew on Friday, June 1, for a 6 p.m., 16-and-older, $16.50 show (at Boo Boo's).
Lovedrug's new CD, Everything Starts Where it Ends, is filled with songs that reach near-operatic crescendos, making this sound like a band that wants to fill stadiums, and with hooky tracks like "Happy Apple Poison," it may very well succeed.
According to the band's publicist, "The album is a life-journey concept record life, death, sex, shit, loss, love and everything in between." There was also mention of the "arena grandeur of Queen."
All this arena-sized sound might blow the roof off Downtown Brew, especially when you add in Straylight Run, the third band on the bill.
PHOTO BY LISA WIELER
RAMBLE ON : The Laural Canyon Ramblers led by Herb Pedersen (of Gram Parsons, Rice, Hillman & Pedersen, the Desert Rose Band, the Dillards, and Country Gazette fame), plays June 2 at SLO's Odd Fellows Hall for the latest Cambria Hoot show. This is the same band that played the first Hoot show back in 1978!
# Back where it all started
Some bands refuse to go quietly into that good night, which in the case of The Laurel Canyon Ramblers is good for bluegrass and country fans. The ensemble has come out of retirement for a return to the Hoot Road Show concert stage at the SLO Odd Fellows Lodge on Saturday, June 2, at 8 p.m. This is the same band that performed at the first ever Cambria Hoot in the winter of 1978.
Led by Herb Pedersen (Gram Parsons, Rice, Hillman & Pedersen, the Desert Rose Band, the Dillards, Country Gazette) and featuring fiddler Dennis Caplinger of Bluegrass, Etc., the group also includes original members Bill Bryson and Roger Reed, not to mention local mandolin phenom Kenny Blackwell.
Tickets are $15 (Boo Boo Records in SLO, the Coalesce Bookstore in Morro Bay, Central Coast Framing & Gallery in Atascadero, and at the door). All ages are welcome.
Proud tradition
The Red Barn Community Music Series continues its mission to bring great entertainment to Los Osos on Saturday, June 2, at 7 p.m. (potluck and jam at 6 p.m. $10 donation requested at the door.)
PHOTO COURTESY OF CASCADA DE FLORES
FLOWER POWER : Cascada de Flowers (waterfall of flowers) plays the Red Barn in the South Bay Community Park on June 2, exploring the musical traditions of Mexico, Cuba, and Puerto Rico.
# This time around, the Red Barn in the South Bay Community Park will be filled with the sounds of Cascada de Flores (that's "waterfall of flowers" to you, gringo), a music ensemble dedicated to the exploration, preservation, and dissemination of Mexican and Cuban regional music and dance. The group celebrates the diversity of Mexican and Cuban folk music and excels in the sound of the early 1900s when the two countries' musical companionship first exploded into the radio waves.
The quartet features the vocal duet of Arwen Lawrence de Castellanos and Sabra Weber, and multi-instrumentalists Jorge Liceaga and Jorge Mijangos (tres cubano, guitarj€n, flute, marimbol, requinto, and jaranas of Veracruz, zapateado, donkey's jaw bone, and caj€n).
The group explores diverse rhythms and traditions within Mexico, such as canci€n ranchera, son huasteco, gusto, trova, and bolero. Their music also tells the story of music makers of Cuba and Puerto Rico.
Feel the Pulse
Way back in 1975, Steel Pulse's debut album Kibudu, Mansetta and Abuku arrived on the scene and began opening eyes about the plight of urban black youth. Next came Nyah Love, which further cemented the Birmingham, England's band as a socially conscious albeit still underground reggae upstart. Strangely, they were initially denied live dates in Caribbean venues because of their Rastafarian beliefs. Because the band was considered radical, they found a home by aligning themselves with the late-'70s Rock Against Racism organization and elements of the punk rock movement. In essence, the band injected punk energy into reggae rhythms, and the rest, as they say, was history.
PHOTO COURTESY OF STEEL PULSE
DREAD! : David "Dread" Hinds (pictured) and fellow founding member Selwyn "Bumbo" Brown make up Steek Pulse, a socially conscious reggae act playing June 3 at Pozo Saloon.
# The group, still led by David "Dread" Hinds and Selwyn "Bumbo" Brown, has consistently kept to its mission of revealing social injustice, clearly evident from the titles of some of their albums: Tribute to Martyrs, True Democracy, Earth Crisis, Babylon the Bandit, State of Emergency, Victims, and Rage and Fury. Songs such as "Not King James Version" is a powerful indictment on the omission of black people and history from certain versions of the Bible.
Steel Pulse knows firsthand the insidious ways racism can affect lives. In the late-'80s, Hinds joined a million-dollar class action suit against New York City's Taxi Commission after being repeatedly ignored by cabbies.
When Rage and Fury was released a decade ago, Hinds said, "We're not here to start a physical revolution we're just here to open everybody's eyes and let them check themselves and continue in a very educational mode to change things on that tip. We're losing ourselves, and I think it's very important for us to realize that. Too many of our youths have been lost to drugs, or by the gun, or not having the education needed to persevere and move in an upward direction. I think Rage and Fury will contribute to their enlightenment."
Sadly, not much has changed since then, but that hasn't kept Steel Pulse from fighting the good fight. See them Sunday, June 3, at 1 p.m. at Pozo Saloon with The Expendables and Resination. This all-ages show costs $30.50 (Boo Boo's).
PHOTO BY RICH GUENTHER
GET JADED : Local singer-songwriter Jade Jackson opens for headliner Don Lampson at the SLO Art Center's monthly concert on June 3.
# Art Center sings
The SLO Art Center is more than just visual art. On the first Sunday of the month, it hosts a pass-the-hat concert in the galleries. On Sunday, June 3, Don Lampson returns to play a 3 to 5 p.m. show, singing narrative songs about "daring deeds, tall tales, broken hearts, and victories of faith." According to legend, Lampson started out with a $5 Stella guitar when he was 10 and has been going strong for five decades.
In high school, Lampson discovered the electric guitar. He made his first record at 15 as a front man for a band called the Outlaws, appeared on TV with The Venturers, and played teen venues in Southern California. By 16 he was a rock'n'roll has-been, but he found a home in the folk music of the early '60s. He eventually moved to San Luis Obispo, where he was a journalism student at Cal Poly by day, playing at local clubs at night.
He now lives outside Santa Margarita on Rancho Dos Estrellas with his partner, artist Peg Grady, and is working on a second album. Another local singer-songwriter, Jade Jackson, will open the show.
Hurts so good!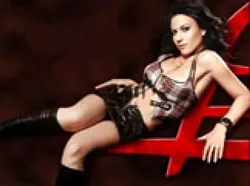 PHOTO COURTESY OF LAGUNA COIL
ITALIAN MARE : Lacuna Coil co-singer Cristina Scabbia offers plenty of eye candy to distract you from the eye-bleeding metal-goth-rock played by her band. See them June 4 at Downtown Brew.
# When it comes to rock'n'roll, especially metal-goth-rock'n'roll, there's nothing better than a chick singer so hot you'd pay her to swat you with a riding crop. Snap! Mmmm. Rock fans, meet Cristina Scabbia, co-lead singer of Lacuna Coil.
Scabbia is the yin to her male singing partner Andrea Ferro's yang, mixing her dulcet tones with his scorching screams to create a crunching, heavy, head-bobbing, throbbing power rock. More interesting still, this is a band from Italy, a country not thought of as the heavy metal capital of the world.
Lacuna Coil (which means Empty Spiral in English) hit our shores in 2001 with the release of Unleashed Memories. Comalies followed in 2002, and after some extensive touring they won an invite to the 2004 Ozzfest. Their most recent, 2006's Karmacode, continues the band's march into mainstream success. Check them out on Monday, June 4, at Downtown Brew for a 7 p.m., 16-and-older, $17 advance (Boo Boo's)/$20-at-the-door show.
Water music
South Lake Tahoe act Blue Turtle Seduction played a whopping 225 performances last year, a schedule that allowed for not only refining of their live performances but also their song crafting, evident on Deep See Rodeo, their second studio album. They're also a band that travels in a 40-foot motor coach that has been outfitted to run on recycled vegetable oil, allowing the use of free restaurant waste that purportedly burns much cleaner than traditional fuel (and smells like French fries).
This socially conscious band plays a concert for SLO Surfriders at the Cayucos Creek Barn on Tuesday, June 5, from 6 to 11:30 p.m. General admission is $10, $7 for 21 and younger admission is free for everyone younger than 12! Info at slosurfriders.org.
More music
Chunky surf rock act The Arch Dukes will lay down the horn-driven jams on Thursday, May 31, at The Clubhouse, the new concert venue on Foothill Boulevard that used to be called This Old House. Check it, groms.
Brazilian vocalist Claudia Villela will bring the sounds of authentic Brazilian samba and the bossa nova to Cal Poly's Jazz Night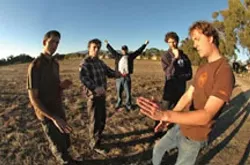 PHOTO COURTESY OF BLUE TURTLE SEDUCTION
THEY'VE COME FOR YOUR FRENCH FRY GREASE : Blue Turtle Seduction travels in a 40-foot motor coach that runs on recycled vegetable oil. The socially conscious band plays a concert for water quality at the Cayucos Creek Barn on June 5.
# concert at 8 p.m. on Friday, June 1, in Harman Hall in the Performing Arts Center's Christopher Cohan Center. Villela, who's been called "the Brazilian Bobby McFerrin" by JazzTimes magazine, will be accompanied by the University Jazz Band No. 1. "Brazilian music has such charm and excitement," said Paul Rinzler, director of jazz studies at Cal Poly. "The collaboration between a great vocalist and composer like Claudia Villela and an American big band is a very natural and obvious one." Tickets are $6 to $15. Get them at the PAC Ticket Office or by calling 756-2787.
From jazz to blues and bluegrass to country, Over the Edge does it all, which is why SLO Folks has scheduled the duo (Adam Gottstein, guitar/vocals Dave Holob, electric violin/vocals) for two concerts. On Friday, June 1, they play Coalesce Bookstore at 7 p.m. ($15 772-2880). See them Saturday, June 2, at Green Acres Lavender Farm at 7 p.m. ($15 466-0837). Arrive early for a catered dinner from Piazza-Bistro Chef Jessica Riddle, formally of Villa Toscana (6 p.m. $15). You can also hear Over the Edge when they appear live on DJ Sonnie Brown's Minstrel Song Show at 3 p.m. on KCBX 90.1FM on June 2.
Now that James Brown has passed on to that great concert hall in the sky, maybe it's time to bestow his former mantle on new performers. May I humbly submit Fighting Chance as the (insert drum roll here) "hardest working band in show business!" A recent tour brought the quartet from California to Florida, playing more than 40 dates in between. Their self-released second album, Somewhere Between Relief and Regret, has sold more than 1,100 copies by word-of-mouth alone. And they keep getting bigger and better shows through a combination of talent and tireless work ethic. Last year's Lake Havasu Rockfest put the acoustic rock/reggae/ska band along side such legends as The Black Crowes, Slightly Stoopid, Live, Lit, Buckcherry, and Blues Traveler. Check them out on Saturday, June 2, at Mongo's. The free, 9 p.m. show also includes Sac-Town act Shakedown and San Jose's Whiskey Avengers.
PHOTO COURTESY OF OVER THE EDGE
COME CLOSER CLOSER : Okay, that's close enough. Any closer and you'd be Over the Edge, a band that plays everything from blues to bluegrass to jazz to country. See them on June 1 Coalesce Bookstore and June 2 at Green Acres Lavender Farm.
# The Cal Poly Symphony will play music that explores the roots of America's national identities during its season finale on Saturday, June 2, in Harman Hall in the Performing Arts Center's Christopher Cohan Center. You'll hear Aaron Copland's "Rodeo" and Ottorino Respighi's "Pines of Rome" during a concert that's called "National Roots." The 8 p.m. concert is under the baton of music faculty member David Arrivee, who said "Copland's 'Rodeo' brings life on the range to our ears with movements such as 'Hoedown' and 'Corral Nocturne.' Respighi's 'Pines of Rome' is a virtual musical tour of Rome and the Italian past." Tickets are $6 for students, $8 and $10 for senior citizens, and $10 and $12 for the public. Buy them at the PAC Ticket Office or by calling 756-2787.
On Sunday, June 3, the Famous Jazz Artist Series at the Hamlet in Cambria will host saxophonist Bruce Eskovitz and his L.A.-based octet BEJO, which the L.A. Times called "The most exciting new L.A. jazz band in years." They will be joined by series co-producers Charlie and Sandi Shoemake (vibraphone and vocals) for two performances: 4 p.m. for $15 7:15 p.m. for $12 or see both sets for $20. Reservations are recommended by calling 927-0567.
Texas troubadour Alex Whitmore and former Linda Ronstadt bandmate Kenny Edwards will join more than a dozen songwriters slated to perform at the West Coast Songwriters showcase on Sunday, June 3, at Linnaea's Cafe. The free, 7 p.m. showcase is presented by West Coast Songwriters, a Bay Area-based nonprofit educational organization with more than 1,200 members. Member Steve Key of Pismo Beach manages the local showcase, held on the first Sunday of the month. Painted Sky Studios of Cambria has donated two hours of recording time to the Best Song winner. The Best Performance prize is a coaching session with Daniel Whittington, lead vocalist of the band Rhodes and an instructor at the Music Lab Guitar School in SLO. Professional songwriters Cliff Stepp, Bent Myggen, and
Christina Grimm will judge the contest. Songwriters interested in performing on the July 1 showcase should contact steve@stevekey.com.
Paraguayan harpist Ram€n Romero appears in concert on Sunday, June 3, at 3 p.m. in SLO's St. Stephen's Episcopal Church (1344 Nipomo St. at Pismo St. $10). Romero is considered a true master of the Latin American folk harp traditions and he'll perform a wide selection of pieces from ancient to contemporary. Local harpist Aurora Denny will join in on a few selections. More info: 472-9036.
The St. Petersburg Men's Ensemble is coming to St. Benedict's Episcopal Church (at the corner of Los Osos Valley and Clark Valley roads in Los Osos) for a Tuesday, June 5, concert titled "The Russians Are Coming." The program will include a combination of Russian sacred music and folk songs. A free-will offering is requested to help offset the cost of their tour. For more info, call 528-0654.
Epic recording artists Quietdrive will play the main stage at the Farmers' Market on Thursday, June 7. Check them out on the corner of Osos and Higuera Street. Learn more about the band in next week's New Times.
CD REVIEW
David Vandervelde - The Moonstation House Band
It would take you three hands to count up all the instrumental devices David Vandervelde tinkered with in his debut album, but only one ear is needed to hear the heavy homage to Marc Bolan's glam alter ego T-Rex. Glimmering in a dirty fuzzy aesthetic, a thin high voice, and songs that either tear with remembrance or space-out with spliffy daydream sentencing, Vandervelde kicks out rock'n'rollers that slide in easily and unnoticeable within one's glam rock collection. It isn't until the sleepy ballad "Corduroy Blues," lush in string arrangement and theatrical voicing, that the possibility of a yawn and fast forward enter into play. Make it past this, and the shimmering continues with additional squiggly and twisting tones that could be the accenting hand of former Wilco member, Jay Bennett, whose musical playhouse provides the two-year incubation for the reviving of a Bowie-era baby.
Malik Miko Thorne, of Boo Boo Records and KCBX's "Night Train."
Good God! A Gospel Funk Hymnal
As one the earliest traces of a purely American music, the joyous celebration of African-American spirituals eventually updated its sound by adding a small combo band and backing choir as a platform for the preacher to spread the "good word" with powerful emotional vocals. It's this rousing and passionate delivery that Ray Charles and numerous later soul singers used to commercialize a new brand of rhythm and blues, and which James Brown pushed further in his funky brand of testifying. Church house bands soon became influenced, adding these new sounds to their repertoire, with a single track often filtering into their recorded output. Now the Numero Group label has collected these funky one-offs of various gospel bands into a single hip shaking collection. Think "For the Love of Money" by the O'Jays or the upbeat soul funk of the Staple Singers as the secular cousins to these unearthed gems. Sunday morning has never sounded so close to Saturday night.
Malik Miko Thorne, of Boo Boo Records and KCBX's "Night Train."
---
Glen Starkey is a (fill in the blank) idiot! Tell him to (fill in the blank) off at gstarkey@newtimesslo.com.