For a moment, Denise Juarez didn't know if she was going to make it up to the stage. The then 19-year-old from Morro Bay heard her name booming over the loudspeaker inside the NASPower Gym in Bakersfield, but she was frozen with fear. She was about to compete for the first time at powerlifting, a strength sport that combines lifts in the bench press, squat, and deadlift.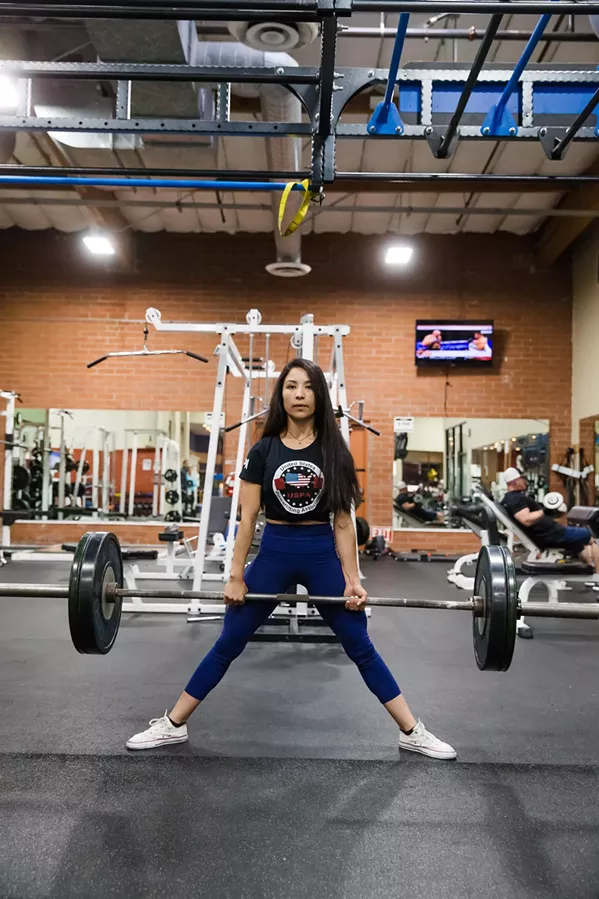 Photo By Jayson Mellom
RAISING THE BAR Inside FitnessWorks of Morro Bay, Denise Juarez attempts a deadlift, one of the three lifts in powerlifting.
"I froze up really bad," Juarez, now 22, reflected. "For me it was hard because I'm not really a proud person. It's hundreds of people watching. When they called me, I actually did not go up."
Standing at 4-foot-11 and weighing 97 pounds, it's true that Juarez doesn't exactly scream world record powerlifter with her presence. Neither does her humble, unassuming personality. For instance, while many strength athletes have their faces, chests, and backs slapped until they're purple to get psyched up for competitions, Juarez needs the opposite—peace and quiet—to perform. Her low-key demeanor and stature are actually secret weapons.
"Whenever I go out there, no one really expects me to outlift everyone," she said.
But at that first competition in Bakersfield, with the crowd and judges waiting, Juarez couldn't find it. She made it to the stage, but ended up getting disqualified for form violations.
"I couldn't focus," she said. "I was so nervous to the point where I got disqualified. I just kind of sat there really upset. I was like, 'I don't like these things.'"
What happened next epitomized the perseverance and character that has propelled Juarez to where she is today, in the highest echelons of powerlifting. Shaken and down on herself, she was approached by the NASPower Gym owners—the hosts of the event. They saw something special in her and wanted to sign her up for a lift later in the day.
"They were just like, 'You have a lot of potential. We really want you to continue on,'" Juarez said.
With her boyfriend (and trainer), Uriel Tapia, by her side, Juarez fought through the nerves. She nailed the lifts to take home the first-place medal. The triumph marked the start of Juarez's rapid ascendance to becoming a two-time powerlifting world record holder with Olympic lifting in her sights. But it wouldn't be the last time she'd have to overcome adversity to get there.
Juarez's remarkable story is one of someone discovering her passion, talent, and purpose where she least expected it, and of what's possible when friends, family, and community rally behind you at life's toughest moments.
Fitness works
Juarez would not be lifting weights today if she had not met Tapia. The two first crossed paths at summer school back when they were both in high school—she at Morro Bay High School and he at San Luis Obispo High School. Tapia was already into lifting weights. Juarez was not at all. But she was a talented multi-sport high school athlete, with a particular knack for track and field.
"She was pretty much an athlete since day one," Tapia said.
Photo Courtesy Of Denise Juarez
BY HER SIDE Uriel Tapia (right), who's also a competitive powerlifter, first introduced Denise Juarez to the weight room and served as her trainer for about two years.
When the two started seeing each other, Tapia noticed something. Whenever he'd hit the gym, Juarez would go out for her version of exercise: a long run.
"She could run for like an hour straight," Tapia marveled. "So I just one day invited her and said, 'Hey, why not just come out to the gym instead and learn something new?'"
Juarez resisted the idea at first.
"I was like, 'No I don't want to do that,'" she said with a laugh. "I was scared that I was going to get really muscular and big. He said, 'Just try it!'"
She indulged, reluctantly, and the two started training at FitnessWorks of Morro Bay, where Tapia also worked. Juarez remembers struggling to lift the bench press bar, which is 45 pounds, during her first session. Yet something about the experience drew her in. She was a fast learner, and Tapia helped her feel comfortable and a part of the FitnessWorks community.
"We're a small hometown gym, so we know everybody," said Ginger Machado, FitnessWorks' general manager. "Uriel started to introduce her to it and that was all part of our social dialogue in the gym: 'Oh I'm going to get Denise to lift. She's got the perfect body type and she'll be amazing.'"
There was another reason why weight-lifting clicked with Juarez. She started around the same time that her parents were going through a rough separation. The gym became an essential place of refuge.
"I would always go to the gym to work out because that took everything away," Juarez said. "That's what I do when I'm stressed out."
Claiming powerlifting as a real athletic pursuit, though, wasn't easy at first for Juarez. Her parents were skeptical and even set restrictions on it.
"I was living with my dad and he was really strict and would only let me go once a week," Juarez said. "He was very, 'That's for guys. Why are you doing that?' My mom, too, was very iffy about it."
Eventually, both of her folks decided to move out of SLO County, which left Juarez with a choice: to stay with Tapia or go with them. It was a no-brainer.
"I didn't want to go with them," she said. "I was like, 'I'm not leaving him here.'"
Photo Courtesy Of Denise Juarez
ALL ABOUT FAMILY Juarez poses for a photo with her grandmother (right), mother (left), and sister after winning top accolades at a competition in Santa Clarita last year. Juarez said she sometimes looks at a photo of her sister to inspire her before lifts.
Juarez ended up moving into the Tapia family's house in Morro Bay, and the two continued their lifting routine at FitnessWorks. All the while, Tapia was amazed by how quickly Juarez was improving and adding weight to her lifts.
"In a matter of weeks we added about 40 to 50 pounds. It was kind of crazy to see," Tapia said. "I've seen people when they first start training, they do get strong, but that was a crazy jump. I'd never seen that before. She had something going on for her."
'Genetic freak'
Juarez's rate of improvement kept skyrocketing. Repetition and small tweaks to her form here and there would add pounds upon pounds to her lifts. She remembers one specific instance of this, when it became apparent just how strong she'd gotten.
"One day [Tapia] fixed my deadlift form, and we added 100 pounds that day," Juarez said. "He looked up all the records, and he was like, 'You just broke all of California's state records. ... You need to compete.'"
Nobody was as surprised by her newly discovered powerlifting prowess as Juarez. She had always been quick to adapt to new sports, whether it was soccer, tennis, or track and field—"but nothing like this," she said. Those close to her describe Juarez as having the perfect combination of physical attributes and a disciplined attitude to excel at the sport. Powerlifting is unique in that the lifter is allowed just three attempts at three events—the bench press, squat, and deadlift—and the aim is to "max out" on the third attempt. The format favored Juarez's minute explosiveness.
"She's just born to do it," Tapia said. "For her stature, for how much she weighs, for how long her limbs are and where her muscle insertions are at."
"They call me a genetic freak," Juarez said.
A powerlifter himself, Tapia helped Juarez get connected with the broader competitive powerlifting community and get signed up for meets. Pretty soon, Juarez became FitnessWorks' first (and only) sponsored athlete. The gym paid her an annual stipend to cover travel and tournament expenses and in exchange, FitnessWorks got to use Juarez's photos for marketing purposes.
In all of her first four competitions, including the near-disaster in Bakersfield, Juarez took home first place medals. She was dominant and only getting better. It dawned on Tapia that it was time for Juarez to get a professional trainer, who could take her performances to the next level. They contacted an international strength-training firm, The Strength Athlete, where Juarez was connected with Joe Stanek, a Pennsylvania-based trainer.
"It was probably the smartest and biggest help," Tapia said of the decision to fire himself.
Setting records
Stanek and Juarez have never actually met; their whole training occurs remotely, over web videos. Juarez records herself while lifting, and Stanek reviews it and sends back his own video with comments, pointers, and instructions.
Training four days per week, with one day off for light cardio, Juarez almost immediately started reaping the benefits of the new program and instruction.
"My bench press was at 120 pounds, and I was stuck there for a whole year," Juarez explained. "He added I think almost 40 pounds within two months."
For his part, Stanek was struck by Juarez's strength, work ethic, and intelligence; she was an easy pupil.
"She's very, very coachable," Stanek said. "One of the ways that I'm always trying to improve [athletes] is to work on their technique. With a lot of athletes, it will take a few times to remind them. Denise is very different in that she makes the change right away. She's very adaptable—honestly the perfect athlete in terms of taking direction."
Photo By Jayson Mellom
LOST AND FOUND After her powerlifting medals were destroyed in a house fire in July, Juarez had some of them remade by the U.S. Powerlifting Association, including these two for first place and best lifter at a competition.
While the new training program paid dividends for Juarez's lifting numbers, it was not cheap by any means. Juarez worked long hours at the Starbucks in Albertsons, just down the street from FitnessWorks, and continued living at the Tapias' house to make it all work.
"My coach is expensive but I make it one of my priorities because it's a life thing for me," she said. "I do everything that I can."
Juarez's tireless training culminated in the performance of her life at the U.S. Powerlifting Association National Championships in Las Vegas on July 12, 2018. The event marked not only her first time at a national championship, it was also her first plane flight in her life.
"I was extremely scared," she said, referring to either the competition or the airplane, or both.
When it was her time to hit the stage, Juarez didn't disappoint. That day she set two world records in her weight class (97 pounds) and age group (women aged 20 to 23), notching 154.3 pounds in the bench press and 231.5 pounds in the squat. Her scores catapulted her to a No. 4 world ranking among 97-pound powerlifters of any age.
Perhaps the most impressive part of Juarez's performance was that she did it in a federation that does not drug test. While Juarez is clean as a whistle, that's not the case for some of the athletes she went up against.
"And she's still smoking them, which is crazy," Stanek said. "That speaks to the level of talent that she has."
Juarez returned to Morro Bay on a high, with one world record medal in each hand. She had no idea that just a few weeks later she would lose those medals, and more, in a tragic incident.
'Everything was lost'
Like most tragedies, this one came out of nowhere. July 28 was an otherwise normal day in the Tapia household. Everyone was home—Juarez, Tapia, and his mom, sister, and brother—and hanging out, when suddenly Juarez's eyes locked on the smoke.
"I looked up and saw this big black cloud coming from the hallway," she remembered.
The family scrambled to leave the house. When they got out, they saw that it "was all up in flames right there."
"I froze up. I didn't know what to do," Juarez said. "You'd think you'd have time to get your stuff, but you're not thinking that. In your head it's, 'What's going on?' It burned down in as little as 15 minutes, the whole thing. Nothing was saved. Everything was lost."
The fire was devastating, both materially and psychologically. It originated from the laundry room, but Juarez said the cause was unknown.
In response, the Morro Bay community stepped up to the plate in support. Juarez's labor union at Starbucks wrote her a check to buy all new clothes. A GoFundMe page launched, and community members donated enough money to pay for a security deposit on a new rental house.
"The pretty cool thing is everyone in Morro Bay knows me and my boyfriend very well as 'the power-lifting couple,'" Juarez said. "A lot of people came together. Everybody that donated to our GoFundMe basically paid off everything we lost. We got everything back."
True to the family atmosphere at FitnessWorks, a significant chunk of the contributions came from gym community members.
"Everybody was giving cash," said Machado, the FitnessWorks general manager. "They've been getting a ton of support from the gym."
Juarez's mom, initially lukewarm on powerlifting, surprised her by contacting the powerlifting federation to ask them to send Juarez new medals, which had melted in the fire.
"Now that they see what I'm actually doing and that it makes me really happy, they're very supportive." Juarez said of her mom and dad.
While Juarez and the Tapia family were grateful to have their feet under them again, the ordeal all but halted Juarez's momentum in powerlifting. She took a month off of training, and had to cancel her spot in a Nov. 8 world qualifier with the chance to compete in Russia, "to save money for food and clothes," she said.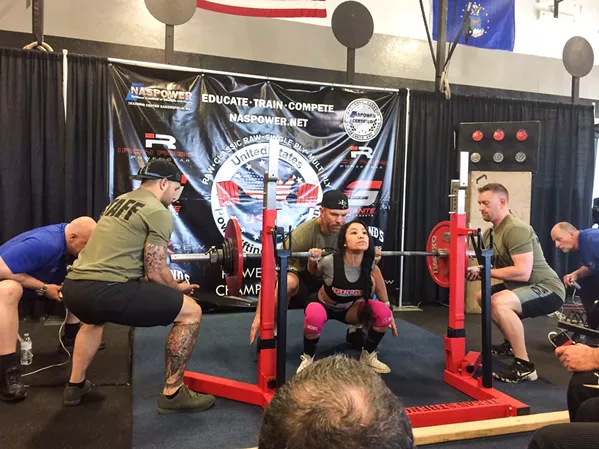 Photo Courtesy Of Denise Juarez
ON HER SHOULDERS Denise Juarez (97 pounds) goes down for a squat at a competition in Santa Clarita in 2017. Today she holds the world record in the squat for her age and weight class: 231.5 pounds.
When Juarez did get back into the gym, things felt different. There was a lot of pain and angst to work through.
"That was the hardest time coming back because I couldn't hit what I was used to hitting in the gym," Juarez said. "I felt super weak and I had days where I would just go home and tell my coach, 'I'm not doing this.' It really upset me."
Her trainer, Stanek, gives Juarez a lot more credit than she gives herself. Stanek said he was taken aback by her commitment to her training, despite what she'd just endured. He and Juarez both opened up about what powerlifting can do for people processing difficult emotions.
"You get people starting at powerlifting for a lot of reasons, but I often find that an outlet for expression is the most common thing," Stanek said. "For many lifters, it's that break for us during the day, for two, three hours, where we're focused on that and only that and channeling our emotions into it. Many people in the world, they'd tell you that it's the best part of their days."
Set the bar high
With characteristic determination, Juarez navigated the rough patch, steadily working her way back to where she had left off in her training. Now, she's focused on her future goals: setting the world record in deadlift; moving up to a higher-level federation; and pursuing Olympic lifting, which is similar to powerlifting but involves some differences, like extending the arms all the way up above the head with the bar.
"I'm excited to see where I get in the next couple of years. I don't know what I'm going to be doing," Juarez said. "I want to be able to do four times my body weight—a 400-pound deadlift. You want to set the bar high."
These days, when Juarez is called to the big stage, when she sees other lifters hitting themselves in the face, pumping with adrenaline, she doesn't flinch or get anxious. She just thinks about her purpose, her family, and her friends. Those are her sources of strength.
"There are times when I'll look at a picture of my baby sister," Juarez said. "That really pushes me to pull more. Everything's about family."
And despite her extraordinary talent, world records, and future potential, Juarez said she only wants a powerlifting career if it continues to make her happy.
"A lot of people say you could be making money off of it," she said, "but I don't want to turn it into a job where I feel like I have to do it. I want to do it to make myself feel good."
Assistant Editor Peter Johnson can be reached at pjohnson@newtimesslo.com.