I'm sitting on a park bench with Seven Sisters Festival founders/organizers Sarah Mason and Jim Vanko, surrounded by golden grasses and ancient oak trees. Scenic peaks—the heads of the iconic Seven Sisters—stand tall in the distance. All is quiet and majestic. It's difficult to imagine this patch of earth as anything but serene and uninhabited.
Come July 10 through 12, this unassuming chunk of El Chorro Regional Park—originally home to Native Americans, then dairy farmers—will transform into a melting pot of creative expression not unlike a mini Burning Man.
PHOTO COURTESY OF TYLER MASON/HARVESTMOON INC.
MUSIC, BEER, WILDERNESS: Scene makers and hip shakers passionate about food, craft beer, and music will converge on El Chorro Regional Park for the third annual Seven Sisters Craft Beer and Music Festival this July 10 to 12.
OK, there will be far more clothes and way less mind-altering drugs than Burning Man, but you get the idea. It's going to be epic. Between sips of killer craft brews, you can even embark on an "Intergalactic Tour of the El Chorro Sky."
This is where live bands from soul to country to rock will collide with the rock stars of the food, wine, and artisanal beer brewing realms. Mix in some areal dancers, stargazers, didgeridoo workshops, yogis, and late night Woodstock's pizzas (delivered to the campground till 2 a.m. no less), and there you have it: The third annual Seven Sisters Craft Beer and Music Festival. It's a lot to wrap your mind around, man.
"There's a lot of really great festivals here, just in this county alone," Vanko said. "It's tough to find that chemistry and balance, but I think we have. We're really trying to do something different."
So, what exactly makes this music and beer fest so different (besides the bird watching and guided hikes)?
"It's all about the experience; we're not one dimensional," Vanko said. "It all starts with a sense of place, which is why we picked El Chorro Regional Park."
The park itself, located off Highway 1 across from Cuesta College, is comprised of 700 rolling acres. Attendees are invited to trek to the top of Eagle Rock, which affords views of El Chorro Valley and Morro Bay.
What am I most stoked about? The craft beer tasting, which kicks off on Saturday between noon and 4 p.m. The lineup features mostly brews (more than 40 of them), but also cider and wine from SLO County and across California. Names like Lagunitas and Sierra Nevada will intermingle with Atascadero's Tent City Brewing Company and SLO's Bang the Drum.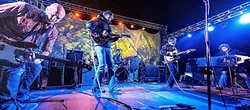 © DAVID HAMMOND BROWN; PHOTO COURTESY OF TYLER MASON/HARVESTMOON INC.
HEY MOM!: The Mother Hips are ready to unleash their groovy sounds at El Chorro Regional Park this weekend.
"It's about music; it's about the craft beer and wine, but it's also about the activities," Vanko said. "The campsite becomes a residential setting. There's a sense of community that forms. People come here, stay here, and live here for a couple nights."
Campers from as far as Long Beach are known to come extra early—sometimes even on Wednesday and Thursday nights—just to snag a choice campsite. No, this isn't Live Oak we're talking about, although a kindred vein runs through both.
Case in point: Both organizers are musicians and self-proclaimed "music people." They've put on the wildly popular Mammoth Festival of Beers and Bluesapalooza for the past 18 years.
Sunday headliners Nikki Bluhm & The Gramblers are Americana royalty in Calfiornia, while Friday headliners Cowboy Mouth—an offbeat rock outfit from Texas— promise to bring an unexpected twist. Nashville-based Delta Saints will rock the stage Sunday with a mix of blues not often heard this side of the Mississippi.
"This is where you're going to discover your next favorite band," Vanko said. "The Suffers just played Letterman; they're a 10-piece, horn-fueled outfit from Texas. I mean, how would they ever get here if not for this festival?"
For all the things that this festival is "about" (and music is a big one), I will tell you one thing it most certainly is not: festival food. Nowhere will you find a soggy corn dog or snow cone bathed in red dye No. 40.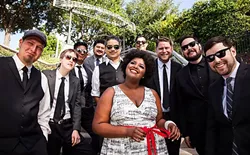 PHOTO COURTESY OF TYLER MASON/HARVESTMOON INC.
SWEET SOUL: The soul-tinged Suffers will travel from Houston, Texas, for the third annual event.
Instead, expect authentic Hawaiian shave ice made with from-scratch syrup. Expect fresh smoked salmon tacos, ceviche, and tabouli salad by Coastal Harvest Catering.
"I try to get as much local produce and seafood from this area as possible," said Coastal Harvest Catering owner Courtney Carden. "All of the smoked salmon is local wild salmon caught in Avila."
Also in the grub-down lineup: hedonistic grilled cheese sandwiches on local artisanal bread courtesy of the Grilled Cheese Incident, Spoon-n-Bowls açaí truck, India Gourmet, and Fire & Wine pizzas (with gluten-free options and organic toppings). There's more to that already impressive list, but I didn't want to go too overboard.
One thing's for certain: Discovery is mandatory. You will probably discover your new favorite band but also you're new favorite beer, wine, cider, or food purveyor. Oh, and you may even have one of those trippy experiences you can only have at an outdoor music festival.
Really, all you have to do is look up at the night sky to see a hawk or heavenly body. Last year, Mason peered into the telescope provided by the SLO Astrological Society as part of the festival's Intergalactic Tour of the El Chorro Sky. She saw Saturn for the very first time.
CAMP, HANG, TASTE AT 7SF: The Seven Sisters Craft Beer and Music Festival will erupt with local flavor, eclectic music, and tons of unique craft beers this July 10 to 12. For tickets, visit sevensistersfest.com.
"That was really cool," she said of the experience. "This fest's really about celebrating our outdoors. For everyone who lives here on the Central Coast, this really is something to celebrate. We are so fortunate to live in the last California coastal frontier."
Hayley Thomas is ready to bust a move with a beer in hand at hthomas@newtimesslo.com.