All right, for the sake of argument let's make some assumptions in the races for Districts 2 and 4 San Luis Obispo County supervisors. First, a county supervisor is supposed to be nonpartisan, though the races include three registered Democrats and two registered Republicans.
"First of all, the whole idea of a nonpartisan politician is sort of a farce because these people are heavily involved in partisan politics," said Michael Latner, a professor of political science at Cal Poly who specializes in elections.
Next, let's assume the District 4 race, in which there are three candidates, will be decided in the June 8 primary and not go to a runoff in November (one candidate must snag more than 50 percent of the vote).
Here's how the election will pan out, given these assumptions.
• In District 2 the seat will go to one of two Democrats: incumbent Bruce Gibson or the newcomer, and comparatively moderate Democrat, Marshall Ochylski. If Gibson wins, the Board of Supervisors will remain a 3-2 Democratic majority and essentially nothing will change about who controls the vote—Gibson will rejoin his fellow Democrats Jim Patterson and Adam Hill. If Ochylski wins, it will remain a Democratic majority with a more moderate bend.
• In District 4 the race to refill the historical swing-vote seat occupied by outgoing Republican Supervisor Katcho Achadjian will either go to Democrat Arroyo Grande City Councilman Jim Guthrie, or again to a Republican: Paul Teixeira or, arguably the most conservative candidate in either race, Mike Zimmerman.
At the end of the day, it seems as though nothing will change. The board will remain at least a 3-2 Democratic majority with the possibility of transitioning to a 4-1 majority. Either way, the Democrats certainly will have enough votes to pass everything except for issues that require four votes: budget adjustments, for example.

HEY, BIG SPENDER: Bruce Gibson: Received $31,454 in 2010 and spent $39,369. Marshall Ochylski: Received $37,228 in 2010 and spent $35,236. Jim Guthrie: Received $23,624 in 2010 and spent $28,062. Paul Teixeira: Received $25,341 in 2010 and spent $25,500. Mike Zimmerman: Received $14,033 in 2010 and spent $12,701.
Even Dennis Hughes, who's chair of the San Luis Obispo Democratic Central Committee, didn't sound very excited about the upcoming election. "I don't know of any real issues," he said. After thinking for a little longer, he decided that, at least in the District 2 race, there's the issue of the much-negotiated Los Osos sewer project, which is now in the hands of the California Coastal Commission on appeal, and preserving the coast. "That's their campaign platform pretty much."
What about Republican Party of San Luis Obispo Chair John Peschong?
"I think there's an opportunity for the Board of Supervisors to kind of recapture what the voters want to get accomplished in the county," he said, referring to the board's proclivity for weighing environmental issues over private-property rights. "I think we have strayed from that in the last two years." He later rephrased his words, "Maybe instead of saying strayed, they have not focused on the things that the voters want them to focus on."
According to political science professor Latner, voters are more concerned with other partisan races—the state Assembly, gubernatorial, and Congressional races, for example—in the June 8 primary.
"All the stuff on the top of the ballot is what's gonna motivate the few voters that do come out," he said. "The simple fact of the matter is that most voters have no idea who the hell these people are and part of that is because it is a nonpartisan race."
The expression "change" was so ballyhooed in 2008 it motivated many voters. Two years ago, when the U.S. presidency was undergoing a fundamental political shift, so too was the SLO County Board of Supervisors. Newcomer Democrat Adam Hill ousted the incumbent Jerry Lenthall, who was most known for his staunchly pro-development votes. Long-time supervisor Harry Ovitt was replaced by Frank Mecham. It was a new start (pardon the cliché). Back then change may have meant something special. The new candidates were ushering a new direction. Now it's 2010 and that sense of change can feel like no more than fading nostalgia.
Latner guessed Gibson will likely come out on top of the primary because of his incumbency, but if either candidate wins, he doesn't think there's a chance the board will undergo a radical facelift.
"And they both [Gibson and Ochylski] look a lot alike," he said. "Frankly, when you read their bios, I can't make any differentiation who would be better." He went on, "It's like Obama picking a liberal for the Supreme Court. It's not going to change because the people that are being replaced pretty much have the same ideology."
Achadjian, who hasn't endorsed any of the candidates to replace him in District 4, said he believes the people vying for his seat "have been pretty much happy" with the way the county has conducted business.
"The answers are pretty much the same," he said. "Maybe at a different angle."
On the issues
• Oceano Dunes:
Ochylski: "We need to look at all the measures that can mitigate it before we look at closure."
Gibson: "So [State Parks' Off-Highway Motor Vehicle Division] have got to come forward and show us how they're going to reduce the amount of dust in the air. It's as simple as that. No one's talking about closing the park at this point."
Guthrie: "And the first steps are things that they're talking about now like let's try the fences, let's try vegetating different areas. It's really up to the state to come up with different ideas for that because the state is not willing to say flat out, 'The [Air Pollution Control District] report is correct and we're responsible.'"
Teixeira: "I just think that they need to look at all the avenues to solve the problem before they say that we're going to close the dunes. And I think the county's headed in the right direction."
Zimmerman: "We [the candidates] don't differ that much on the dunes."
• Los Osos sewer:
Gibson: "What we want to do is try to bring resources to those people who need the help. … There are programs through the [United States Department of Agriculture] and other places where people can qualify on an income basis and we'll try to give them help to afford the cost of the sewer."
Ochylski: "We need to look at whatever we can do to set up a community organization, a community foundation, whatever we can do to … help these people pay their bills."
• Balancing the environment with economics:
Gibson: "Well, you know, actually, the interesting thing is that I haven't really heard [Ochylski] lay out how he is different than I am. I haven't heard him explain specific policies or decisions that I've made that he disagrees with."
Ochylski: "I think the balance issue between economics and environment, I'm farther to the right on that just because of my background."
Gibson: "I think I carefully consider the proper balance. [When] you do land-use regulation it's always about balance. What I think you're hearing, and I don't know who you're hearing it from, but what I think you're hearing is people's anxiety and reaction to change. So we're faced with a huge set of challenges, if you take land-use planning for just one, or environmental protection as a whole."
• Medical marijuana:
Zimmerman: "The law is fractured on that. … To me it's inappropriate to have a dispensary."
Guthrie: "I am not in favor of a medical marijuana dispensary anywhere in San Luis Obispo County. Dispensaries conflict with state and federal law."
Teixeira: "My position on the marijuana issue is that I oppose the way medical marijuana is dispensed. Dispensaries should be designed so that they have to operate under the same guidelines, structure, as a pharmacy does."
Marshall Ochylski
PHOTO BY STEVE E. MILLER
MARSHALL OCHYLSKI:
Marshall Ochylski looks and sounds like someone you might expect to coach tee ball. In fact, "You'll have to pardon me, I'm a little tired. I coach softball," he said during an interview in his downtown SLO law office.
A land-use and environmental law attorney by profession and two-year member of the Los Osos Community Services District Board of Directors, Ochylski comes across as the typical resident turned politician. He nervously joked about a tape recorder during his interview and lost his train of thought as a New Times photographer snapped photos.
"I think the obvious thing is," *click* he laughed and paused. "Sorry. You distracted me."
He belabored over his own political clichés, often excusing his rhetoric.
"I start to sound like a candidate to myself when I talk," he laughed. "I'm trying to be sincere but that's one thing that's bothered me. I've gone to the sheriffs forums and everything's so canned they could give each others' talks at this point."
A registered Democrat, Ochylski might be the Diet Coke version compared to Gibson's Jolt Cola brand of environmental politics. With a background as a land-use planner, Ochylski describes himself as more of a property-rights advocate than Gibson.
"Part of the problem with the economics is the county's mission statement for the Board of Supervisors says we have to look at economic, environmental, and social sustainability," he said. "And I don't see that happening right now with the current board. We don't have an equal balancing on that—we have environment at all costs."
Ochylski believes the county's budget problems—the projected deficit is $17 million in a $442.7 million budget for the 2010-11 fiscal year—can be drastically improved by encouraging Cal Poly and Cuesta College students to stay in the area working on research projects and by promoting the county as a regionally diverse tourist hub.
He said Gibson was responsible for putting the Los Osos sewer project in the hands of the Coastal Commission (more than a dozen residents filed appeals after the supervisors' 4-1 approval of the project) and said the process of getting to the current project was flawed, though he noted he is agreeable to the current incantation.
After that, there's a lot that sounds the same. Like Gibson, Ochylski believes the county should renegotiate pension contribution rates for new government employees. He believes the Oceano Dunes presents a potential hazard that should be addressed through mitigations and only as a last resort any form of temporary park closures.
However, Ochylski is the favorite for the property-rights group, the Coalition of Labor Agriculture & Business of San Luis Obispo County. According to COLAB e-mails obtained by New Times, "This is a huge and unexpected opportunity to change the political balance in the Board of Superivosrs."
Asked about the COLAB bump, Ochylski groaned, closed his eyes, and leaned back in his chair.
"Yeah, I know, I'm sorry, I'm just gonna, I'll say this for the bazillionth time," he said. "… I was invited to go to the COLAB dinner at Madonna event center. There were probably 500 people there, I would guess. I went. That was it."
Later, he said, "You can tell my frustration at this. I guess it's just that everybody has to be pigeon holed."
Regardless, COLAB seems to have helped his campaign. As of his March 17 campaign-contribution filings, Ochylski had raised no money. COLAB asked its members to support his campaign in early April. In his most recent filings, Ochylski reported receiving $37,228, including $5,000 from the San Luis Obispo Cattleman's Association PAC and $3,000 from the County Wine Community PAC.
Bruce Gibson
PHOTO BY STEVE E. MILLER
BRUCE GIBSON:
In his office on the top floor of the County Government Center, Gibson flopped a heavy government report on his desk.
"There's the proposed budget," he said. "And how do we fix it? First of all we have to react to the economy."
Speaking to New Times about his bid for re-election, Gibson often referred to projects he's working on and finished during his first term. With the budget, for example, he said the county is currently working with unions to modify employee compensation, most notably changing pension contribution rates to reduce salary and benefit expenditures, which make up two thirds of the county's budget.
"I think we have started to move in a very, very good direction," he said. "I think the ultimate goals of strategic growth and a lot of other things … those are going to take a long time. It's not that the new board comes in, in '09 and all of a sudden we've met a bunch of goals."
Now rounding out the last year of his first term, Gibson chaired the board in 2009, and particularly over the last two years has become one of the foremost environmental voices (he recently penned a letter in protest of international whaling policies). He was endorsed this year by the San Luis Obispo Democratic Central Committee. But his time as chair and his direct, outspoken tone also garnered him negative attention as a political bully hell-bent on pursuing his own agenda.
"I use the term conservationist when asked to describe myself, but to the extent that I'm an environmentalist, I do it out of a sense that it's the only sensible thing to do," Gibson said. "It's not a religious thing for me, it's a practical thing. We have to take care of our physical environment."
Responding to his critics he said, "They would clearly prefer no regulation. That would make their life easier and I understand that, but land use is a matter of balance. It's a balance of an individual's right to use their property as they see fit, make a profit off of it, against the impacts that that kind of a development has on the community as a whole."
Jim Guthrie
PHOTO BY STEVE E. MILLER
JIM GUTHRIE:
Jim Guthrie met New Times wearing a pressed white shirt and tie in the restaurant of the hotel he manages, the Spyglass Inn in Shell Beach. A slender man with a head of short fuzzy gray hairs, Guthrie is fairly unassuming, both in tone and his politics.
"Well, I guess I'm from the business background," he said. "I have a fairly pragmatic approach to that. That's why you've got to encourage the opportunities where they make sense … because there are other times when you're just not going to be able to do it."
The former president of the Pismo Beach Chamber of Commerce, Guthrie served as an Arroyo Grande planning commissioner for five years before being elected to the City Council in 2004. He's been endorsed by Patterson, Hill, and the San Luis Obispo Democratic Central Committee. While Guthrie sees himself "in line" with the current board majority, he also portrays himself as a middle-of-the-road kind of politician with a slightly pro-development lean.
"If you do have a kind of cultural, I'll call it bias, in county planning that they are biased; their inclination is to slow down the process, require lots and lots of reports so they're more inclined to slow down the process rather than speed it up," he said. "And I think there needs to be a cultural change."
Guthrie believes residents are looking for the county "to do no more damage."
"I think the second thing people are looking for is they're looking for solutions," Guthrie said. "Now, granted, they don't want to pay for them, but they are looking for solutions and I do think that once we demonstrate that we can deliver—that we can actually create solutions—that people will trust us with their money more."
Paul Teixeira
PHOTO BY STEVE E. MILLER
PAUL TEIXEIRA:
Paul Teixeira's personal e-mail address begins "honestpault." He's clearly pegged himself as the good 'ol hometown boy who loves to give back to his community. Raised in Santa Maria until he was in the second grade, Teixeira and his family later moved to Nipomo, where he still lives. A Cal Poly graduate and former student of the Lucia Mar School District, Teixeira now serves on the district's Governing Board of Trustees. Achadjian appointed Teixeira to serve as the Fourth District representative on the SLO County Parks and Recreation Commission, where he's served for more than seven years.
Fresh from a day's work at Kaman Industrial Technologies in Santa Maria, Teixeira met New Times at a small diner in Arroyo Grande wearing a "Paul Teixeira For Supervisor" button and a California-shaped pin on the lapel of his polo work shirt.
Championing his "grassroots" campaign, Teixeira said he knows what the community wants.
"They're looking for fair, honest, transparent representation," he said. "Somebody they can talk to; somebody they know will take care of what the important things are in their community, which are growth, water, traffic, jobs."
Teixeira's top priority—the issue he keeps coming back to—is providing recreational facilities for the county's youth to prevent crime and gang activity in the future.
"If we can keep them busy and keep them occupied then you're going to have less trouble with them down the road," he said.
Though Teixeira painted himself as a juxtaposition of Guthrie, the two had strikingly similar views on growth and infrastructure in the 4th District. Both candidates said the district grew too fast without addressing such constraints as water availability and traffic congestion.
Indeed, every 4th District candidate advocated building up infrastructure to allow for more growth. (Zimmerman noted that he wasn't in favor of policies that require only high-density growth in cities and limit growth in rural areas.) All three candidates outlined a water strategy that would implement conservation, utilizing water from the Santa Maria pipeline, and a long-term solution in the form of a desalinization plant.
But Teixeria differed himself from other candidates as perhaps the most center. He placed himself as less conservative than Zimmerman, but more conservative than Guthrie.
"I think we need to bring the Board [of Supervisors] back to the center," he said. "And we need to look at good, solid growth management. We need to look at the right things to do and not be to one extreme or the other."
Mike Zimmerman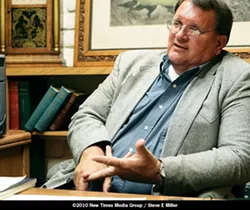 PHOTO BY STEVE E. MILLER
MIKE ZIMMERMAN:
Walking inside Mike Zimmerman's office felt like getting punched in the face by a bouquet of potpourri. The front lobby could pass for any roadside museum, with unpainted brick walls and a shelf of cast-iron horse-drawn carriages.
Back in his office, Zimmerman eased back into his chair and folded his hands in front of him.
"I may be on the short end on some of these votes," Zimmerman said when asked where he would fit on the Board of Supervisors if elected.
Noting the current 3-2 majority, Zimmerman admitted that as a supervisor he would likely find himself in the minority. A proudly religious man and unfaltering pro-business conservative, Zimmerman didn't seem to think he'd have much sway against the current majority, but he said he's going to try.
"It's gonna take a little skill in," he said smiling sardonically, "let's say negotiating."
A probate lawyer of 31 years, Zimmerman also happily touts himself as the only candidate in District 4 who has never served in any political capacity. In fact, he laughed that when cold-calling voters he's often only asked if he's in any political office now or ever has been. When he replies no to both questions he said most people say that's all they need to know to vote for him. He viewed such a quirky voter criteria as a reaction to national fatigue over government corruption and intrusion into people's lives. If elected he plans to continue working a few hours per week at his law firm partly to avoid becoming a "career politician."
And that's what Zimmerman seems to be relying on in his campaign, the fact that he's not "part of the establishment" and that he has no "preconceived ideas" he believes become the norm once someone stays in office long enough.
So why is he in the race? Does he think he'll have much chance to change the majority when it comes time to vote? Not really. Does he see himself as taking a different approach from Achadjian? Again the answer is no. In fact, Zimmerman said he and Achadjian are quite similar.
Zimmerman flaunted being the only candidate who owns his own business, shrugging off Guthrie's management position. His business background, he said, gives him more perspective than the other candidates, whom he didn't believe would represent business interests as well as he would.
But what about when the other candidates emphasize that they want to refocus the county's priorities more toward balancing economics with the environment?
"When you come right down to it, everyone from a conservative area is going to approach from the right," Zimmerman responded. The Republican Party of San Luis Obispo endorsed Zimmerman, who is also a member.
Perhaps the biggest difference between Zimmerman and his opponents is his fervent disbelief in the results of the SLO County Air Pollution Control District particulate study of the Oceano Dunes. "I'm not convinced that it is accurate," he said. Teixeira, too, was not convinced of the results, though not as adamantly as Zimmerman. Still, when it comes to solutions if further studies reach the same conclusion, Zimmerman's response is exactly the same: mitigate the impacts rather than close the park.
After consulting with his pastor, Zimmerman said he came to believe there's an opportunity to create a nonprofit organization to address potential losses to social service programs, particularly for the elderly, to backfill cuts from the state. He said he prioritizes public safety programs, but sees opportunities to keep social programs running using money that doesn't come from taxpayers.
"I'm for less government intrusion," he said.
One example of what he sees as intrusion is the county's direction toward smart or strategic growth—whichever buzz word's your favorite. Zimmerman said high-density development makes sense in some places, but believes it's impractical and unwanted in rural areas. Nonetheless, the current supervisors are intruding in the lives of rural landowners and taking away their rights to develop, he said, "to look at all the pretty cows."
Why should you care?
The race for county supervisor this year isn't particularly sexy. The stage isn't poised for the dramatic shift of 2008 and the new candidates seeking office seem more interested in redecorating county government rather than rebuilding it from the foundation up.
Nevertheless, it's still important, said Latner, the Cal Poly professor, even if it lacks some of the flair of larger elections.
"Of course people should care because these are people that make decisions that could impact the rest of our lives," Latner said. "On the other hand, it takes a lot more caring to make people turn out for primaries." ∆
Staff Writer Colin Rigley can be reached at crigley@newtimesslo.com.