There's Shadowland from Troy, N.Y. , that plays Celtic-Americana-roots music. There's Shadowland, the British prog-rock act. There's Shadowlands of Laurel, Md., a contemporary jazz and acoustic music act. There's Shadowlands of Orlando, Fla., a Christian band. There's Shadowland in Simsboro, La., "currently seeking bassist." There's even Shadowlawn, a seventh grade basketball pep band.
But forget all that, because there's only one Shadowlands you need to care about—the ethereal folk pop quartet of San Luis Obispo, Calif., and they're nothing short of amazing.
PHOTO BY BARRY GOYETTE
NEW SHOW ADDED!: After selling out their 8 p.m. Jan. 31 show at Steynberg Gallery, Shadlowlands has added a 5 p.m. Get your tickets quick!
Comprised of two couples—Bob and Wendy [Liepman, if you must know, though they've been playing together under their first names forever], and Karoline Hausted and Mark Davis. I've told their story of how they came together before ("A band with no name," Aug. 22, 2013), but their big news now is they have a name, and after two years of collaboration, exploration, and experimentation, their stunning debut CD has arrived.
Wendy, Karoline, and Mark are all gifted songwriters, each with a distinctive sound, but all able to meld together into a cohesive whole. Their sound, as I've suggested before, is haunting, lush, and thrilling—owed in large part to Bob's emotionally resonant cello playing.
They financed their debut album through a crowd-funded Kickstarter campaign, recorded it locally at Laurel Lane Studios under the watchful eyes (and ears) of co-producer Damon Castillo, and now are ready to deliver it to you during an album release party this Saturday, Jan. 31. The 8 p.m. show has already sold out, so they added a 5 p.m. show. Call 547-0278 for reservations, but do it quick! Seating is limited.
Bring some money for the CD. It features guest performances by Damon Castillo on bass and electric guitar, added violins by Todd Compton and Sal Garza, banjo by Burke Trieschmann, and drums and percussion by Abraham Robles.
The band was also recently booked for the main stage of this year's Live Oak Festival, and I have a feeling this quartet is going to find itself on the festival circuit—they're that good.
Not too late for TDM3!
This Friday, Jan. 30 (6 p.m.; all ages; $22.50 to $25; available online at ticketfly.com), The Devil Makes Three plays the Alex Madonna Expo Center.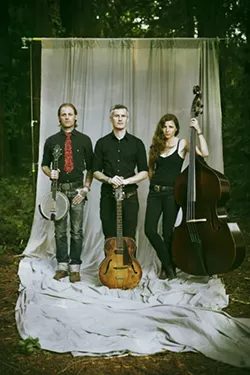 PHOTO BY PIPER FERGUSON
STILL A FEW TICKETS LEFT!: The Devil Makes Three plays the Alex Madonna Expo Center on Jan. 30 and a few tickets are still available. Get on it!
In case you missed last week's longer interview with frontman Pete Bernhard online, here's a bit more. The full interview is available at newtimesslo.com.
NEW TIMES What else do you want people to know about your upcoming tour?
PETE BERNHARD On this tour, we're putting out two new songs that didn't fit on the record because they wouldn't fit on the vinyl release, so we're selling them as digital releases and as a 45 rpm on vinyl. We're also releasing Do Wrong Right on red vinyl and putting in one of those records a golden ticket that will get the recipient into all club shows for free for a year.
NEW TIMES No way! Really?
BERNHARD Yeah. Actually, there are three golden tickets in the albums we're selling during the tour and three in records you can buy online. In terms of other projects, we're hoping to record a tribute album to some of our heroes—classic country and blues stuff to pay homage to those we love to hopefully get people interested in the artists who inspired us.
Melt your face!
SLO Brew is going way old school on you this Friday, Jan. 30, when '70s metal act Y&T hits the club (7:30 p.m.; 21-and-older; $22 presale or $25 at the door). Originally called Yesterday & Today, this pre-Mötley Crüe, RATT, and Metallica act (all bands that mention Y&T as inspiration, by the way) was making heads bob in sweaty Bay Area nightclubs way back in '74.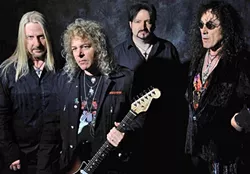 PHOTO COURTESY OF Y&T
STILL ROCKING!: '70s and '80s heavy metal icons Y&T plays SLO Brew on Jan. 30.
After putting out two albums under their original name, they shortened their moniker to Y&T and released many more albums (18 total plus three greatest hits collections), eventually selling more than 4 million albums worldwide.
Their biggest hit was probably 1984's "Don't Stop Running," though tracks such as "Rescue Me," "Summertime Girls," "All American Boy," "Mean Streak," and "Lipstick and Leather" also got some commercial traction. World-class headliners on their own, the band is also the most requested support act on the hard rock road, touring with Ozzy Osbourne, AC/DC, Aerosmith, Mötley Crüe, and more.
According to their press materials, "After a show in the mid-'70s, a rabid fan told the band, 'You melted my face,'" and now we know where that phrase came from and who inspired it! Now go get your face melted off!
Also this week at SLO Brew is Natural Incense on Saturday, Jan. 31 (7:30 p.m.; all ages; $10 presale or $12 at the door), with Bare Feet and Panga. These three local acts promise to chill you out and irie you up.
On Tuesday, Feb. 3, check out Escape the Fate (7 p.m.; all ages; $18 presale or $20 at the door). The notorious Sin City rockers will be unleashing a deluxe edition of their fan-coveted 2010 breakout album This War Is Ours on April 27.

Ever I Saw Your Face
Roberta Flack has recorded so many iconic songs: "The First Time Ever I Saw Your Face," "Killing Me Softly with His Song," "Feel Like Makin' Love," "Where is the Love," "The Closer I Get to You," plus all those great duets with Donny Hathaway.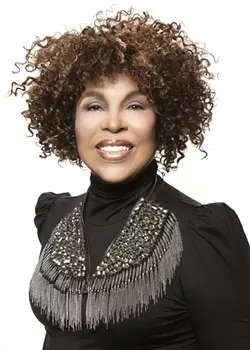 PHOTO COURTESY OF ROBERTA FLACK
THAT VOICE!: The amazing Roberta Flack plays the SLO PAC on Feb. 4.
This Wednesday, Feb. 4, the four-time Grammy Award winner plays SLO's Performing Arts Center (7:30 p.m.; all ages; $40.80 to $91 by calling 756-4849 or online at calpolyarts.org.).
The legendary performer was raised in a musical family—her mom, Irene, was a church organist, and she was inspired by the music of Mahalia Jackson and Sam Cooke. Her early classical piano training earned her a scholarship to Howard University at age 15, and she was "discovered" by jazz musician Les McCann while singing at the Washington, D.C. nightclub and restaurant, Mr. Henry's.
From there, accolades and success quickly followed upon the release of her first album, First Take, on Atlantic Records. The story of that first album is pretty remarkable in itself. Legend has it McCann arranged an audition with producer Joel Dorn, where Flack performed 42 songs in three hours. Then, in November of 1968, she recorded a 39-song demo in less than 10 hours. Three months later, she recorded First Take's eight tracks in another 10 hours.
According to press materials, "In 1999, her star was added to the Hollywood Walk of Fame and that same year, Flack gave a concert tour in South Africa; the final performance was attended by President Nelson Mandela. She performed on the 2010 Grammy Awards, and in 2012, Flack released Let It Be Roberta, an album of Beatles covers including 'Hey Jude' and 'Let It Be.'"
She's got such a deep catalog, and who knows what this concert may hold, but you can rest assured this star will deliver!
More music …
Any time I see my old pal Alan Vogan show up in a new band, I figure it's worth a gander, which is why you ought to head down to Shell Café this Thursday, Jan. 29 (6:30 p.m.; all ages; free), for the next installment of Songwriters at Play, where Vogan's new band Just Gravy is headlining. The string trio is calling their sound "dunegrass"—a blend of bluegrass with hints of Celtic, swing, and jazz. Doc Watson, Flatt & Scruggs, Old Crow Medicine Show, and Stray Cats are a few influences. The band's originals are by singer-guitarist Vogan. Banjoist Ryan Sayer sings lead on half of the songs, and Colleen Gnos works the standup bass. Brian Hanratty and Spanky Baldwin also play the songwriter showcase.
PHOTO COURTESY OF JUST GRAVY
DUNEGRASS: New trio Just Gravy (left to right: Ryan Sayer, Colleen Gnos, and Alan Vogan) plays Jan. 29 at Shell Café.
SLOfolks has Tony Furtado coming to town this weekend, but his Friday, Jan. 30 show at Coalesce Bookstore is sold-out; however, you can still get tickets for the Saturday, Jan. 31, show at Castoro Cellars (7:30 p.m.; call 238-0725 for tickets). David Lindley said, "Tony Furtado is a major musical force without a doubt. He has a black belt in voice and bottleneck guitar, and his banjo playing scares the crap out of me." What more do you need to know?
The Tipsy Gypsies with a choreographed ballet performance? Yes, it's happening this Saturday, Jan. 31, at the Ballet Theatre's black box theatre (3566 S. Higuera No. 207; 8 p.m.; $20 presale or $25 at the door; call 440-1439 for reservations). "We were approached by the good people over at the Ballet Theatre of San Luis Obispo to see if we were interested in putting together a performance for them to help keep the arts alive," said guitarist and songwriter Forrestt Williams. "We're particularly excited for a choreographed piece that they have put together with a selection of our original material." The evening will include dancing and a no-host wine and beer bar for those of age.
Shape Pitaki will play a "stripped-down acoustic show in SLO to support our full-length, Lonely This Is," said the band, adding, "We often get compared to the Pixies, Smashing Pumpkins, Foo Fighters, Nirvana, and Built to Spill." See them Sunday, Feb. 1 (10 p.m.; 21-and-older; free).
The Jake Davis Band will bring their indie pop sounds to Frog and Peach this Tuesday, Feb. 3. Hooky tunes, inviting vocals, and a surprisingly full trio sound awaits (10 p.m.; 21-and-older; free).
Mark your calendar because RL Grime is playing The Graduate on Thursday, Feb. 4, continuing his massive VOID tour. "After a hugely successful 2014, the No. 1 album on iTunes electronic (Heatseakers Chart), and a sold out national tour, RL is on his grind for 2015—demand was so high he had to add a second leg to this tour," said his manager. I checked online and it looked like this was already sold-out, but you can always call The Grad.
Keep up with Glen Starkey via twitter at twitter.com/glenstarkey, friend him at facebook.com/glenstarkey, or contact him at gstarkey@newtimesslo.com.