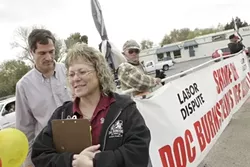 FILE PHOTO BY STEVE E. MILLER
BACKLASH : Last December, community members protested back after months of confusing 'bannering' by the Carpenters Local 150 in front of Doc Burnstein's Ice Cream Lab in Arroyo Grande. Pictured left to right are owners Greg Steinberger and Marie Cavaletto, and a Carpenters protester who declined to give his name.
Somewhere there must be a factory that belches out "shame on" whomever banners and people to hold them. It seems the only explanation for how the Carpenters Local 150, a Camarillo-based union, has become so ubiquitous in SLO County.
The Local 150 represents 1,400 members out of Camarillo, one branch of the Southwest Regional Council of Carpenters, which falls under the half-million member United Brotherhood of Carpenters. Few can say when or why it started, but by best estimations, the Local 150 developed a proclivity for "bannering" local businesses about two years ago.
For the Carpenters, bannering usually involves two or three people standing next to a large vinyl banner with block lettering calling "shame on" whatever business they're protesting, and flyers calling the business owners "rats" who desecrate "the American way of life." Those who pass out the flyers tend to be shy about explanations and even the union leadership has developed a reputation for silence.
Numerous calls to Local 150 President Joseph Duran were never returned, nor were calls to the Southwest Regional Council of Carpenters headquarters in Los Angeles. In fact, the union has not responded to other local media or the L.A. Times.
Most who've ended up at the business end of the Carpenters' bannering are often confused about what they did wrong. Perhaps most notably baffled is Greg Steinberger, owner of Doc Burnstein's Ice Cream Lab in Arroyo Grande. Like many, Steinberger's business became a bannering post with such words as "labor dispute" displayed to the public when there is in fact no labor dispute at the business.
According to interviews with others who have been bannered, the Carpenters simply banner businesses that hire non-union labor, whether or not there's a union agreement in place. One person, speaking on condition of anonymity out of fear of being bannered again, said, "It's like bullying, basically."
Steinberger never hired non-union contractors. In fact, he didn't hire anyone. Steinberger's business was bannered because he is opening a new location in the Santa Maria Town Center, which hired non-union labor for remodeling work. However, Steinberger had no part in who did the remodeling work and is himself just renting the space.
By going after an "innocent bystander," Steve Weiner, executive secretary treasurer of the Tri County Building and Construction Trades Council, said the Carpenters went too far.
"Bannering is something that people can use to get messages out," he said. "But freedom of speech doesn't give you the right to yell fire in a crowded movie theater … there's no fire here."
Members of the Tri-County bought free Doc Burnstein's ice cream for residents on Feb. 26 to protest the Carpenters' protest.
"That's what true labor movement is supposed to do," Weiner said. "Is stand up against injustice."
Steinberger has a charge awaiting review by the National Labor Relations Board. Indeed, his was the most recent charge filed against the Local 150. Two other businesses—SVC Quality Care of Valencia and Drywall Dynamics of Paso Robles—filed their own charges under nearly identical complaints last year.
Protesters were stationed out front of the SVC Quality Care medical clinic for about three months because the private clinic had not hired union labor—the Carpenters were the only union bidders—to remodel a new clinic location. During those demonstrations, protesters filmed patients going in and out of the clinic, causing some people to cancel their appointments, according to the charge.
In March 2009, Drywall Dynamics President Jay Silva filed his own charges against the union after being the target of roughly 10 protests, he said. Silva, who's been in the drywall business for 30 years, said he lost jobs when the Carpenters told his clients he was paying unfair wages, always threatening to protest unless a union contractor was hired.
"And it's not a matter of them wanting me to join the union, it's a matter of them wanting me out of business," Silva said, adding that Carpenters President Duran has never returned his calls.
When Silva put in a bid for work with the private utility Atascadero Mutual Water Company, the Carpenters sent a letter to the company with a warning not to hire Silva or face the consequences. At times, the letter can read like lines out of a Joe Pesci movie. In the letter, Duran warns that hiring Drywall Dynamics would result in an "aggressive public information campaign." If the company chose not to accept Silva's bid, "Doing so will provide the greatest protection against your firm becoming publicly involved in this dispute through misunderstanding or error."
Silva was ultimately awarded the bid and sure enough the Carpenters began protesting.
"I don't know what the end game is," Silva said. "I really don't. I can't figure it out."
Aside from the formal charges, other local businesses have been targeted, including Meathead Movers and the SLO Holiday Inn Express, said Lindsey Miller of the SLO Chamber of Commerce.
In 2004, the National Labor Relations Board took a case to the U.S. Ninth Circuit Court of Appeals on behalf of construction businesses in San Diego, Los Angeles, and Phoenix that had been bannered by the United Brotherhood of Carpenters.
Citing nearly identical circumstances to those SLO County business owners have complained about, the Labor Board argued that bannering was essentially "picketing," and therefore the practice violated federal labor laws. The Carpenters appealed all the way up to the Ninth Circuit Court, which ruled that, despite some fuzzy public perception on bannering, it qualifies as free speech and is therefore OK so long as protesters don't block business entrances or march and shout, for example.
Judge Andrew J. Kleinfeld was the sole dissenting vote and said that the bannering practice should not be protected in part because it's misleading to anyone without an encyclopedic knowledge of labor jargon.
"A reasonable person driving by the Westin Bonaventure [hotel] or the other firms subjected to the banners would think, 'that company must not be treating its employees right,'" Kleinfeld wrote in his opinion.
Every business owner who spoke with New Times said the Carpenters had hired non-union pedestrians, in some cases, to stand by banners and hand out flyers.
For now, the three charges filed against the Local 150 are essentially stalled. The Labor Board is at least one member short of a quorum and has been so for about a year. In other words, any charges that would go to the labor board for action are on the back burner until additional members, currently held up in Senate appropriations politicking, fill the empty seats.
As of press time, the Carpenters were still protesting at Doc Burnstein's. "I've really tried to figure out what are they trying to achieve with this," Steinberger said. "Because they're obviously not winning over public sentiment. They're not getting more contracts."
Staff Writer Colin Rigley can be reached at crigley@newtimesslo.com.