PHOTO COURTESY OF ZZ TOP
NO INTRODUCTION NEEDED : Iconic blues rockers ZZ Top headline the OPTIONS fundraising concert, the Avila Beach Music Festival at the Avila Beach Golf Resort, on Sept. 2.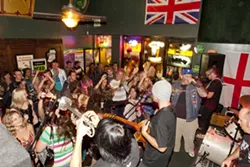 PHOTO BY STEVE E. MILLER
AND THE WINNERS ARE …: STONEY DAYS! The crowd was the big winner at the New Times Music Awards, treated to awesome performances by the likes of Klockwyze, who played Frog and Peach on Aug. 19.

If you missed it, kick yourself, because the New Times Music Awards weekend was indeed awesome. You can still buy a double album set of all the winning songs ($5) or a NTMA festival T-shirt ($10) at our offices. Here are the final results.

The award for Best Overall went to Inga Swearingen for "Brick by Brick." Album of the Year went to PK for Into the Roaring. Still Time's See America was second. Inga Swearingen's First Rain was third. Readers Choice went to Ghostporn for Is a Dream.

Ted Waterhouse won first in songwriting for "Fire Season." Loren Radis won second for "Homesick." Bob & Wendy won third for "Your Beautiful Life." Honorable mentions went to Kevin Martin for "My Backyard Swing" and David Lynch for "I Can See Sound."

In the rock and alternative category, Criticnue won first for "Murder of Crow." Callista won second with "Farther." Ghostporn won third with "Is a Dream."

In reggae and worldbeat, The Shival Experience won first for "Thankful Dread." Klockwyze won second with "Stoney Days." Tim McLean and Craig McNichols won third for "Don't Point That Thing at Me."

In jazz and classical, Inga Swearingen won first for "Brick by Brick." Bill Wingfield won second for "Happy Hour." The Tipsy Gypsies won third for "Your Heart Belongs to Me."

In Americana and country, Doug Groshart won first for "My Yesterday." Joe Koenig won second for "Long Time Coming." Loren Radis won third for "Our Terrified Ghosts."

In the blues and R&B genre, Joe Koenig won first for "Colors." The JD Project won second for "Freight Train." Don Lampson won third for "Turned My Back to the Wind."

In the hip-hop class, Public Defendaz won first for "Revolution." Ashis Clay won second for "Threat." Public Defendaz won third for "What Happened." Jen Rescola won the Ernie Ball guitar in the raffle, and the headphones from Audio Ecstasy went to Blake Brownell and Teri Mushinskie.

New Times—thanks to your support—also donated $2,000 to Arts Obispo's mini grants program, which offers small grants for musicians and music-related programs. Thanks to all our sponsors and a special thanks to Todd and Korie Newman. We couldn't have done it without you!
Though it's a week away, I don't want the Avila Beach Music Festival at the Avila Beach Golf Resort to sneak up on you, since it's for such a worthy cause and features two awesome, must-see acts.
On Thursday, Sept. 2, ZZ Top and the Tommy Castro Band perform, beginning at 7 p.m., during a benefit for OPTIONS, a local nonprofit that serves people with traumatic brain injuries and developmental disabilities. OPTIONS produces this event entirely with staff and volunteers, relying on it as its annual fundraiser.
The group offers community-based services throughout SLO and Santa Barbara counties, serving almost 200 people each day. One of the largest local nonprofits in the county, OPTIONS prides itself on having offered positive choices to disabled people in the community since 1984.
Good causes aside, we're talking about seeing ZZ Top live, on the beach, under the stars! Referred to as the "little old band from Texas," these bluesy rockers with their iconic facial hair and music videos populated by heart-stopping women and sinister cars are a worldwide phenomenon. It's been six years since they've performed locally, so don't let this chance slip through your fingers.
You also won't want to miss Tommy Castro, whose guitar playing and gusty voice made the much-loved Dynatones a huge success. His recent solo effort, Hard Believer, helped him garner four 2010 Blues Music Awards—more than any other artist—including, for the second time in his career, the coveted B.B. King Entertainer of the Year Award (the very highest award a blues performer can receive) as well as the award for Contemporary Blues Male Artist of the Year, Contemporary Blues Album of the Year (for Hard Believer), and Band of the Year.
Buy tickets at any Vallitix location (Boo Boo Records locally) or online at vallitix.com. For more information on the event or sponsorship, visit avilabeachmusicfestival.org or contact Amy Taylor at ataylor@optionsfs.org or 772-6066, Ext. 101.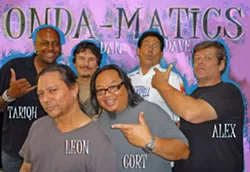 PHOTO COURTESY OF THE ONDA-MATICS
ALL STARS : Comprised of six professional gunslingers who've played with everyone from Johnny Cash to Mariah Carey, the Onda-Matics play the Operation Surf 2010 benefit concert for wounded servicemen on Sept. 2 at Mo-Tav.
Worthy cause part deux!
There's something about Thursday, Sept. 2, that's bringing out the hot bands and worthy causes, because the Operation Surf 2010 concert happens that night at Mo-Tav. The multi-day event, created by local pro surfer Van Curaza and his company Amazing Surf Adventures, helps wounded soldiers, sailors, and marines recovering at Brooke Army Medical Center in San Antonio learn to surf.
"Originally tailored to accommodate amputee participants, last year's program was able to grow and expand its capacity to become a more inclusive surf clinic," Curaza explained. "We welcomed two young soldiers from BAMC: one with traumatic brain injury and one who had suffered 34 percent third degree burns. Ready to meet the challenge that lay ahead, they, along with their eight other comrades, said 'Bring it on!' Besides enjoying the surf, sand, and sun, there were 'Miles of Smiles' as each Wounded Warrior exceeded their goals and expectations. We discovered that Operation Surf is no longer limited to amputees. We have now opened the doors to the burn and traumatic brain injury patients at BAMC to participate as well."
In addition to the multi-day surf clinic, Curaza decided to ask his pro-musician cousin Curt Bisquera to put together an all-star band to play on Sept. 2. Bisquera has drummed for Elton John, Mick Jagger, Tom Petty, Celine Dion, Johnny Cash, and more. He also tapped his friends: bassist Reggie Hamilton (Michael Bolton, Boyz II Men, Toni Braxton, Whitney Houston), guitarist John Chiodini (Natalie Cole, Peggy Lee, Kenny Rogers, Diana Schuur, Barry Manilow), guitarist Tariq Akoni (Elton John, Christina Aguilera, Herbie Hancock, Chaka Kahn), keyboardist Alex Alessandroni (Babyface, Pink, Leann Rimes), and keyboardist Leon Bisquera (Boney James, Anita Baker, Mariah Carey).
Calling themselves the Onda-Matics (onda means "wave" in Italian), they play at 9 p.m. Tickets cost a $15 donation at the door.
PHOTO BY BRITTANY APP
CRAZY KIDS : Jade Jackson and Jody Mulgrew are teaming up to play the Steynberg Gallery on Aug. 27.
Insulin injection perfection
A couple of sweet kids, Jade Jackson and Jody Mulgrew, are teaming up to play the Steynberg Gallery on Friday, Aug. 27, at 8 p.m. These two fine young songwriters and irresistible performers are so ridiculously charming alone that I simply can't imagine what'll happen when they perform side by side, trading harmonies, sharing songs, and debuting new numbers they've penned together in recent months.
"After discovering one another's penchant for classic folk and country, Jackson and Mulgrew started swapping songs and harmonies on Jackson's Santa Margarita porch," they explained in their bio. "It wasn't long before they had worked up a sweet and haunting set. When Peter Steynberg caught wind of the pair's new collaboration, he invited them to debut the act at Steynberg Gallery. Those two voices will skip winsomely down a trail well broken-in by the Everly Brothers, Johnny Cash and June Carter, and Gillian Welch and David Rawlings."
Tickets for this all-ages show cost $10 at the door.
PHOTO COURTESY OF DAFNI
HONEY VOICE : Dafni plays Linnaea's Café on Aug. 28 to promote her arresting new album, Sweet Time.
Sweet Time
I've been listening to Dafni's newest CD, Sweet Time, an 11-track collection that works its way through the finest traditions of the female singer-songwriter.
Driven by her light and lovely voice and a knack for writing breezy folk tunes, Sweet Time is a tribute to her family history. During World War II, Dafni's grandmother's voice saved her life. She would sing in the hills around her home in Samos, Greece, and when the Italians invaded, her husband, who was in the resistance, went into hiding. Dafni's grandmother was in danger as well, but an Italian soldier taken with her voice hid her from the authorities.
Listening to her song "Floating," I can well imagine how that Italian soldier felt listening to her grandmother. See Dafni on Saturday, Aug. 28, at 8 p.m. in Linnaea's Café. Don't expect all sweetness and light, however; Dafni's a fine country singer, and her track "Walking Out the Door" sounds like a groovy Nancy Sinatra tune. She also does some Tin Pan Alley stuff, cabaret, and more.
More music …
Indie folk choir The Horde and the Harem plays Thursday, Aug. 26, at Frog and Peach in support of their newest offering, The Harvest. Expect two-, three-, and even four-part vocal harmonies.
Dan Bern & Common Rotation return to the Steynberg Gallery on Thursday, Aug. 26, at 8 p.m. The group met after collaborating on an indie movie soundtrack (Drones), and has since worked on various projects, including recordings for Jonathan Demme's Off-Broadway production of Beth Henley's Family Week. On Friday, Aug. 27, and Saturday, Aug. 28, Bern and Co. head to the Henry Miller Library in Big Sur for two songwriting workshops. A concert follows Saturday's workshop. Visit henrymiller.org for details.
The Central Coast's favorite country western performer, Monte Mills and the Lucky Horseshoe Band, brings his family-friendly show of energetic and contagious country swing to the next Concert in the Park on Friday, Aug. 27, from 5:30 to 7:30 p.m. at the City Park in downtown Paso Robles.
BR549's Chuck Mead performs at the Ranch in San Miguel on Friday, Aug. 27. As co-founder of the three-time Grammy nominated BR549, the honky-tonk hero has been hailed as the "Hillbilly Renaissance Man" for his subsequent successes as a songwriter, performer, producer, and musical theater director.
"Mixing acoustic coastal-rock and a feel-good vibe, Headshine takes you on a free spirited ride up the coast with a soundtrack of life, love and the space between," said their bio. See them on the patio at Mr. Rick's on Saturday, Aug. 28 at 2 p.m.
Get into the '60s groove as Vina Robles Winery hosts the "British Invasion," a live Unfinished Business concert tribute to the classic songs of the Rolling Stones and the Beatles, on Saturday, Aug. 28, at the winery's hospitality center in Paso Robles. A benefit for Big Brothers Big Sisters of San Luis Obispo County, it costs $25. The doors open at 5:30 p.m.; a British car show starts at 6 p.m.; and the concert starts at 7 p.m. Guests are encouraged to dress in their grooviest '60s attire. English-style fish and chips, fine ales, and Vina Robles wines will be available for purchase throughout the evening. A silent auction will feature special magnums from local wineries.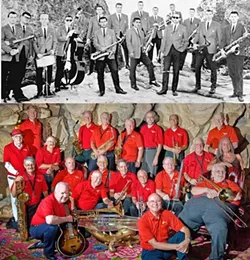 PHOTO COURTESY OF THE CAL POLY COLLEGIANS ALUMNI BIG BAND
THEN AND NOW : The Cal Poly Collegians Alumni Big Band, with members in 1961 and again last year, performs its annual reunion concert on Aug. 28 at Madonna Inn.
For many, music is a lifelong love affair. May I draw your attention to Exhibit A, the
Cal Poly Collegians Alumni Big Band
, which performs its annual reunion concert on
Saturday, Aug. 28
, at Madonna Inn from 7:30 to 10:30 p.m. The 20 Cal Poly Collegians—all university alumni—bring the best of Count Basie, Duke Ellington, Benny Goodman, Glenn Miller, Les Brown, and more to San Luis Obispo every August. They've gathered every year since the mid-'60s to renew old friendships and play their favorite tunes, according to band member Bob Alberti. Today's alumni band members represent classes from 1948 to 1963, and the all-male Collegians are the predecessor to today's mixed-gender University Jazz Bands at Cal Poly. Admission is free, but bring a few bucks to donate to the Collegians' jazz scholarship at Cal Poly.
PHOTO COURTESY OF TEMPEST
THE CELTS ARE COMING : Tempest is one of several acts playing the 19th Annual Stone Soup Music Festival Aug. 28 and 29 in Grover Beach.
The lovely Ramona Garden Park in Grover Beach is once again the site for the
Stone Soup Music Festival
on
Saturday, Aug. 28
,
and
Sunday, Aug. 29
. Now in its 19th year, the festival continues to grow and grow. In addition to food and vendors and activities, entertainment includes
Tempest
,
Cuesta Ridge
,
Jill Knight
,
Mariachi Mexicanisimo
,
Masanga Marimba
,
Red Skunk Jipsee Swing Band
, and
Satori Daiko
. Plus, you can hear
The Bald Spots
,
Grupo Aries
, and children's entertainer
Merrie Mary
. Get more info at groverbeachchamber.org.
San Francisco trumpeter Erik Jekabson, regarded by musicians and critics as one of America's finest young jazz artists, is the performer at the Famous Jazz Artist Series at the Hamlet on Sunday, Aug. 29, at 4 p.m. ($15) and 7:15 p.m. ($12, or see both for $20). Jekabson, who has been featured with such diverse artists as Woody Herman and pop singer John Mayer, will be joined by fellow San Francisco artists John Witalla on bass and Smith Dobson on drums, as well as series co-producers Charlie and Sandi Shoemake (piano/vibraphone and vocals). Call 927-0567 for reservations.
All four of Steve Key's upcoming Songwriters at Play showcases feature Sam Misner and Megan Smith, who began their musical collaboration after working together as actors on a production of Woody Guthrie's American Song and immediately recognized a mutual love of Americana music. They play traditional and old-time music, bluegrass, folk, rock'n'roll, reggae, Motown, and blues. Also expect up to eight guest songwriters on Monday, Aug. 30, at Rose's Landing (7 to 10 p.m.; free); Tuesday, Aug. 31, at the Steynberg Gallery (6:30 to 9:30 p.m.; $5); Wednesday, Sept. 1, at Fin's (6 to 9 p.m.; free); and Thursday, Sept. 2 at The Porch (6:30 to 9:30 p.m.; free).
Todd Day Wait plays the Songwriters Showcase at the Clubhouse on Tuesday, Aug. 31, at 7 p.m. The environmentally conscious performer travels in a 1997 converted airport shuttle bus running on veggie oil. Musically, expect a spicy gumbo of New Orleans funk, Memphis Soul, and everything in between. All ages. No cover.
Keep up with Glen Starkey via twitter at twitter.com/glenstarkey, friend him at Myspace.com/glenstarkey, or contact him at gstarkey@newtimesslo.com.