Like an old mule that moves only when it feels like it, Cuesta Ridge has finally, obstinately delivered a studio album. How long have they been together? Seven freakin' years! What took so long?
Doesn't matter. Hard Luck Tough Times was worth the wait. The all-too-brief nine-song album features the band's signature virtuoso pickin' and harmonious vocals, and unlike previous live recordings, you can hear every note, every word, every subtle tongue-in-cheek wink from this Americana-bluegrass band that sounds old timey but is savvy well beyond their bumpkin trappings.
It's true that in this ultra-clean recording some of the raucous energy of their live show has been stripped away—this is a band that's at its best playing before an audience—but these songs are a hoot nonetheless.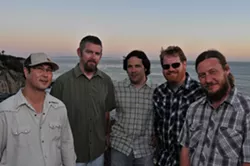 PHOTO BY JEFF BOWEN
DOWN FROM THE MOUNTAIN : Cuesta Ridge (left to right: Toan Chau, Brent Vander Weide, Dan Keller, Matt Reeder, and Patrick Pearson) plays an album release party for its first studio recording, Hard Luck Tough Times, on May 27 at The Red Barn.
Get the best of both worlds on Friday, May 27, when Cuesta Ridge plays a CD release party at the Red Barn in Los Osos in what percussionist Brent Vander Weide is billing as "a down-home shindig, Cuesta Ridge style. We'll have our brand new studio CD Hard Luck Tough Times available for a one-time discounted price. We also have to be out of there somewhat early, but that just makes it a bring-your-whole-family affair with impressive possibilities for after partying! The show time is 6:30 to 8:30 p.m."
Yee haw!
Poet of the strings
Listening to Tim Pacheco's guitar compositions is a transporting and transformative experience—transporting you away from your daily stress, transforming you into a floating soul at peace with everything around you. No wonder his day job is to provide music for patients and their family and friends who are receiving hospice care or in nursing homes and assisted living facilities. You can get lost in these songs, wandering around a cool forest with light filtering though whispering leaves.
He calls his new 11-song collection Of Wordless Realms, and each instrumental song is like taking a little mental trip through Pacheco's musical world. Some he plays solo, others he enlists the help of stellar local musicians such as accordionist Duane Inglish and violinist Brynn Albanese of Café Musique, who join him on "Une Nuit Estrange an Pere Lachaise," a lush, mysterious tune about visiting the burial place of artists Oscar Wilde, Edith Piaf, and Jim Morrison.
Windham Hill Records founder Will Ackerman calls Pacheco "a brilliant guitarist [and] a wonderful composer." He also called Pacheco's new CD "his finest work to date."
PHOTO COURTESY OF TIM PACHECO
PACHECO! : Experience the magic of Tim Pacheco on May 28 in the Steynberg Gallery when he releases his amazing new album Of Wordless Realms.
Experience the magic of Tim Pacheco on Saturday, May 28, at 7:30 p.m. in the Steynberg Gallery ($5 at the door). His special guests include Bob Liepman (cello), Andrew Wise (flute), Chris O'Connell (harp), Maddy Nager (marimba), Duane Inglish (accordion), Matt Franscioni (percussion), and Johnne Gange (tabla).

It's a drag … show!
SLO Brew kicks off the week with Delta Lambda Phi's annual drag show, The Dollhouse, on Thursday, May 26, at 8 p.m. (18 and older; $8 presale or $10 at the door). Who doesn't like to see frat guys in dresses?
Things turn slightly more manly on Saturday, May 28, when Johnny Cash tribute act Cash'd Out returns for a night of rockabilly and outlaw country (8 p.m.; 21-and-older; $10 presale or $12 at the door).
You can get your irie vibe on when reggae favorites Tribal Seeds return on Sunday, May 29 (7:30 p.m.; all ages; $14 presale or $16 at the door). Through the Roots will open.
PHOTO COURTESY OF MYSTIC ROOTS BAND
THE FUTURE OF MUSIC : Hit SLO Brew on May 31 for a night of reggae and hip hop with the Mystic Roots Band.
Need a bit more reggae? Hit the Brew on Tuesday, May 31, for Mystic Roots Band (7:30 p.m.; all ages; $6 presale or $8 at the door). Top Shelf opens this show.
Songwriters at Play
On Thursday, May 26, Steve Key's Songwriters at Play showcases kick off at The Porch with King Kuula Acoustic Band. Multi-instrumentalist, singer-songwriter, and producer Steve Ambarian is a native Californian just getting his start in the music industry with the release of his debut album, King Kuula. All the showcases include one featured act and others playing four-song sets. They're all-ages, pass-the-hat, and this one starts at 6:30 p.m.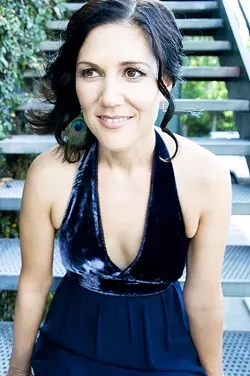 PHOTO COURTESY OF PI JACOBS
PI IN THE SKY : Pi Jacobs is the featured player on May 29 at Sculpterra for Steve Key's Songwriters at Play showcase. She's had more than 50 song placements in TV and film, which means even if you haven't heard of her, you're probably heard her!
Pi Jacobs is the featured player on Sunday, May 29, at Sculpterra (1 p.m.). She's had more than 50 song placements in TV and film, which means even if you haven't heard of her, you've probably heard her! She's also a standing member of L.A.'s hottest hipster glee club, The Silver Lake Chorus, which was recently featured on SNL's "I just had sex!" skit.
On Tuesday, May 31, hit the Kreuzberg (6:30 p.m.) to hear featured performers Bob and Wendy, one of our true local treasures. Wendy's arresting voice and songwriting skills will dazzle, and Bob's cello and mandolin bring added richness to their Americana sounds.
On Thursday, June 2, Santa Margarita fixture Don Lampson helps Songwriters at Play celebrate its second anniversary at The Porch (6:30 p.m.). The "Okie" has shared the stage with the likes of Hoyt Axton, T-Bone Walker, Alice Cooper, Dave Mason, and J.J. Cale, and he's forgotten more train songs than most performers have ever learned. I've said it before, so I'll say it again: Don Lampson is to Americana music what John Wayne was to Westerns. He's larger-than-life, authentic, and 100 percent heart and soul.
Beach Blanket Bingo!
PHOTO COURTESY OF LMFAO
STYLE MASTERS : Sky Blu and Redfoo of LMFAO drop their electro-hip-hop beats on Avila Golf Resort on May 27.
Hit the beach with hip-hop sensation LMFAO on Friday, May 27, at the Avila Beach Resort at 6 p.m.
"We're definitely not a band that's shy. We love to hear ourselves talk. We want to be seen as much as possible. We want to be so big that we can't even walk down the street," said Redfoo, the programming brain behind the electro-hip hop act, whose hits include "I'm In Miami Bitch," "Lil' Hipster Girl," and "Yes."
Redfoo and his cohort (and nephew) Sky Blu have been blowing up the clubs, and in the last year they released three self-produced and self-distributed tracks that have become club favorites. They've also remixed Fergie's "Clumsy," Kanye West's "Love Lockdown," and Katy Perry's "Hot 'N' Cold."
Shwayze and Cisco Adler will fill the middle spot, and Chris Young the Rapper & Audiobit will open the show. Buy tickets at all Vallitix locations, at vallitix.com, or by calling 1-888-825-5484.
Ripe and ready!
Where can you see 25 great performers on nine stages over two days? The Arroyo Grande Strawberry Festival on Saturday and Sunday, May 28 and 29, that's where! This is SLO County's largest free festival and is the primary yearly fundraiser for the Arroyo Grande Village Improvement Association. The family-style event brings out visitors and residents in droves to the historic Arroyo Grande Village, which is why Sunset Magazine called it "the place to be on Memorial Weekend."
PHOTO COURTESY OF CRYSTAL MCKEE
CRYSTAL CLEAR : Crystal McKee is one of 25 entertainers playing this year's Arroyo Grande Strawberry Festival on May 28 and 29.
In addition to the carnival, vendor booths, and shops, there'll be nine stages throughout the Village featuring ethnic, folk, blues, reggae, jazz, soul, country, Latin, and rock'n'roll from the likes of the Shival Experience, the Crisptones, Oso Sol, the Demos, Maheyla & the Ritual, the Dentures, Cal Poly Jazz Bands, Bubba Ramey, Brad Wilson, and Crystal McKee. Frankly, there are too many acts to list, so visit arroyograndevillage.org/strawberry.asp for a complete lineup.
More music …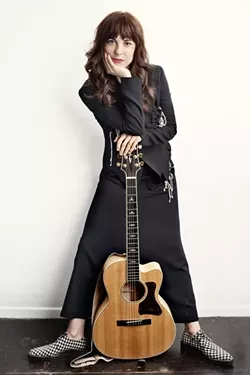 PHOTO BY BLOSSOM BERKOFSKY
TAKE WING : The Hotel Cheval hosts Rebecca Pidgeon on May 26.
Don't forget about the concert at Hotel Cheval with Rebecca Pidgeon on Thursday, May 26. This "Wine, Women, & Song" will unite Pidgeon and Women of the Vine as they launch a new CD, taste award-winning wines sustainably produced by women winemakers, and raise funds for Farm Aid and America's family farmers. The series will run from summer through fall, with stops in wine-loving cities and venues.
Get your weekly jazz fix at the Bay Club at the Inn at Morro Bay every Friday night from 7 to 10 p.m. Friday, May 27, features Aaron Wolff on saxophone, Dylan Johnson on bass, and Mike Raynor on drums.
Rock act Rusted Stone plays on Friday, May 27, at The Pour House. "This will be a true night of good times!" said Shawn of Rusted Stone. "The Pour House has tons of kick ass beers to choose from. If you like to drink beer (and who doesn't like to drink beer?), and you like good rock'n'roll, then this is the place for you!" The show is free.
Michael on Fire is an incredible entertainer with four decades of performance experience under his belt and a deep reservoir of material from which to draw, so prepare to be knocked off your feet when he plays on Friday, May 27, at Painted Sky Studios at 8 p.m. He played Cambria in January, but according to owner Steve Crimmel, "We're now happy to bring him back for a proper concert with his full band. Even with the band, it is still a primarily acoustic concert. The heartthrob of the group, Atascadero's own Tyson Leonard, will be joining Michael again on violin." Tickets cost $15, available at Boo Boo's, the Cambria Business Center, or by calling 927-8330.
Classical crossover guitarist David Rogers plays the Steynberg Gallery on Friday, May 27, at 8 p.m. (all ages; $10). The New York Times recently dubbed him "a prominent guitarist," while the Washington Post praised him for his "astonishingly florid" improvisations. He'll play music from his new CD, Hummingbird, Spanish guitar favorites, a few songs by the Beatles, and his own jazzy version of "La Bamba."
On Friday, May 27, Dr. Danger is making its monthly house call to the SLO Down Pub. "We'll be doing our usual mix of blues, rock, and soul, including several new originals," said pianist Brent Dannells. The show starts at 7:30 p.m., no cover. "The next night, Saturday, May 28, I'll be doing a free solo show at Linnaea's Cafe from 8 until 10 p.m. I'll be drawing on my bag of jazz, blues, and originals with occasional forays into folk and rock. I'll have to do at least a few songs by Bob Dylan in honor of his 70th birthday."
Five Sisters Productions has The Demos—country, retro R&B, surf rock—at Colby Jack Café's Rose Garden Courtyard on Saturday, May 28. "Our longtime pal Gary Roda will be with us on pedal steel guitar and electric guitar," said Wally Barnick (bass and vocals). "He's a super player and a super fellow." The band also features Kenny Blackwell (guitar and vocals) and Greg Astle (drums and vocals). See them from 5 to 8 p.m. The cover's $10.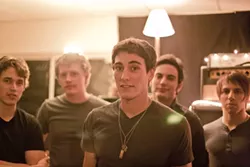 PHOTO COURTESY OF PK
UPSCALE! : Awesome rock act PK is putting pinkies in the air and sipping wine on May 28 at Castoro Cellars.
PK, recently named one of 50 upcoming bands to watch by Rolling Stone magazine, is going upscale on Saturday, May 28, with a show at Castoro Cellars at 6 p.m. ($20 tickets available at pkband.com). Food will be provided by Odyssey World Cafe for $10. A portion of each concert ticket benefits the Templeton High School Music Program, because, hey, four of the five PK members are alumni! "The band will also use some of the money to pay for our next album to be recorded in July," added band member Matt DePauw.
Former SLO resident Ryan Dishen is returning to town for a few shows: Saturday, May 28, at 8:30 p.m. at Frog and Peach; Sunday, May 29, at 1 p.m. at Sculpterra Winery, and Wednesday, June 8, at 6 p.m. at Last Stage West. Billing himself as an indie-folk-punk rocker, the now-Bay Area musician recently released Songs About Mirrors on his own label, Wrong Shoes Records, and is about to embark on his second tour to promote the album.
Ready for a beach party extravaganza? Well, dig this: The English Beat will bring its ska-licious sounds to The Cliffs on Monday, May 30, for a 1 p.m. outdoor concert. I expect enough pogo dancing to knock the cliff into the sea. The Northstar Session is scheduled to open. (You can also see The Northstar Session on Friday, May 27, at Mongo's from 10 p.m. to 1 a.m.; Saturday, May 28, at The Cliffs from 1 to 5 p.m. and then later that night at Frog and Peach from 10:30 p.m. to 1:30 a.m.; and Sunday, May 29, at Mr. Rick's from 2 to 6 p.m.)
Las Vegas and Branson performer Harry Nino hits Linnaea's Café on Wednesday, June 1. He calls himself a "camera-friendly career musician with powerful vocals, charisma, and a strong stage presence," who also leads Oysters Rockefeller, "Branson's premier blues band."
Keep up with Glen Starkey via twitter at twitter.com/glenstarkey, friend him at Myspace.com/glenstarkey, or contact him at gstarkey@newtimesslo.com.