I don't know how I could possibly top last year's interview with Gary Busey during the Paso Digital Film Festival. I mean, the man is larger than life and totally nuts! Plus, I got to meet and flirt lamely with Kathleen Quinlan. Still, I'm going to try on Sunday, Nov. 21, during a 1 p.m. concert at Le Vigne Winery (5115 Buena Vista Dr., Paso Robles).
Instead of crazy Gary Busey, this year's concert features the battle of the kids with famous parents. In one corner is the inimitable bassist and jazzman Kyle Eastwood, son of steely-eyed Clint. In the other corner stands blues, rock, and country diva Paula Nelson, daughter of glassy-eyed Willie.
Now let's play six degrees of separation. Willie Nelson starred with Gary Busey in Barbarosa (1982). Clint Eastwood starred with Gary Busey in Thunderbolt and Lightfoot (1974). For the record, Kevin Bacon was directed by Clint Eastwood in Mystic River (2003), and Bacon appeared with Willie Nelson on the 1999 Tribute to Johnny Cash TV special. I met Gary Busey. That means I'm only three degrees of separation from Kevin Bacon … from two different routes! But let's get back on track.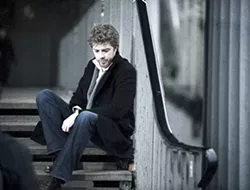 PHOTO COURTESY OF KYLE EASTWOOD
SON OF PALE RIDER! : Clint's kid Kyle Eastwood will lead his jazz band through its paces during a Nov. 21 concert at Le Vigne Winery.
The Kyle Eastwood Band and Paula Nelson and the Guilty Pleasures will share the stage with John Andrew Parks, Robert Carradine, local artist Jade Jackson, magician Rich Ferguson, the Kelly Kenning Band, and others at this special Sunday event, and New Times photog Steve E. Miller and I will be there to catch the scene.
Now let's try to get our heads around growing up with Clint Eastwood and Willie Nelson.
First, Kyle. He grew up in Carmel, where his dad was mayor for a while. According to his bio, "His first memories are of jazz and of his father, Clint Eastwood, taking him to the Monterey Jazz Festival as a child. While doing his homework, Kyle remembers listening to records of jazz stars such as Duke Ellington, Count Basie, and Miles Davis playing in the house. Like any child raised by enthusiastic jazz-loving parents, an awareness and love of music soaks in quickly. There was something magnetic about watching someone play for an audience that completely captivated the young Kyle."
What about Paula? Her bio says, "When your dad is a founding father of outlaw country and a major musical legend, at some point, you realize resistance is futile: Even if you don't seek a career in music, eventually, it's gonna seek you. Like the Cash and Jennings kids, Paula Nelson picked up 'Papa Bear' Willie's way with a song early on—along with her aunt Bobbie's skill on piano, which Paula started playing at age 7. Although her dad once advised her, 'Remember to watch everything I do and do the exact opposite,' she drew influences from his Highwaymen pals and contemporaries such as Kris Kristofferson's then-wife, Rita Coolidge, whose bluesy, supple vocal style provided one of Paula's earliest templates as she found her own voice."
PHOTO COURTESY OF PAULA NELSON
DAUGHTER OF BARBAROSA! : Willie's kid Paula Nelson will front her blues, rock, and country band during the same Nov. 21 concert.
OK, back to the steel cage "kids of the famous" death match. So I'm cruising around the Internet searching for Paula Nelson, and I run across a video of her drop-kicking a drunk guy off of an Austin, Texas, stage. So she's a badass. I search for "Kyle Eastwood fight" and all I get is a video of him performing a song from his dad's film Letters from Iwo Jima. Awesome, but not quite badass. If they were to have a melee, I think my money's on Paula. Kyle seems pretty sensitive.
Interestingly enough, Kyle and Paula aren't the only progeny of the famous scheduled to appear during the five-day festival. There's the aforementioned Robert Carradine, son of John; Erin Murphy, daughter of filmmaker Dudley Murphy; Gina Merz, granddaughter of film director King Vidor; Francesco Quinn, son of actor Anthony Quinn; Bela Lugosi, Jr.; Cass Warner, granddaughter of Harry Warner of Warner Brothers; and Joe Estevez, Martin Sheen's brother—technically siblings, not progeny.
Other actors who should be there include Max Gail, Kerry Wallum, Gary Conway (loved him in Land of the Giants, one of my favorite shows as a kid), Chloe Domange, Luciano Holguin, Paul Renteria, Will Wallace, and Nathan Phillips. They might not be the brightest stars in Hollywood, but I'll bet they'll light up the Paso Digital Film Festival. Shine on me, little stars! ∆
Glen Starkey takes a beating and keeps on bleating. Keep up with him via twitter at twitter.com/glenstarkey, friend him at Myspace.com/glenstarkey, or contact him at gstarkey@newtimesslo.com.