Deer. They seem to fade into the background of Central Coast life. Rural residents can especially attest to an overwhelming sense of indifference. In backwoods Atascadero or rustic Templeton, a massive doe trailed by adorable, stumbling babies barely warrants a second look, let alone an iPhone pic. I mean, how many likes can one measly deer realistically pull on Facebook?
It's like this: Either you forget about the deer entirely until you a) almost hit one in your car and your very life flashes before your eyes or b) one manages to find its way past the bird netting and into your prized tomatoes (insert swearing and fist-shaking here).
Not so in Coral Kessler's world. Yes, the deer still manage to eat her tomatoes, but no, she's not deer-blind like the rest of us. Instead, the photographer sees the animals through a totally fresh lens. Kessler's stark, honest photos show the animals as goofy, thoughtful, majestic, even—dare I say—exotic. Kessler wants to pose this question to viewers: "Is it the deer or the suburban sprawl that remains out of place?"
The longtime photographer grew up in Kauai before relocating to downtown San Luis Obispo, where she met her husband, fellow artist Jeff Claassen. Growing up in Paso Robles, Claassen had seen enough deer to last a lifetime (a fawn? yawn). Kessler, on the other hand, had not.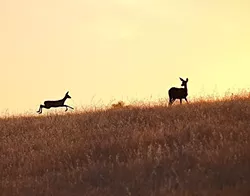 PHOTO BY CORAL KESSLER
SUMMER FUN: Deer bounce across a soon-to-be-subdivision in downtown Paso Robles.
"I felt like a 5-year-old seeing something for the first time," Kessler said of her first deer sightings.
When the couple relocated to Paso Robles in 2013, Kessler's deer fetish compounded. She began carrying her Cannon T5i in her car just in case she came across a strapping buck. She stalked the mothers and their babies in her Vine Street neighborhood, managing to creep a few feet away from the bug-eyed creatures as they traversed lawns and pranced over barbed wire.
"It went from driving around to explore our neighborhood to learn the area to having to pull the car over so I could take yet another deer photo," Kessler said. "To me, it was a big deal. There would be three or five deer in one yard. I couldn't believe it."
This is how Kessler's @Deeries Instagram account got started in earnest (it currently boasts 1,374 followers). A self-published book by the same name—not to mention pillows, framed prints, and deer-emblazoned iPhone cases—soon followed.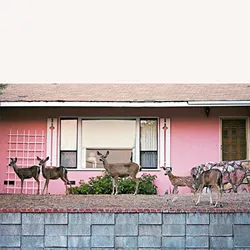 PHOTO BY CORAL KESSLER
PRETTY IN PINK: When photographer Coral Kessler pulled up to this pink house in her Paso Robles neighborhood, she was thrilled to see a total of nine doe just standing there, waiting to be immortalized.
Kessler had her first Deeries art show late last month at The Bunker in SLO. The photographer was amused by how many people came up to her assuming she had used a zoom lens to capture a doe's eyelashes or Photoshop to capture that dreamy "golden hour" light. Just to set the record straight: Kessler gets very close to her subjects—sometimes just a few feet away. Nothing is ever retouched.
"I know the deer and their spots. I know which houses feed them," Kessler said. "I never know just what I'll get. Sometimes the photo is in focus, and sometimes there's enough light. Sometimes I get lucky and get that one incredible shot. It's been a learning experience and different than anything I have ever done with my camera."
Fashion photography this is not. Kessler wields zero control. Instead of sitting pretty, the animals entice Kessler to swish through tall grass or mosey behind trash cans.
"I feel like it's pretty close to sports photography, because the deer move so fast," Kessler said. "You really have to be ready. I never know what direction they are going to go, and I am usually working with low light around dusk."
PHOTO COURTESY OF CORAL KESSLER
ARMS LENGTH : Photographer Coral Kessler gets pretty darn close to her wild deer subjects, as seen in this photo taken by her husband.
Flipping through Kessler's Deeries book shows just how dedicated the photographer is to capturing the blurred lines between wilderness and civilization. A photo titled "Hide and Seek" shows a pair of big, alert ears twitching over an unassuming residential hedge.
"I love catching little glimpses of deer … the ears usually give them away," the caption reads. "Though cautious, deer tend to be curious creatures, and some of them are so bold that it feels like they are playing a game with me."
Kessler still remembers one night in December 2013—a night when that game felt hauntingly real. She and her hubby were on a winding road in rural Paso Robles, returning from a holiday visit with the in-laws.
"In the corner of my eye, I saw something," Kessler said. "The headlights flashed onto it for a second. It was the biggest deer I had ever seen in my life. It was huge, the size of a horse—almost not real."

BE A DEER: Get the 'Deeries' book, as well as tote bags, pillows, wall clocks, and iPhone cases at deeries.com. Follow @deeries on Instagram to see where Coral Kessler has lugged her camera next. Chances are, there will be a new pair of ears to double click on.
Kessler didn't tell anyone what she saw, although it preoccupied her mind for months. One day, a hunter who had taken to following her Instagram account (a surprising amount of hunters follow @Deeries) posted a picture of a very large, very dead deer he had shot.
"It was the same species of deer that I saw that night," Kessler said. "I couldn't believe it was my buck! I started looking into it and realized what I saw was a Sambar deer, native to India."
Let me just say, I saw the hunter's photo myself and the size of this animal caused me to physically gasp. It is truly the size of a moose. According to Wikipedia, Sambar deer can weigh more than 1,000 pounds.
PHOTO BY CORAL KESSLER
READY FOR HIS CLOSEUP: Photographer Coral Kessler followed this year-old deer for about six months before snapping the perfect goofball close-up.
"The Sambar were introduced to an island off of Florida in the 1960s, but they're not from California or anywhere around here," Kessler said. "I thought, 'This is crazy. This deer from India was in Paso? How?'"
After digging through links on the 10th page of a late night Goggle search, Kessler soon found the answer. As it is with so many exotic animal sightings on the Central Coast (I'm looking at you, zebras), all tracks eventually lead back to William Randolph Hearst.
"Hearst had Sambar deer on his ranch in the 1920s, and some reportedly escaped," Kessler said. "His grandson did some obscure interview that talks about how when he takes his four-wheelers out on the ranch, he spots the Sambar out on the property. I looked at the map, and the land between Hearst Ranch and my in-laws' ranch is just open land. It's not inconceivable that that's is what I saw."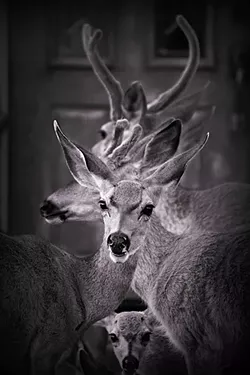 PHOTO BY CORAL KESSLER
BLOCK PARTY: A group of deer (a buck, a few doe, and a baby) grub down on corn that someone left out on their front walkway near 10th Street in Paso Robles.
But don't take Kessler's word for it. Like Abe and his white whale, the photographer is hell-bent on snapping a photo of the massive animal.
"If I had a goal right now, it would be to photograph that deer," Kessler said with a laugh. She knows how crazy that sounds, but she really doesn't care. She sees the deer through a child's gaze. For this reason, I have absolute faith that Kessler will not let the trail go cold.
"Going out and photographing deer as much as I have, I get to know them," Kessler said. "I'll say, 'Oh, that's the one with the scar on her ribs or the little boy that has a tear on its ear.' And I know they've started to recognize me, too."
Hayley Thomas is looking at deer in a new light at hthomas@newtimesslo.com.