PHOTO COURTESY OF WILLIE NELSON
WILLIE FOR PRESIDENT! : Activist and artist Willie Nelson brings his Country Throwdown Tour to Pozo Saloon on June 25, with eight headlining acts and six featured up-and-coming acts.
I imagine when Willie calls on you to join his Country Throwdown Tour, you come running. On Saturday, June 25, Willie Nelson's tour makes a stop at the historic Pozo Saloon, where you'll hear not only Willie and Trigger, but also Jamey Johnson, Randy Houser, Lee Brice, Brantley Gilbert, Craig Campbell, Lukas Nelson & Promise of the Real, and Drake White. The festival is also spotlighting up-and-coming singer-songwriters on the Bluebird Café stage, including Adam Hood, Caitlyn Smith, Austin Lucas, Brent Cobb, Dani Flowers, and Erin Enderlin.
Set up like the Vans Warped Tour—except aimed at country fans—the music will move from stage to stage and virtually be non-stop! You'll hear some of Nashville's best in the unique and intimate "in-the-round"-style sets made famous at Nashville's Bluebird Cafe.
And where better to see this crazy-good lineup than Pozo Saloon? Buy your tickets at pozosaloon.inticketing.com.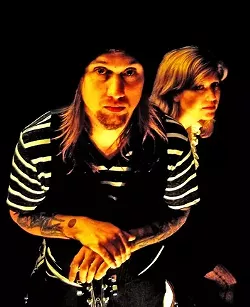 PHOTO COURTESY OF TRAVIS WARREN AND THE LOOKOUT KIDS
PRODIGAL KIDS : Former Rain Fur Rent members Travis Warren and Sarah Scarlata have created a rocking duo called Travis Warren and the Lookout Kids, playing SLO Brew on June 23.
Look out, kids!
SLO Brew is gearing up for a six-show week starting with a couple of local musicians-made-good. Remember Rain Fur Rent? Front man Travis Warren, the dude tapped to replace Blind Melon front man Shannon Hoon, and drummer Sarah Scarlata have formed Travis Warren and the Lookout Kids, a ripping rock duo that showcases Warren's soulful vocals, deep baritone guitar, and drums. They play Thursday, June 23, with The Axia opening (7:30 p.m.; all ages; $8 presale or $10 at the door). If you like Pinback, Tool, and Led Zeppelin, you'll find something to like here.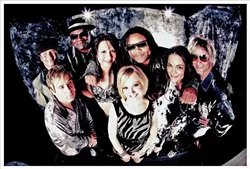 PHOTO BY DJ DOUGHERTY
PHAT AND FUNKY : The Cheeseballs, a Bay Area act that's fronted by former local Eric Cotton (third from the right), brings its '70s party machine to SLO Brew on June 24.
I'll be damned if it isn't Eric "Funky Lim" Cotton, formerly of local '90s supergroup Rock Steady Posse, rolling back into town with his phat and sassy new eight-piece funk/groove/party band The Cheeseballs on Friday, June 24 (7:30 p.m.; 21-and-older; $10).
"San Luis Obispo! This is the place that inspired me to play music," Cotton said. "I wrote all my best songs based on things I observed while living in this beautiful part of California. My band Rock Steady Posse packed SLO Brew from '89 to '96 and inspired us to spread our music across the western United States.
"After moving to the Bay Area in '96, I started a Nor-Cal version of this great band. At this time the music scene was rapidly changing. People on the Bay were making money and enjoying life and wanted to hear music that made them happy, not music about what was wrong with the world. As an entertainer, I wanted to give the people what they wanted. In 1999 I joined and eventually became the front man and boss man of The Cheeseballs, a '70s party band that was selling out every venue in San Francisco (Bimbo's, The Great American Music Hall, Slim's, the Fillmore). I was exposed to a whole new world of music and went from traveling in a van or RV, sharing a room with five guys, to being flown around the country and playing huge events with first class treatment.
"I used all my skills and showmanship I learned from being in the trenches with the Posse to [entertain] these crowds of people, and I was propelled to the next level of this music thing.
"Now 26 years in this biz I am very excited to return to where it all began for me, back to people who supported me and saw me when I was still figuring this whole thing out, excited and nervous because I don't want to let them down, yet I want them to see where I have taken my act to. The Cheeseballs are a butt-tight party band that will take you back to the songs you used to love, with great costumes, harmonies, and dance moves that will keep your body rocking from start to finish. Our show is not about us; it's about making the crowd move and sing along with us. SLO, get ready to get up and down! We got something you're gonna like!"
Zongo All Stars will open this show.
On Saturday, June 25, Purple Haze, a Jimi Hendrix tribute act, returns to SLO Brew (7:30 p.m.; 18-and-older; $10). Hendrix impersonator Ralph Woodson can rip like the real thing and even play behind his back and with his teeth. But don't hold your breath for onstage guitar-burning.
Indie-tastic folk act Oh My Land will be joined by Candle on Sunday, June 26 (7 p.m.; all ages; $7 presale or $8 at the door). According to their bio, "Oh My Land is an eclectic folk band whose debut album, If God Gave Me a Cannon, dives into the playful imagination of six young musicians from California. The band plays effortlessly, and the lyrics are clever. If you took away the music on the opening track, 'Climbing Up a Tree to Get My Peach,' you'd be left with the simple melody of a nursery rhyme."
On Tuesday, June 28, hear gothic Hawaiian surf act The Growlers (7:30 p.m.; all ages; $10 presale or $11 at the door). Formed in Long Beach in 2006, the band's initial style was rooted in '60s skiffle, though they've since branched out into hip-hop and psychedelic rock.
PHOTO COURTESY OF FACE TO FACE
PUNK JUGGERNAUTS : Now celebrating its 20th anniversary, hard-charging, hook-laden punk act Face to Face hits SLO Brew on June 29 with a new album in tow—its first in nine years!
Finally, influential punk rockers Face to Face play SLO Brew on Wednesday, June 29, with opening act Strung Out (8 p.m.; all ages; $20 presale or $23 at the door). Face to Face is touring in support of their first new release in more than nine years, Laugh Now, Laugh Later, and this year marks the band's 20th anniversary. The new album is packed with the kind of hook-filled choruses and signature riffs this band is known for.
"This is our seventh full-length studio album," front man Trever Keith said in press materials. "We have definitely 'colored out of the lines' on a record or two, so it's hard to say this one is different. It probably makes more sense to say how it is the same. It incorporates tiny elements from each of our previous records. But it is mostly like our early stuff. At least I think the overall energy of the record is like the early stuff. Because we didn't over-think anything. We wrote songs, rehearsed them, and recorded them. It has a very immediate and urgent feel about it. It is a punk rock record."

Songwriters at Play
Bay Area pop rockers The Ian Franklin Trio are the featured performers of Steve Key's Songwriters at Play showcase at the Porch on Thursday, June 23 (6:30 p.m.; all ages; pass-the-hat). Frontman Franklin is celebrating the release of his debut 6-song EP, Step by Step.
"The new CD for the Santa Rosa native comes as a career high at the end of a near-decade of non-stop, whirlwind and frenetic coast-to-coast musical endeavors," according to series co-producer Bonnie Nelson.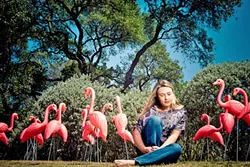 PHOTO COURTESY OF TONYA TYNER
TONYA TWO TIMES: Tonya Tyner will headline two of Steve Key's Songwriters at Play showcases: June 26 at Sculpterra and June 28 at Kreuzberg.
Tonya Tyner is the headliner at both Sculpterra Winery on Sunday, June 26 (1 p.m.; all ages; pass-the-hat), and Kreuzberg on Tuesday, June 28 (6:30 p.m.; all ages; pass-the-hat). She now hails from Austin's rich music scene, but "won several awards in our local West Coast Songwriters competitions, and played many of our showcases," Nelson said. "Then she moved off to Austin, where she honed her skills as a songwriter and performer."
Both showcases will also feature fellow winners of West Coast Songwriters awards Craig Louis Dingman and Deborah Kirk. Best song winner Jade Jackson will perform on the June 26 showcase, and Don Lampson is scheduled to play on June 28.
PHOTO COURTESY OF BROOKE PARROTT
CHANTEUSE : Brooke Parrott will play Kreuzberg on June 28 as part of the Songwriters at Play showcase and June 29 at Sally Loo's Café.
In addition, Portlander Brooke Parrott, "a storyteller in the truest sense of the word, deftly steering an immense voice through the soul-Americana it inhabits," according to press materials, will play the Kreuzberg show on Tuesday, June 28, as well as a show on Wednesday, June 29, at Sally Loo's Café at 6:30 p.m. She's touring in support of her self-released debut, Another City.
More music …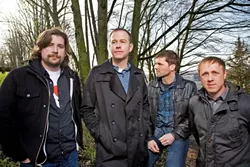 PHOTO COURTESY OF VIRGIN ISLANDS
SAIL ON, PUNKS : Punk act Virgin Islands will bring the heat to Sweet Springs Saloon on June 23.
"Last wave" punk act Virgin Islands plays Sweet Springs Saloon on Thursday, June 23, in support of their debut album Ernie Chambers v. God. The quartet is fronted by Michael Jaworski (formerly of The Cops) and has been "making waves in their home city of Seattle and beyond since their inception in the fall of 2009," said the band. Their new record is "a politically provocative and musically bold rock album with 11 socially charged manifestos that could be the perfect house music for the last party on earth or the fight songs for your next revolutionary meeting."
Extraordinary flamenco guitarist Robby Longley returns to Painted Sky Studios for a concert on Friday, June 24, at 8 p.m. The local favorite's seductive guitar music is both distinctive and breathtaking. Tickets ($15) are available at Boo Boo's, the Cambria Business Center, or by calling 927-8330.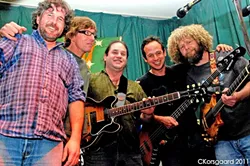 PHOTO COURTESY OF THE CHINA CATS
DEADHEADS UNITE : Grateful Dead tribute act The China Cats returns to Mongo's on June 25 for another night of Deadheadalicious music.
Grateful Dead tribute act The China Cats returns to Mongo's on Saturday, June 25, for another night of Deadheadalicious music. Veterans of the Bay Area's jam band scene, the band members have worked with Ben Ellman (Galactic), George Marsh (David Grisman Quintet), Melvin Seals (Jerry Garcia Band), Michael Kang (String Cheese Incident), and many others. The show runs from 9 p.m. to 1 a.m.
Get your blues, soul, and classic rock fix when Bourbon Thrill hits Frog and Peach from 10:30 p.m. till 1:30 a.m. on Saturday, June 25. The Shakers will open with a 9 p.m. set.
If you love string music, you're going to die for The Three Fiddlers, the final program of Congregation Beth David's Ponemon Musical Series, where Paul Severtson, Randy Garacci, and Pamela Sheffler will team up for a 2 to 5 p.m. concert on Sunday, June 26 ($18 presale or $20 at the door; call 544-0760). These three performers—all members of the SLO Symphony—will present a fascinating selection of tunes from around the world, joined by pianists Marian Gilbert and Stanley Stern.
Sustenance Cooking Studio will be host to a show featuring delicious food, the music of the Tipsy Gypsies, and the art of Linda Castellon on Sunday, June 26, from 4 to 8 p.m. The cost is $20 at the door, with 20 percent of the proceeds benefiting Hospice of SLO.
On Sunday, June 26, the Famous Jazz Artist series in the Hamlet will host guitarist Doug McDonald. According to local jazz maven Francesca Nemko, "Jazz guitarist Doug MacDonald has been 'all over the map in the past year,' most recently as a member of the Los Angeles Jazz Orchestra's Tribute to Rob McConnell & the Boss Brass. MacDonald, as stand-in for fellow guitarist Ed Bickert of Boss Brass renown, joined McConnell alumni Guido Basso, Ian McDougall, Terry Clarke, and Don Thompson in an all-star rendering of the McConnell-penned music popularized by the Canadian band over 30 years." There's a 4 p.m. set for $15, a 7:15 p.m. set for $12, or see both for $20 (927-0567).
PHOTO COURTESY OF GRACIE WRIGHT
WRIGHT LOVELY BIRD : Hailing from London, Gracie Wright will join local songwriters for an evening of music in the round, on June 29 at Frog and Peach.
On Wednesday, June 29, in Frog and Peach at 9 p.m., check out the new showcase called Songwriter Night. "There will be four singer-songwriters on stage at the same time," said organizer Ephraim Sommers. "Each will play a song in the round, and then around and around we'll go. That way, there will be a new voice and musical style thrown at the audience constantly, and there will be new opportunities for molding those styles into one." Sam Sharp (Joose), Heath Seager (Criticnue), Ephraim Scott Sommers (Siko), and Gracie Wright (of London) will perform, with Pat Hayes (Pennyjar) opening. ∆

Keep up with Glen Starkey via twitter at twitter.com/glenstarkey, friend him at Myspace.com/glenstarkey, or contact him at gstarkey@newtimesslo.com.