Josh Carmichael started installing simple gray water systems with landscaping to accompany it in 2009, after California plumbing laws changed to encourage gray water use. At first, he constructed about one system per year as part of his environmental landscape and design work, but gradually, as the reservoirs emptied, that part of his business picked up, and then it exploded. In the second week of July alone, Carmichael installed three new systems around SLO County—laundry-to-landscape systems that irrigate a garden. He said he averages about one per month now.
"It's just more acceptable now," said Carmichael, who owns Carmichael Environmental Landscape and Design serving the Central Coast. "Recycling water is just another way to recycle. You recycle everything else, why not learn how to use this too?"
Gray water's a class of water that has been used, but not spent. The water we drink is called potable. The stuff that flows from faucets and flushes toilets is, for the most part, potable water. Once it leaves the pipes, however, it becomes gray water or black water, depending on how it's used. Water used in kitchen sinks and toilets is considered blackwater—it's got too much bacteria and solid waste, so it's no longer safe to re-use, unless it's treated. Water from laundry, non-kitchen sinks, and showers has less harmful bacteria, and can be used to water landscapes. That's gray water: lightly used water that can be reused without being treated.
On a side note, water recycling is not the same as "recycled water," which many cities are beginning to use. "Recycled water" is black or gray water that's been treated at a waste treatment plant, and then reused for irrigation or to support fish in streams. The Damon Garcia sports field in SLO, for example, uses recycled water to irrigate the grass.
Reusing water isn't a new concept. Many people already use gray water by putting a bucket in the shower and catching water for flushing the toilet or watering plants. That's about as simple as a system can get. What's new is the systematic, automatic approach. Not everyone wants to carry a sloshing 5-gallon bucket to the garden every time they shower. What Carmichael and other gray water installers provide is ease and convenience.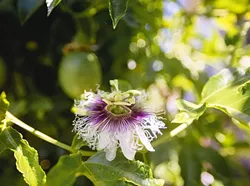 PHOTO BY KAORI FUNAHASHI
FROM SCARCITY TO BOUNTY: Tropical fruit such as this passion fruit thrive on gray water at the home of Cal Poly professor Pete Schwartz.
"I'm not telling people to change their lifestyle," Carmichael said. "I am saying change the materials they use to live better."
Carmichael took the New Times to the San Luis Obispo home of his client, Wendy Brown, who installed a laundry-to-landscape system at her house less than a year ago. Above the washing machine, a simple three-way valve with a small lever and two arrows replaced the manual labor of carrying a bucket. One arrow directed the lever toward the sewer pipe, and one directed to the garden. If Brown did a load of laundry with bleach, or for some reason didn't want the water to go outside, she would simply turn the lever and send it to the sewer.
"I want people to see these models," Carmichael said, "and see that it's not a difficult way of living. It's not archaic."
An inconspicuous pipe moved out the back of the house, into a plot of feijoas (pineapple guavas), which were thriving despite the drought. The pipe continued to the lower half of the property, where a gaggle of hens picked through the moist dirt for an invertebrate snack.
"They were really suffering before," Brown said, gesturing to the fruit trees.
Brown was aware of gray water irrigation for a long time, she said, but she wasn't motivated to try it until the drought became more severe. Last fall she attended a local lecture on gray water irrigation and decided to make the leap. Brown said her water bill didn't drop after she started using gray water, but her garden looked better.
"It didn't really save any water," she conceded, "it just uses it on the property, instead of the sewer."
Carmichael also set up a rain water system for the house, which, if it ever rains, would reduce runoff into the nearby creek and direct water from the roof to thirsty plants. The whole system is passive, gravity-fed.
But is it safe?
PHOTO BY KAORI FUNAHASHI
CHANGING TIDE: A simple lever allows water to flow from the washing machine to the sewer or to the garden.
There are some legitimate risks and safety concerns with gray water if it's not used properly. Think about it: Gray water contains the stuff you wash out of your clothes and off your hands. It can contain bacteria, including fecal coliforms, which can make people sick. Still, it doesn't have to be unsafe. Santa Barbara-based gray water pioneer, Art Ludwig, on his website oasisdesign.net, talks about a safety continuum between "Cavalier disregard for legitimate public health concerns and/or excessive paranoia about negligible health concerns." When done right, Ludwig insists, gray water poses almost no threat to human health.
In 2009 the state passed Chapter 16a, "Non potable Water Reuse Systems," into the California plumbing code. It created specific rules about how to handle gray water. Laundry water used to wash baby diapers should be diverted to the sewer, as should other toxic materials. People should never come into contact with gray water—that means all lines should be buried at least 2 inches under mulch or soil. It should not be stored for more than 24 hours to prevent bacteria growth, and it should never pool up.
Fruit trees are ideal for gray water: They consume a lot of water, but the fruit doesn't touch the ground or come in contact with the water. Using water on things like lettuce is dicey, because the water could come in direct contact with the part of the plant people eat, and it's eaten raw. Roots, such as potatoes are also discouraged, because they come into contact with the water.
Conservation, efficiency, and the big picture
The subtleties involved with creating a gray water garden are numerous, and they sometimes clash with other water saving efforts. Gray water doesn't work well with drip irrigation, for example, because it's often full of lint and bits of debris. It's also illegal to use it in aboveground sprinklers, so it's tricky to water a lawn with gray water. And many drought tolerant native species will get waterlogged in gray water systems.
"People need to realize that it's a constant source," Carmichael said. "Once you set it up, it's just going to go."

LEARN MORE ABOUT GRAY WATER: SLO Green Build—which is merging with the U.S. Green Building Council's Central Coast Chapter to become the Central Coast Green Building Council—in San Luis Obispo frequently holds workshops and has informational links on its website. For more info, visit slogreenbuild.org. Oasis Design, based in Santa Barbara County, pioneered gray water in the U.S. It offers books, diagrams and more on its website oasisdesign.net.
SLO County Supervisor Bruce Gibson retrofitted his house recently. Gibson has a small, older home in Cayucos which needed new pipes. Since he was going to have a team of plumbers under his house anyway, Gibson decided to retrofit for gray water use.
"We had been doing it sort of informally with a bucket," Gibson said.
His new system, which isn't up and running yet, will take water from sinks and showers and pump it to other parts of his property. Still, Gibson isn't ready to promote gray water as a broad solution to the water shortage.
"I don't think gray water is necessarily going to save our skin," Gibson said. "It's not a silver bullet."
The challenge for gray water in places like Cayucos or Morro Bay is that the lot sizes are so small, many people would generate more irrigation water than they need. In places like Cambria, where most residents are older and live alone or with a spouse, most homes don't produce enough laundry to make a dent in landscaping needs. Or, in Gibson's case, the cost of retrofitting would be excessive if he didn't already need the update.
"The cost benefit of that is questionable," Gibson said. "Trying to go into an older house and re-do it is going to cost some bucks."
Gibson said he was making other water-saving changes at his house, such as reducing the size of his front yard by taking out the lawn, putting in a deck, and more hard space.
When asked about subsidies or rebate programs, Gibson was skeptical that gray water was the right place to spend public money. He said new construction should be built gray-water-ready, but he didn't go much further. Government officials need to take a leadership role in reducing water use, he said, and there's still a lot of low hanging fruit. He's been working with the county's building and maintenance department to tear out lawns at public buildings and replace them with drought-tolerant plants, for example. He's also been trying to get a handle on how much water the county actually uses. The county had more than 100 distinct water bills, which were being paid by different departments, and a lot of public buildings don't have meters on them.
"We're going to have to confront the way we deal with water," Gibson said. "I think we're going to exit this century with a different view of water than when we entered it."
The city of Santa Barbara does offer partial rebates for laundry-to-landscape systems through its Smart Landscape Rebate program, for up to 50 percent of the cost of a pre-approved irrigation system.
A SLO city employee said that the problem with offering rebates, for example, is that it would be hard to justify any savings. If a homeowner plants a tree to suck up gray water, there hasn't actually been any savings, just a repurposing.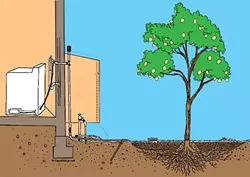 IMAGE EDITED BY NEW TIMES, COURTESY OF OASIS DESIGN
DIVERTED FLOW : Originally designed by Art Ludwig of Oasis Design, the laundry-to-landscape system can be as simple or complex as you want it to be.
Despite his enthusiasm for gray water, Carmichael echoed Gibson in his sentiment that gray water isn't right for every situation. He talked about a hierarchy of water conservation, beginning with efficient fixtures. In an email, Carmichael said he tells people to start indoors by fixing leaks and getting low-flow faucets and toilets, then move outside to the irrigation system.
"Then one can look to installing reuse systems starting with gray water and then rainwater harvesting tanks. A combination of all these solutions is what we follow to help our clients get the most out of their water resources on their property for long-term sustainability," Carmichael wrote.
Gray water is great, but the future of water saving is far more intense. Gibson said he's ready for "direct potable reuse" that's black water that has been treated and repurposed for drinking water. Detractors call it "toilet to tap."
"Some people think it's the most disgusting thing on Earth," Gibson said. "But I believe we can do it. If we can build a nuclear reactor, I think we should be able to treat water."
Carmichael said that when the wastewater treatment plant is finished in Los Osos, residents can have their septic tanks sterilized and used for rainwater storage. He's already consulted with homeowners about it.
"We're not even close to scratching the surface of how we can conserve water."
Need a permit?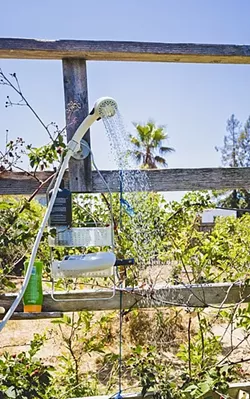 PHOTO BY KAORI FUNAHASHI
PASSIVE GRAY WATER : An outdoor shower in Cal Poly professor Pete Schwartz's backyard supports thirsty berries, guava trees, and mint. No piping required.
There are three basic types of gray water systems: laundry-to-landscape, branched drain, or a pumped system. The latter two require a detailed plan, a permit, and probably a contractor or professional plumber.
No Permit required: Laundry-to-landscape units, which produce fewer than 60 gallons per day and don't have a pump, don't require a permit. This is the most basic system and the best place to start for most people. It's cheap and, in most cases, easy to install. Water flows directly from the washing machine into a landscaped area.
Permit required: "Simple" systems use fewer than 250 gallons per day and don't use a pump. This includes branched drain systems, which collect water from one or more sources at the house and move it through a network of pipes that distribute water around a yard. These systems are gravity fed, which requires a little engineering. This definitely requires a plumber and works best for new construction. It also requires a formal plan submitted to the city or county and a permit.
"Complex" systems, which have pumps or use more than 250 gallons per day (the average person uses about 35 gallons per day, if they live in a house with low-flow fixtures), require a permit. Complex systems may also incorporate rainwater or recycled water to flush toilets. These are usually the most expensive systems.
The dos and don'ts of detergents and soaps
PHOTO BY KAORI FUNAHASHI
GREEN FROM GRAY: Josh Carmichael kneels down to check the gray water irrigation system amid blooming feijoas.
Reusing water for irrigation requires a little extra thought at the store. Products that claim to be "natural" or biodegradable might still contain ingredients you don't want in the garden. Most "natural" products do have ingredient lists. Check for the common detrimental ingredients before watering the yard. Oasis products (listed in the "do" category) were created specifically for gray water use, by Central Coast gray water guru Art Ludwig. The "do" list was compiled mainly from ecologycenter.org's recommendation.

Don't use:
-chlorine or bleach (try hydrogen peroxide instead)
-peroxygen
-sodium perborate, sodium trypochlorite (most ingredients with the word "sodium" in them)
-boron and borax (can be toxic for plants)
-petroleum distillate
-alkylbenzene
-"whiteners"
-"softeners," (water softeners that contain sodium chloride or potasium chloride)
-"enzymatic" components
-anti-bacterial ingredients
-titanium oxide
-chromium oxide
-some sources also recommend forgoing synthetic fragrance, artificial colors, or preservatives.
Do use:
Laundry:
-Oasis Laundry Liquid
-Bio Pac Laundry Liquid
-Biokleen Laundry Liquid
-LifeTree Laundry Liquid
-Ecover Laundry Wash
-Mountain Green Laundry Detergent
-Vaska Herbatergent

Shampoo and such:
-Oasis all-purpose cleaner for (hands, dishes, body, and shampoo)
-Dr. Bronner's Magic Soaps
-Aubrey Organics Shampoos

Household cleaners:
-Oasis all-purpose cleaner
-Ecos cleaning products, including Creamy Cleanser, Parsley Plus, Furniture Polish, Window Kleener, Floor Kleener, and Carpet Shampoo
New Times Staff Writer Kylie Mendonca advocates showering with a friend to save water. Send her your conservation tips at kmendonca@newtimesslo.com.