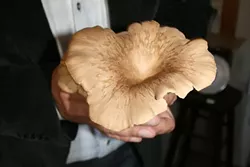 PHOTO BY HAYLEY THOMAS
ROYAL FUNGI: Jiri Pravec of Aboreal Bounty Fine Gourmet Mushrooms holds up a curvaceous Royal Trumpet grown at his Edna Valley farm. After two years of testing and tinkering, the fungi enthusiast aims to bring his fresh and flavorful crop to local chefs.
At the tender age of 12, Jiri Pravec fled the communist-repressed Czech Republic to find a new life in the United States. Still, the boy never forgot his homeland, or the fungi he left behind. Now 46, the local mushroom purveyor continues to dream of caps and stems: His heart aches for the glorious, wild, and wondrous mushrooms of his youth.
"I loved hiking the woods, foraging for wild varieties," said Pravec, owner of Arboreal Bounty Fine Gourmet Mushrooms in Edna Valley. "In Europe, picking mushrooms is about so much more than food."
Each fall, Pravec and his siblings would bundle up and take to the forests. A day scouring tree trunks and fallen branches would produce plump porcinis, towering parasols, and wrinkled chanterelles. What Pravec didn't find much of? The ubiquitous, bland "button" variety distributed widely by most American grocery stores.
Under the harsh, florescent glow at a San Luis Obispo-area chain grocery store, it's easy to see why Pravec has taken to growing cascading, scallop-capped oyster mushrooms himself. The self-described "mycophile" holds up a cellophane-wrapped box and shakes his head, proclaiming: "They look like they've gone in the ring with Mike Tyson."
Bruised and managed—these oyster 'shrooms are a far cry from Pravec's crop, enthusiastically utilized by SLO chefs at Big Sky, Mee Heng Low Noodle House, and Giuseppe's. By comparison, Pravec's oysters are meticulously monitored, misted, and tented, allowing the fungi to grow up to a foot in diameter. Most importantly, his mushrooms are never thrown upon the cogs of the industrial food system.
As we survey the other grocery store offerings—dried shitakes, generic tubs of white and brown buttons and "portabella" mushrooms—I learn a shocking truth.
"Very few people realize is that portabella and button mushrooms are the same," Pravec said. "A portabella is nothing more than a large button mushroom. The taste is identical."
So, why are so many drab mushrooms dominating the marketplace, when so many other enticing alternatives abound? Pravec says it all comes down to the vast geological gap between where our mushrooms are grown and consumed.
PHOTO BY HAYLEY THOMAS
FROM ANOTHER PLANET?: Mycelium—the vegetative beginnings of the mushroom fungi—spreads out over sawdust substrate, creating a living, colonized block at Arboreal Bounty Fine Gourmet Mushrooms in Edna Valley. Owner Jiri Pravec likes to describe the curious substance as "the apple tree" from which his all-natural oyster mushrooms (or "apples") will eventually emerge.
"When you go into most large grocery stores and see apples and tomatoes, they're not there for the best taste; they are there for looks and shelf life," Pravec said. "Likewise, button mushrooms have a firmness to them and an appealing shelf life that has won out over many other tastier mushrooms that 100 years ago dominated the food scene in this country. Fresh oyster mushrooms and other alternative varieties have a great taste, but also have a short shelf life, are highly delicate, and are susceptible to bruising."
So far, Pravec hasn't charged a nickel for his delicate product, although he plans to go into full production before the end of summer. The grower is still experimenting with methods (or TEK), attending conferences, and charting data.
"I've been at this for over two years—and that's just studying and testing," Pravec said. "I've spent years trying to find out what works [in Edna Valley], for our environment, for the substrate available to me … everything from climate control to investing in as little as possible in infrastructure … energy is money, and using less is also more environmentally friendly."
The first time Big Sky Chef Greg Holt saw Pravec holding a big box of mushrooms in his dining room, the chef admitted to feeling skeptical. About five years ago, Holt's main source for local mushrooms suffered a devastating infection to its crop. As for foraging, gathering wild varieties in California is not only risky, but forbidden on most public lands, including most state and national parks.
"I said, 'Let me see what you got,' and I immediately told Jiri I'd buy at least five pounds per week from here on until forever," Holt said. Pravec has yet to charge for the product, preferring a mysterious "mushroom fairy" approach (he's known to leave a brimming box at the restaurant the very moment a new crop has reached its peak).
"Jiri is an incredibly passionate guy, and I can't wait to finally get an invoice one of these days," Holt said with a laugh. "In the end, it's all about supporting local purveyors and getting a good-for-the-world product in here."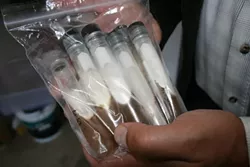 PHOTO BY HAYLEY THOMAS
MIGHTY MYCELIUM: Aboreal Bounty Fine Gourmet Mushrooms owner Jiri Pravec holds up his precious master cultures. Within these expensive glass tubes lives the specific mycelium (or vegetative part of the mushroom) which will eventually lead to a cluster of caps.
Pravec knows his mushrooms can fill the niche (along with Nipomo-based Peacock Farms and Exeter-based L&C Farm, who also provide mushrooms to various county eateries). However, mushroom cultivation is a time-consuming task. The work includes seeking out expensive glass tubes of specific master cultures, growing the vegetative mycelium over substrate (Pravec uses sawdust), overseeing the nearly microscopic act of spawning and pinning (or sprouting of the caps), and finally hand-harvesting the crop over a lightning-fast 16 to 35 day growing cycle.
Pravec says he often "dreams of mycelium spreading out over substrate." And really, this is only a bizarre statement if you've never seen the curious process firsthand.
When I visited Pravec's cozy mushroom tent on a warm spring day, spores the size of pencil erasers were forming, the tiny heads peeking out from holes within stacked, five-gallon, food-grade buckets. Amid the swish and snorts of his wife's horses, the mushrooms flourish in their muggy world, roughly doubling in size each day.
A private jet pilot by trade, Pravec admits that he may finally be bored with soaring. From the outside looking in, it appears that the dirt has become far more exotic.
"There's so much mystery to mushrooms, like the deep ocean," Pravec said. "We know they taste delicious, and we're just finding out now that they have many other properties. Mycelium and mushrooms predate plants and animals; they are in a kingdom all their own."
That being said, the grower wholeheartedly believes Fungi Perfecti guru Paul Stamets' proclamation that: "The next revolution in medicine will be in fungi."
A quick glance through Pravec's iPhone gallery underscores his love affair: Alongside photos of his dog and wife, there's a bevy of mushroom "selfies." One pic shows a titanic mushroom cap held up to Pravec's head—nearly dwarfing it.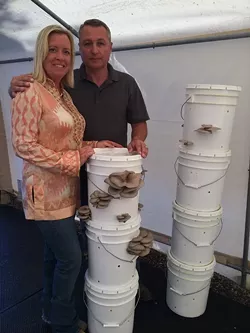 PHOTO COURTESY OF JIRI PRAVEC
FUNGAL COUPLE: Jiri Pravec and his wife, Lisa, grow with robust oyster mushrooms on their Edna Valley farm. Pravec's labor of love, Arboreal Bounty Fine Gourmet Mushrooms, is ready to ramp into full production before summer's end.
And don't get Pravec started on just how he eats his bounty (The answer: voraciously; draped over steak and pizza, cooked into gravies, and even sliced, battered, and fried).
"When it comes to mushrooms, fresher is always better, and local is the best kind of fresh," Pravec said. "There is a world out there to be discovered. It is a tasty world and a healthy world, a natural and local world, and that's what I'm hoping to bring to local chefs."
Contact "Mushroom Man" Jiri Pravec with fungi-related questions and comments at 610-5850.
Send your groovy, magically delicious mushroom recipes to hthomas@newtimesslo.com.