Maybe Shurman never belonged in L.A. After all, this soulful country rock act is steeped in Americana traditions, drenched in electrical rainstorms sweeping across lowlands, layered in the dust of migrant workers, thigh-deep in the blood and mud of fallen soldiers. In short, Austin's fertile music scene was always calling out to front man Aaron Beavers, who was born and lived in Texas as a kid before moving to Atlanta, where he met first-incarnation band mate Damon Allen.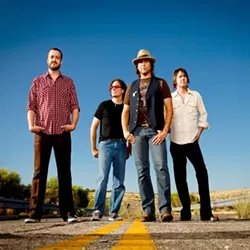 PHOTO COURTESY OF SHURMAN
THE ROAD HOME : Austin-based alt-country act Shurman returns to SLO Town for the first time in years, on Nov. 3 at SLO Brew.
Beavers headed off to college, then to Hawaii, where he began writing songs in earnest, eventually sending nearly 100 demo songs recorded on an old four-track to Allen, who was instructed to buy a drum set and get to L.A., where in 2001 they formed Shurman and released the EP Songs to Tell Your Friends About. Then the touring started, upward of 200 shows a year, some of which brought the band through SLO Town, where I became a big fan.
In 2002, they released Superfecta, another EP. In 2005, their first full length, Jubilee on Vanguard Records, was released. The following year, A Week in the Life came out—a live recording that captured the band's incredible live sound. You see, this is a band you've got to see live, because as good as their recordings are, they can't quite capture the power of a live Shurman show.
They left Vanguard and recorded Waiting for the Sunset with producer Danny White at the famed 16 Tons Studios in Nashville, but then Allen left the band, drummer Jerry Angel joined up, and they did a 50-date UK-European tour before returning to L.A. and deciding to move to Austin. The music biz was in turmoil, and front man Beavers was actually thinking of giving up: "I said, if I ever go back, the only place I'll go back to is Austin because it's the only semi normal place in that fucking state."
The move turned out to be the right thing to do.
"It helped to revive my love of music," Beavers said. "There was a period there where I didn't know if I could continue. I just wasn't sure if it was worth it."
The main reason he thought of quitting was he'd just been screwed by his new label Universal Republic, which signed him when he moved to Austin and then decided to re-release his last independent album Waiting for the Sunset as Still Waiting for the Sunset.
Such is the music biz. But things were about to change for Beavers. Shurman had done an opening gig for Blues Traveler at the Fillmore, and front man John Popper took a real liking to him, telling him he was the missing piece Popper was looking for to record his new solo project.
A few months later, Beavers got the call.
"Just when I was at the point when I just didn't think it was worth it anymore, after being screwed by two record labels that promised us jetpacks but delivered nothing, right at that throw-up-my-arms and come-to-Jesus moment, I said, someone give me a sign! If I'm meant to do this, give me a sign. Then John Poppers called, told me he wanted me for his solo project, put me on salary, and brought me up to Santa Fe, up into the mountains for a couple months to record the record."
It changed everything for Beavers, who used the money to buy studio equipment, take some Pro Tools classes at the university in Austin, and start his own record label.
"We've recorded three albums in five months, and you can't get screwed by a label when you put out your own records," Beavers said.
On top of that, Beavers started to collaborate with a new bassist, Mike Therieau of Jackpot fame, who had moved to Austin unbeknownst to Beavers, who had called a friend to get Therieau's number only to learn he was already just a mile away.
Now Beavers has a song on the next Blues Traveler record, which may turn out to be the album's first single; he and Therieau are collaborating on amazing songs with incredible harmony vocals; and Beavers says, "I've fallen in love with music again. I have a new son, and watching him listen to the songs, experiencing my music and life through his eyes, it's changed everything."
I got an early listen to three tracks from the new album, due out in February, and the band has never sounded tighter. On title track "Inspiration," Beavers' soaring yet down-home vocals sound just right over jangling guitars and rock steady rhythms. On "Back to Texas," Beavers sings about finding his "yellow rose," an analogy for returning to his roots and rediscovering the soul of the Lone Star State (or at least Austin!). And on "Novocain Heart," Beavers sings "Give me back my records, and my Friday nights," as he unleashes on a cheating girlfriend. These are awesome, hook-laden pop nuggets constructed amid all the twang and reverie of outlaw country rock.
Fall in love with Shurman at SLO Brew on Thursday, Nov. 3, (7:30 p.m.; 21 and older; $8 presale or $10 at the door), with local act The Mother Corn Shuckers opening.
SLO Brew also has The Holdup on Saturday, Nov. 5 (7 p.m.; all ages; $8 presale or $10 at the door), with A, B & The Sea and Young Science. According to their bio, "The Holdup creates a new style by blending multi-genre-influenced production into each song. From hip hop, reggae, dub, soul, pop, and rock, you find each song different from the next with its own unique sound."
On Sunday, Nov. 6, check out Shiny Toy Guns, a DJ set with live vocals (8 p.m.; all ages; $20). The Grammy-nominated alternative and electronic act hails from L.A.
On Tuesday, Nov. 8, Elan & The White Elephant takes the stage (7:30 p.m.; all ages; $10 presale or $12 at the door). Fronted by Elan Atias, who did a world tour as singer with The Wailers, The White Elephant delivers socially conscious, deep groove reggae.
PHOTO COURTESY OF BROKEDOWN IN BAKERSFIELD
SUPERGROUP! : Comprised of members of the Mother Hips, ALO, and the Gramblers, Brokedown in Bakersfield resurrected the sound made famous by the likes of Merle Haggard, Buck Owens, and Gram Parsons. Hear them Nov. 9 at SLO Brew.
As awesome as those shows sound, aside from Shurman, I think the "don't miss" show will be Brokedown in Bakersfield, on Wednesday, Nov. 9 (7:30 p.m.; 21-and-older; $12), with One Time Spaceman opening.
The new group is a collaboration of a half dozen potent West Coast artists: Dab "Lebo" Lebowitz of ALO on pedal steel, Scott Law (Phil Lesh, Darol Anger, David Grisman) on Telecaster, singer Nicki Bluhm of Gramblers fame, Tim Bluhm of the Mother Hips on vocals and acoustic guitar, and ALO rhythm section partners Steve Adams and Dave Brogan.
Drawing from Bakersfield-centric influences such as Merle Haggard, Buck Owens, Gram Parsons, and others, the group formed to create raw and rocking country music filled with twang and rich vocal harmonies.
After a debut appearance at the 2011 High Sierra Music Festival, this super group collective is ready to play for you as they, as their bio reads, "showcase the striking songwriting and instrumentation of guitar-slinging country sounds that added oil to the Dust Bowl life of '60s-era Southern California—on the road, in the truck, out the back, and at the honky-tonk."
The brassy babe is back!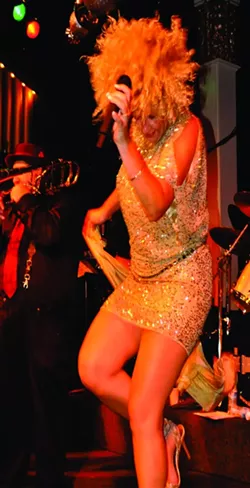 PHOTO COURTESY OF KAYE BOHLER
BLONDE IS THE NEW BLUES : Big brassy blues diva Kaye Bohler brings her sound to D'Anbino on Nov. 5.
Any local blues lovers who go back a few years will remember Kaye Bohler, the big, brassy blues diva whose sassy stage presence and dynamic voice blew crowds out of their socks.
Though she moved to the Bay Area years ago, she's occasionally made forays back to her old stomping grounds, but it's been a long while. On Saturday, Nov. 5, she'll come to Paso for a show at D'Anbino.
"I miss SLO terribly," Kaye said. "Currently I tour from L.A. to Eureka. My latest CD, Like a Flower, has received nothing but great reviews. I've really worked on my songwriting the last 13 years since I left SLO. I wrote all the tunes on Like a Flower. It's been getting tons of international airplay on roots radio stations and has climbed to No. 6 in the R&B Charts. BB King's Bluesville station on XM/Sirius Radio has also played the heck out of it! I also got a four-star review from Downbeat Magazine."
She also managed to get Robben Ford to play on her new CD.
"I have a huge following in the Bay Area and have gotten a lot of support in the blues festival scene. I've played the Monterey Blues Festival six times, Fillmore Jazz Festival, and Polk Street Blues Festival in San Francisco this year, Blues by the Bay Festival in Eureka three times, the Merced Blues Festival, the Auburn Blues Festival."
Kaye's clearly been busy! Come see her incredible live show beginning at 8 p.m.
Spooktacular!
The shows out at the SLO Botanical Garden keep getting more and more popular, and why not? It's a beautiful setting, they keep booking incredible acts, and the price is right! Maybe that's why every concert this year has sold out!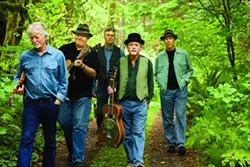 PHOTO COURTESY OF MARLEY'S GHOST
FRIENDLY GHOSTS : NorCal's amazing acoustic Americana act Marley's Ghost plays the SLO Botanical Garden on Nov. 6.
On Sunday, Nov. 6, you can witness the acoustic Americana world of Marley's Ghost, an excellent folk act with 22 years under their belts, nine albums, and thousands of concerts (4 p.m.; all ages; $20 general admission or $15 for members; visit slobg.org; call 541-1400, Ext. 301). A free docent-led tour of the botanical garden's preview garden of drought-tolerant Mediterranean plants will be conducted at 3.
This Northern California band certainly could be called bluegrass, but on albums like Spooked, a themed recording of songs about death and afterlife, they demonstrate their diversity and range, moving from Appalachian to Celtic to gospel and well beyond. They're also known for great live shows and funny audience patter.
"The group features former John Denver band member and Tony-nominated Broadway star Danny Wheetman on guitar, fiddle, bass, banjo, and blues harp; Folk Legacy, Sierra/Briar, and Sage Arts recording artist Jon Wilcox on mandolin, guitar, and bouzouki; Ed Littlefield, Jr., formerly of the legendary Northwest swing band Lance Romance, on guitars, dobro, pedal steel guitar, and Highland bagpipes; and honey-voiced Michael Phelan on guitars, dobro, and fiddle.
If you like excellent musicianship, harmony vocals, and timeless songs—and who doesn't?—get yourself to this concert!
More music …
The Central Coast Guitar Society and Coalesce Bookstore invite you to experience Christopher Wilke in concert on Friday, Nov. 4 (7 p.m.; all ages; $20; call 772-2880). This eclectic musician concentrates on plucked (stringed) musical instruments both modern and historical, specializing in Baroque and Renaissance music performed on lute and theorbo.
Morro Bay Sings Elton John on Saturday, Nov. 5, when the Morro Bay Community Foundation present its third annual Morro Bay Sings concert series at the Morro Bay Vets Hall. The doors open at 5 p.m., and the music starts at 7. Homemade soups, salad, and bread, provided by Morro Bay's Galley Seafood Grill and Bar will be available for purchase at $5, from 5 to 7 p.m. Beer and wine will be available for purchase throughout the evening. Hear Matthias Clark and Friends, Jody Mulgrew, and Grambo and the Jets. Tickets are $20 pre-sale and $30 the night of the show, available at Ruddell's Smokehouse in Cayucos, Coalesce Bookstore in Morro Bay, and Volumes of Pleasure bookstore in Los Osos.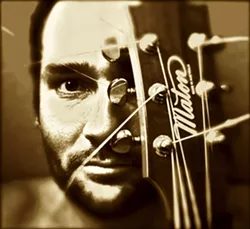 PHOTO COURTESY OF JULIAN TEMPLE
THE CAYUCOS KID : The Julian Temple Band, featuring front man Temple, formerly of Cayucos, returns to California for the first time in five years with a gig at Linnaea's Café on Nov. 5.
The Julian Temple Band, featuring front man Temple, formerly of Cayucos, returns to California for the first time in five years with a gig at Linnaea's Café on Saturday, Nov. 5. "Temple's been belting out his bipolar songs for the past decade, abusing his husky voice and venerated acoustic guitar along the way," according to press materials.
Wanna hear some awesome drummers hitting the skins for a good cause? The Drum Circuit presents its inaugural "Big Beat," a fundraiser held at the SLO Elks Lodge (on Elks Lane, the same street as the Sunset Drive-In) on Sunday, Nov. 6. "The event is a fundraiser put on by the Five Star drum shops and Mr. Holland's Opus, a charitable organization that raises money for local schools to purchase new instruments," said the Drum Circuit's Brian Monzel. "Last year's events drew in 1,653 drummers and percussionists from around the nation and brought in over $54,000 to local schools!" Let's see if we can add to that here in SLO and help our schools at the same time. The event starts at 1 p.m. and ends around 6.
PHOTO COURTESY OF MARC COHN
PHOTO COURTESY OF MARC COHN: SMOOTH OPERATOR Amazing songwriter-singer Marc Cohn released a collection of soulful covers such as "Wild World," "Maybe I'm Amazed," and "The Tears of a Clown. See him Nov. 6 at the PAC.
Amazing songwriter-singer Marc Cohn just put out Listening Booth: 1970, a collection of soulful covers such as "Wild World," "Maybe I'm Amazed," "The Tears of a Clown," and other classics. Now you can hear him live on Sunday, Nov. 6, at 7 p.m. on the Cohan Center stage at the Performing Arts Center ($16 to $38; call 756-2787).
Jack's Mannequin rolls into the Graduate on Tuesday, Nov. 8, to promote their newest album, People and Things. Fronted by singer-songwriter Andrew McMahon, he calls his new album his most "personal record" to date.
PHOTO COURTESY OF PINK MARTINI
BACHELOR PAD MUSIC : Pop exotica act Pink Martini returns to the PAC with new singer Storm Large on Nov. 9.
Pop exotica act Pink Martini returns to the PAC with new singer Storm Large on Wednesday, Nov. 9 (7:30 p.m.; all ages; $24 to $76; call 756-2787). This wildly popular big band will make you feel like you're drinking martinis with Dean Martin in James Bond's swank London flat. "I've adored the fabulous Storm Large ever since she moved to Portland a decade ago, and I always hoped we could find a way to collaborate," said bandleader-pianist Thomas Lauderdale. "She's a brilliant, beautiful, charismatic, and seductive star who would give Jayne Mansfield a run for her money." ∆
Keep up with Glen Starkey via twitter at twitter.com/glenstarkey, friend him at Myspace.com/glenstarkey, or contact him at gstarkey@newtimesslo.com.