Sterile white walls. Beeping heart rate monitors. Infant-sized incubators. Usually when one thinks of a neonatal intensive care unit (NICU), these are the images that come to mind. An antiseptic, impersonal environment with one goal: "Just try to get them out of here alive."
These are the words of Trish Ringley, a NICU nurse who has worked at Sierra Vista Regional Medical Center for 17 years.
"Back in the beginning, when we tried to save babies at a really young gestation, we were primarily trying to keep them alive," Ringley told New Times.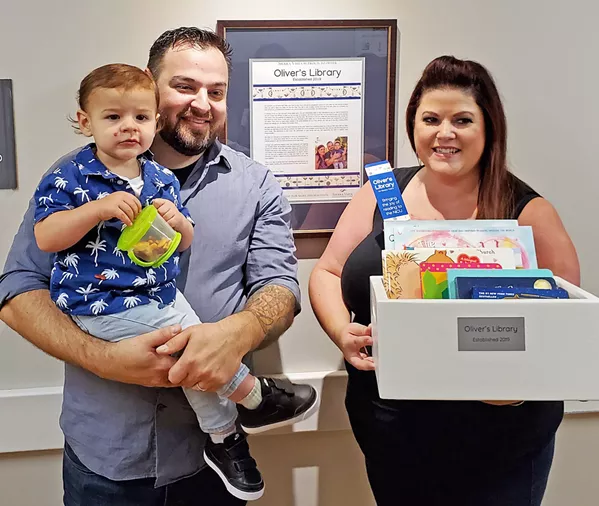 Photo Courtesy Of Sierra Vista Regional Medical Center
INSPIRED TO GIVE BACK Lalo and Jamie (right) Tejeda were inspired to give back to Sierra Vista after the exceptional care they received when their son, Oliver (left), was born prematurely.
But now, Sierra Vista is joining NICUs across the country in promoting what Ringley calls the "the fluffier stuff."
"We are realizing that there's so much we can do to protect their brain, their nervous system from all the trauma that an environment like the NICU causes," she said. "I wouldn't call it touchy-feely, because it's really important for their health and well-being, but it's not IVs and medications."
With the help of one local family, Sierra Vista has opened a library to promote brain development for babies in the NICU and a sense of normalcy for the parents. The library had its grand opening on Aug. 20.
"There's research coming out about how important language is for the babies," Ringley said. "When they are still in the womb, hearing their parents voice in particular is important for their growing brain. When they are born early and are in this sort of traumatic environment, they're finding that hearing their parents' voices reading is really beneficial for them."
While the hospital had toyed with the idea of opening a library before, it was one family in particular who made it possible.
When Jamie and Lalo Tejeda were expecting a baby back in 2018, they were forced to face the harrowing experience that all expectant parents fear: premature birth. When baby Oliver came early, he had to spend a week in the NICU before he could go home.
"It seems so separated," Lalo said of watching her newborn from the other side of the NICU incubator. "You don't think to read to your newborn because they are in an incubator."
After working with the team of NICU nurses at Sierra Vista, the Tejedas learned about the positive impact that reading can have on both babies and parents.
"It's something that connects you from the parent to the baby directly," Jamie said. "Going home at night and not having the baby—the whole experience makes you feel separated and helpless. But knowing that you reading to them helps them is a really, really good feeling."
As soon as they left the NICU, the Tejedas knew they had to find a way to say thank you.
"I think every parent feels like you will never be able to give back what they gave to us," Lalo said. "We talked to the nurses and we decided to have a raffle to raise money so we could do something impactful. ... It turned into, 'Hey, a library is a great idea.'"
Ringley emphasized how Oliver's Library—the installation's official title—will change the lives of parents and children in the NICU.
"It helps put the parents at ease and makes them feel more welcome and comfortable in this environment," she said. "Then, in the long term, the benefits for the babies' language acquisition, their developing nervous system ... it all benefits by having parents reading to them right from the beginning."
Aside from reading books in the NICU, Ringley said other little things, like name card art or handmade quilts for the babies, can make all the difference.
"It helps soften the space, and make it feel more homey and more comforting," she said.
So far, community response to Oliver's Library has been nothing short of positive.
"The people were so giving. It was just unbelievable how quick, how giving, and how much they participated," Lalo said. "People wanted this, but they had no outlet. So by doing this, it gave them a way to support." Δ
Arts Writer Malea Martin is enjoying a good book. Send comments or arts story tips to mmartin@newtimesslo.com.