PHOTO COURTESY OF MINKA
AWESOME IN THE SIDE POCKET : (Left to right) Bassist Forrestt Williams, guitarist Dan Ernst, and drummer Isaac Lang have formed a new cover band fronted by über-babe Amanda Johansen (supine). They're Minka, and they open for Soundhouse Nov. 20 at Sweet Springs Saloon.
There's a new babe in town, er, I mean band in town, and she's, I mean it's fronted by Amanda Johansen. Mmm … Amanda Johansen (sighhhhh).
Anyway, about the rest of the band. Minka is sort of a who's who of local performers: Dan Ernst on guitar, Isaac Lang on drums, and Forrestt Williams on bass. They're just playing covers for now, but according to the band, they're not "cover songs you'd normally hear because they require such vocal prowess," and Ms. Johansen "is young and new on the scene but has an amazing vocal range and power."
Frankly, with looks like that she barely needs a voice.
Expect pop, country, and rock tunes from the '70s to today. Minka opens for Soundhouse on Friday, Nov. 20 at Sweet Springs Saloon. The show's at 10 p.m.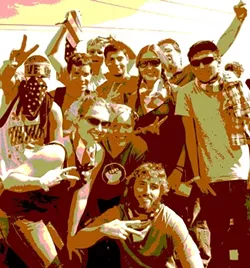 PHOTO COURTESY OF THE FLOBOTS
GET A FLOBOTOMY! : Alternative rock and hip-hop act The Flobots plays Downtown Brew on Nov. 19.
Get 'em while
they're hot
Looks like Downtown Brew is slowing down a bit for the holidays, but there're still several shows worth hitting before you wallow in turkey and family.
Denver-based alternative rock and hip-hop act The Flobots pair a couple of visionary emcees with a live back-up band—including a classically-trained violinist and jazz trumpet player—to deliver some funk- and jazz-filled, rhythmic, progressive rap and hip-hop. See them at Downtown Brew on Thursday, Nov. 19 (7 p.m.; all ages; $18 presale or $20 at the door), followed by the Central Coast DJ Competition Finals pairing the final two DJs (10:45 p.m.; 21-and-older; $2 at the door).
Classic punk act the Swinging Utters returns to the Brew on Saturday, Nov. 21 (7 p.m.; all ages; $12 presale or $13 at the door). This act was hatched in the Bay Area back in the '80s, delivering an aggressive brand of British-style street punk to the San Francisco scene. What they've lost in unbridled anger they've gained in nuance, now employing elements of country and folk into their accessible sound.
Later that same night, Saturday, Nov. 21, the Brew continues the evening with a double dose of reggae when B Foundation opens for Iration (11 p.m.; 21-and-older; $15). Get your groove on, and take in the "New Roots" sound of Iration.

PHOTO COURTESY OF CAFE MUSIQUE

JOIN THE CIRCUS! : Catch Café Musique on Nov. 21 at 7:30 p.m. in the Steynberg Gallery
Step right up, ladies and gentlemen!
You won't see the bearded woman. They don't have a dogface boy. No one handles serpents, swallows swords, juggles fire, or swings by trapeze with the greatest of ease. But come see Café Musique on Saturday, Nov. 21 at 7:30 p.m. in the Steynberg Gallery and what you will see is The Greatest Show on Earth! (OK, that may be a tad overstated, but that's showmanship for you, folks!)
The local purveyors of European gypsy, swing, tango, and folk music are hot off their death-defying performance at the Red Barn Music Series. Why "death-defying," you ask? Have you ever gone to the potluck before the Red Barn shows? Now these fearless performers will once again dangerously merge their vastly disparate musical backgrounds into a collective whole! Do not try this at home, kids. These performers are highly trained professionals—fully bonded, fully insured!
There's Brynn Albanese on violin and vocals, Piper Heisig on percussion and vocals, Duane Inglish on accordion, Fred Murray on bass, and Craig Nuttycombe on guitar and vocals. Once they join forces, you'll want to be deathly silent so as not to break their tenuous otherworldly bond, which could potential destroy the very fabric of our universe and beyond.
Come if you dare! Just $15 in advance (at the venue) or at the door … if any tickets remain. You won't be disappointed!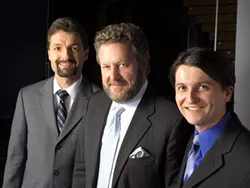 PHOTO COURTESY OF THE JEFF HAMILTON TRIO
THE TIGHTEST BAND IN THE WOOOOORLD! : Extra tight jazz combo, the Jeff Hamilton Trio, is the first non-Cuesta group to perform in the new CPAC (cultural and performing arts center at Cuesta College) on Nov. 23.
Tighter than
a virgin's daughter
When über-tight local drummer Darrell "The Metronome" Voss calls to tell me the "the tightest trio on the planet" is on their way here, I take notice. "A good friend of mine and mentor, drummer Jeff Hamilton, will be the first 'outside group' to perform in the new CPAC (cultural and performing arts center at Cuesta College) this Monday, Nov. 23," said Voss. "There's a clinic at 3:30 p.m. and concert at 7:30 p.m."
Drummer Jeff Hamilton brings his longstanding group, pianist Tamir Hendelman and bassist Christoph Luty, to the college, where they'll deliver songs from their new CD, Symbiosis, including "Fascinating Rhythm," "Blues in the Night," and "Polka Dots and Moonbeams" as well as less frequently played gems such as "Midnight Sun," "The Serpent's Tooth," and the title track.
Call 546-3600 for info about the Jeff Hamilton Trio.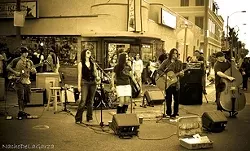 PHOTO COURTESY OF HUMANLAB
STREET BUSKERS : On Nov. 19, HumanLab plays at Nipomo and Higuera streets during the Downtown Associations' mainstage event for Farmers Market.
More music…
Get a fat earload of free love-filled music on Thursday, Nov. 19 when HumanLab plays from 7 to 8:30 p.m. at Nipomo and Higuera during the Downtown Associations' mainstage event for Farmers Market. The five-piece Huntington Beach-based band has "a sound that's amped on love in all its phases," whatever that means. What the world needs now is love, sweet love, it's the only thing that there's just too little of, at least according to Jackie DeShannon and HumanLab.
If you're like me, you don't need an excuse to go to the Elkhorn Bar in San Miguel. After all, it's the oldest, most authentic, most rustic, storied, down-home bar in the county, said to have been frequented by Frank and Jesse James while they were laying low at the uncle's nearby ranch. But if you're not like me and you do need an excuse, here's one for you: On Friday, Nov. 20, from 7 to 11 p.m., Americana folk duo Steve & Elizabeth will offer their take on classic and original country, blues, and folk tunes. Eat some peanuts and throw the shells on the floor. Throw some darts. Shoot some pool. Soak up the ghosts of cowboys dead and gone.
PHOTO COURTESY OF ANNE HILLS
A REAL CLASSIC : Singer-songwriter, actor, and activist Anne Hills plays Nov. 20 at Coalesce Bookstore.
Upon the very first note Anne Hills
sings, you immediately understand how she became a folk icon. That rich, clear-as-a-bell voice is exactly what I think of when I think "classic singer-songwriter." Add to that her terrific, award-winning songs, her social activism, her acting, and, well, maybe you should just go and see Anne Hills for yourself on Friday, Nov. 20
at 7 p.m. in Coalesce Bookstore. She recently won the 2006 Pennsylvania Partner's in the Arts Project Stream grant award (for the 2007 premiere of An Evening of James Whitcomb Riley
). In 2005 she received the same grant for her premiere of The Heartsongs of Opal Whiteley
. She was also the recipient of the WFMA 2002 Kate Wolf Memorial Award, and the Kerrville Music Foundation's Outstanding Female Vocalist of the Year Award (1997). Call 772-2880 to reserve your ticket now.
More than 200 collegiate musicians will perform in Cal Poly's annual Bandfest. The concert, "A Whirlwind of Color and Sound," will be held in Harman Hall of the Performing Arts Center's Christopher Cohan Center at 8 p.m. Saturday, Nov. 21. Tickets are $8 to $19; call 756-2787.
No salsa, no flavor! At least that's what they tell me at Tonita's when I stop in for a breakfast burrito. Speaking of salsa (All-time worst segue ever! Woo hoo! I'd like to thank the academy, manager Tony, that intern that does that one thing I like), salsa band De La Bahia will play the Z-Club on Saturday, Nov. 21 from 9 p.m. to 1 a.m. Can you feel the flavor? Prior to the show at the Z-Club, take a beginning salsa dance lesson by SLO Dance ($5, includes show admission; $3 for the show only). The band will perform music from their debut CD, Siempre Caliente. Forever hot!
PHOTO COURTESY OF RAS REBEL
REBEL WITH A CAUSE : Port Hueneme-based reggae singer Ras Rebel performs on Nov. 21 at Mr. Rick's.
Back on the Central Coast to promote his third full-length studio album Undeniable
is Port Hueneme-based reggae singer Ras Rebel
on Saturday, Nov. 21
at Mr. Rick's. Born Earl Paton, he's toured throughout California, Hawaii, and the Eastern U.S. performing an energetic blend of dancehall reggae and hip-hop. If you caught the last couple of SLO Music Festivals, you probably saw him. He'll perform tracks from his new album as well as classics from his previous albums Rebelution
(2001), and Crossroads
(2005) with The Reggae All Star Band
and reggae selector DJ KatchaFiya
. (9 p.m.; free!)
Oso Sol is bringing their fun and funky blend of original reggae rock to a couple of upcoming shows: on Saturday, Nov. 21 at 8 p.m. at the Pour House in Paso (free, but you gotta be 21 or older); and on Saturday, Dec. 5 they hit Mr. Rick's at 9 p.m. (also free and for those 21 and older).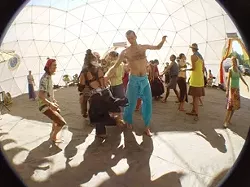 PHOTO COURTESY OF THE YUM SESSIONS
DANCE LIKE NOBODY'S WATCHING : The Yum Sessions are back at SLO's Monday Club, featuring DJ Aktiv8 on Nov. 22.
The Yum Sessions
are back at SLO's Monday Club and yummier than ever. They're the perfect way to get your Sunday mornings started: a two-hour, semi-guided but mostly free form exploration of improvisational movement, mediation, and sound in an open and trusting environment that lets you "dance like nobody's watching." The next one is with DJ Aktiv8 on Sunday, Nov. 22
, from 10:44 a.m. to 12:44 a.m. (damn dirty hippies and their weird time crap!), followed by teas and conversation in the garden. See Tropo
live on Dec. 6
, DJ Activ8 return on Dec. 13
, and DJ Dionysus
on Dec. 20
. No experience necessary! It's $10 per session, or get a five-session pass for $40. Need more info? E-mail philiption@aol.com or call 748-3815.
Pismo's Basin Street Regulars will host three hot Dixieland jazz bands on Sunday, Nov. 22 at the Vets Hall, starting with an 11 a.m. performance by the BSR Jammers, then a 1 p.m. show by Auntie Skinner's Lucky Winners Jazz Band from Los Angeles, then a new local band—Pacific Swing—in its debut performance at 2:15 p.m., followed by another set from Auntie Skinner at 3:15 p.m. Admission is $5 to $10. More info at pismojazz.com.
On Sunday, Nov. 22, the Hamlet's Famous Jazz Artist Series continues with well-known Los Angeles bassist Paul Gormley, who'll bring an all-star quartet including legendary flute virtuoso Sam Most along with guitarist Larry Koonse and drummer Paul Kreibich. They'll perform tracks from their award-winning CD Our Delight, and series co-producers Charlie and Sandi Shoemake will also sit in. There's a 4 p.m. show for $15, a 7:15 p.m. show for $12, or stay for both for $20. Call 927-0567 for reservations.
The Cal Poly Symphony will feature music of Dvorák in its Fall Concert at 3 p.m. Sunday, Nov. 22, in Harman Hall in the PAC's Christopher Cohan Center. Expect Symphony No. 9, "From the New World," written while the composer was living in America, as well as other selections. Tickets are $6 for students, $8 and $10 for senior citizens, and $10 and $12 for the public. Call 756-2787.
Under the direction of Sergi Vincente, the Conservatorio Superior de Mùsica del Liceo de Barcelona is home to 25 of Spain's most gifted guitarists, many of whom will perform on Monday, Nov. 23 at 7 p.m. in the PAC's Christopher Cohan Center. A free pre-concert lecture will be presented by Cal Poly Music Dept. professor Ken Habib at 6 p.m. in the Performing Arts Center Pavilion. Student and adult tickets for the performance range from $20 to $48.
Call 756-2787.


Glen Starkey is modest and proud of it! Send him your oxymoron to gstarkey@newtimesslo.com.
CD Reviews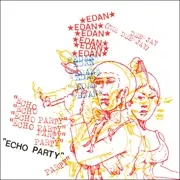 Edan—Echo Party
As a producer, emcee, and turntablist, Boston's Edan sits in the detailed-obsessive corners of hip-hop's grand world. The quirky nerd who knows rap's history better than most spotlighted superstars, Edan Portnoy has built his reputation around crafting beats that pay ode to the boom-bap sound of vintage hip-hop and an oddball eccentric persona that resembles the lampooning nature of early De La Soul. On Echo Party, the request was simple. Take the back catalog of dissolved '80s disco and rap labels like Magic and P&P and create something new. Rather than fashion a generic mix, Edan turns every track inside out, utilizing turntables, tape echo, guitar, moog, and kazoos to manipulate every sound into a serious 30-minute playlist of continuous old-school bliss. Whether playing tracks backwards or filtering them through panning delays, Echo Party is a b-boy's daydreamed soundtrack come alive. And keeping his neurotic front alive, Edan line-lists every knob turning and segue-way in the liner notes, down to the second. For listeners and beat-heads alike.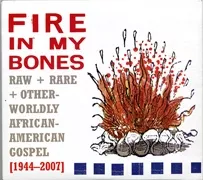 Fire in My Bones: Raw + Rare + Other-Worldly African-American Gospel (1944-2007)
Parting the water between the beautiful harmonies of black gospel music, where astounding quartet and solo vocalist plead their message of the "good news," Mike McGonigal curates a spectacular collection showcasing the other side of gospel: the rough, fiery, and rousing sermons and "sanctified blues" that howled from the pews to the pulpits. Stretching across three discs and organized thematically ("The Wicked Shall Cease From Troubling," "God's Mighty Hand," "All God Power Store"), Fire in My Bones is a tremendous testament to black gospel much as Harry Smith's Anthology of American Folk Music was a bible to the '50s folk scene. The arc of 63 years moves beyond easy categorizing: from the living room a cappella of Laura Rivers' "That's Alright," the tribal raucous of a fife and drum band pounding out "Why Sorrow Done Passed Me Around," or the guitar evangelist tradition which captures Rev. Charles White accompanying James Butler on water bucket and tin funnel, here is a unique focus on an authentically American tradition that deserves wider appeal. ∆
—Malik Miko Thorne, of Boo Boo Records and mikovision.blogspot.com, where you'll find archived reviews and soundclips.