Dave Hite, one of the owners of San Luis Obispo's newest semipro baseball team, reaches for the innocence and economy of a sports cliche when he talks about his team's stance toward the long-established SLO Blues: The Rattlers, he insists, only want to play a little baseball, and it might as well be played in fan-friendly Sinsheimer stadium, aka the Blues' 12-year home. What, he asks, could be wrong with that?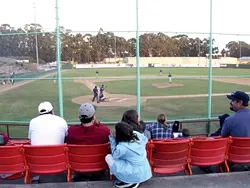 FILE PHOTO BY CHRISTOPHER GARDNER
THE OLD BALL GAME : Fans watched the Blues on their home turf last year. This year, the stadium will be home to two semipro teams.
# "I just felt like we needed a second team," Hite said. "We are going to bring the same type of entertainment as the Blues do."
Hite, the owner of a local tire store and a baseball fan since Little League, is starting the team with four other local businessmen.
"We're not going to take [the Blues'] fans," he insisted. "We are going to build our own fans."
Can SLO really support two semipro teams at the same stadium? For Blues manager Tim Golden, an Eagle Scout with a love of over-the-top metaphors, the answer isn't solely academic. For Golden, it's not just a game or a business. It's his life. After resurrecting the Blues in 1994 the team's history goes back to the 1940s Golden has turned them into a fan favorite, but has taken considerable financial losses along the way.
According to SLO Parks and Rec director Betsy Kiser, the decision to allow another team access to the field was made because her organization, as a policy, leases the field on a neutral basis to applicants.
And the Parks and Recreation Department, which oversees the stadium, maintains that there's plenty of space at Sinsheimer for the Blues, the Rattlers, and a handful of other teams who have shared the field.
Rick Maye, who advises the City Council as a member of the Joint Use Committee (JUC), told the council on Feb. 6 that the stadium "has now become impacted," meaning it's full. Other stadium users agree and since late last year, the city has denied access to two other teams.
Golden's relationship with Parks and Rec isn't an easy one. A Blues rent check bounced in 2005, though the money was later paid in full, and the city leased to him the next year. But at the end of the 2006 season, Golden said, he approached Parks and Rec's facilities supervisor Jim Bremer with a contract proposal for 2007 and was answered with a list of issues, including gopher holes and improperly placed sponsor banners. Golden said that he offered a rebuttal requesting that the grievances be included as terms of a new contract, but nothing came of it.
Now, Golden claims that he can hardly get a phone call answered, and produced a Jan. 30 e-mail Kiser sent to Blues Office Manager Rich Reynolds informing the club that Parks and Rec staff had been advised not to discuss the stadium matter with Reynolds.
Hite, meanwhile, said that the Rattlers have worked with Parks and Rec fairly closely.
"Basically, we were told all we had to do was submit our dates," Hite said. "We've had several meetings with Linda Fitzgerald [recreation manager for Parks and Rec], and we've had several meetings with Jim Bremer [facilities manager]. Since the Dec. 7 meeting, we've worked with Jim Bremer exclusively."
Kiser maintains that the Blues have been treated fairly.
"James [Bremer] has answered all questions through e-mail," she said. "He informed everyone of the Jan 23 [scheduling] meeting. As a facility person, he's always been in charge of scheduling."
Bremer did not respond to a request, given through Kiser, for comment. Fitzgerald did not return a phone call Kiser responded instead.
Kiser also said the JUC is now handling the whole matter.
Whether or not the Blues should have priority for key dates is another source of contention. Golden said that he and every other team that's used Sinsheimer has had to wait its turn for prime slots. He recalled that in his first season at Sinsheimer, he only played nine home games.
"Every group that has ever played there has been told that they were at the bottom of the list," Golden said. "We had to get in line after the SLO Rangers, and we played at Paso, we played Nipomo, we played at Cuesta. We played at a lot of different fields as home."
Besides, he noted, the Blues play in a league unlike the independent Rattlers.
The solution to the problem, offered by the JUC and Parks and Rec, is to split the available days in half. One team, they say, could play baseball noon to 5 p.m. on weekdays and then a second team could play from 5 to 10 p.m.
The SLO Blues were promised 37 dates at the end of the 2006 season, before the Rattlers were part of the scheduling equation. The Blues will still have 37 slots at Sinsheimer under the proposal, but more than half will have to be played on weekdays before noon, when few fans could attend.
"We're viewing the use of the stadium as a challenge as to how many people can use it," JUC member Maye said in an interview. "It's not Rattlers versus Blues."
Since Jan. 23, however, it's become a touchy issue as the Blues and Rattlers both want precious night and weekend dates. The Men's Senior League is also vying for space.
The remaining teams have been unable to reach a scheduling agreement and so, in accordance with a JUC ruling, the matter was slated to go to a lottery on Feb. 15.
Two days before the scheduled draw, however, Parks and Rec announced that a mediator was coming in to try to resolve the conflict. If that fails, the three teams are still scheduled for a lottery later that night.
In the event of a lottery, the organization that draws the longest straw will get to choose the first date. As they were originally promised, the Blues will have 37 picks, the Rattlers will have 17, and the Men's Senior League will have 25. Essentially, the Men's Senior League will receive five night home games, the Rattlers will likely receive about 14, and the Blues will also get about 14 of their 37 games at night or on weekends.
That's not much of a solution to Golden, who maintains that his club is the only one that stands to lose anything namely more than 20 prime game times.
"It's such a farce," Golden said. "Only on weekends could you argue that there are viable day and night times."
In past seasons, though space was tight, there was little conflict between the Blues and the Men's Senior League, said Men's Senior League President Dan Ainsworth. Still, he said that for seven straight years, he got the space after the Blues picked their dates.
The current proposed solution won't likely work, Ainsworth said, noting that the "lottery" system wouldn't allow either semipro team to play multi-day series with visiting teams.
"It can't possibly work because they [the JUC] didn't listen to the users," Ainsworth said.
Ed Thoma, who also sits on the JUC, said that scheduling between the Blues, the Men's Senior League, and the youth Babe Ruth League (which receives absolute priority) has been relatively smooth in the past.
"To my knowledge, there haven't been any problems," Thoma said. "Then you throw a wrench in it when you add another team that wants to play the same type of ball at the same stadium."
If Golden is unhappy with this year's proposed resolution, however, he knows that one approach being considered for next year could well have him fighting for his team's survival.
Maye said that next year he'll suggest an RFP or Request For Proposal from each team, meaning each team would put in a bid to use the facility. If that happens, Maye said, "there would be only one team next year."
Golden can't mask his disdain when he talks about the possibility of having to bid for public stadium space against a group of wealthy businessmen.
"You ask them," he said. "If it went up to bid in 1994, what would it be worth?"
Intern Kylie Mendonca can be reached at ohkylieo@yahoo.com