From the outside, the home of Six Test Kitchen looks like a humble suburban garage nestled against a welcoming Arroyo Grande home. There's the traditional green lawn, an unassuming driveway—absolutely nothing to indicate what's going on inside.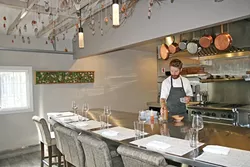 PHOTO BY HAYLEY THOMAS CAIN
MEET YOUR PROFESSOR: Six Test Kitchen chef/owner Ricky Odbert gave up a hectic life in the Bay Area fine dining scene to launch his own test kitchen in a sleepy Arroyo Grande neighborhood. Here, in a converted garage, he demonstrates how to craft 14-course meals with house-made, local ingredients.
Well, there is something, if you know where to look. A lone number "six" hangs above a nondescript door, which leads into the singular garage that lies at the heart of this story. A lesser food stalker might ask herself, "Is this really the demonstration kitchen everyone's been raving about?" Not me. Little birds have told me everything, and I've come expecting—yearning for—the unexpected. The air is heavy with rain and ripe with so much mystery, I swear I could rip a piece out of the atmosphere and chew it like jerky.
The moment I close the garage door, my suspicions are confirmed. Truly, I have been transported to another dimension: a stainless steel world where mise en place (every organized chef's mantra, "everything in its place") reigns supreme. Clean and modern, with gray tiled floors and a lone tuft of cured moss springing from the wall, my eye immediately notes a sparse row of pans hanging above a four-burner range. Beams of sunshine filter through the garage door windows, giving the copper cookware an ethereal sheen. In this small space—the size of an average two-car garage—a chef's ideal kitchen is condensed like tomato soup.
It is not enough that the chef behind this universe is creating artful, 14-course masterpieces made from handmade, local ingredients in the garage of his childhood home. He's also doing it efficiently, with the grace and precision of a master Japanese sushi chef.
PHOTO COURTESY OF SIX TEST KITCHEN
SEXY PLATE: At Six Test Kitchen, a citrus salad is anything but blah. Made with house-made yogurt, year-old preserved Meyer lemon puree, rosemary flowers, grapefruit, tangerine, pistachios, cardamom, and powdered sugar, every bite manages to be sweet, tart, sour, nutty, acidic, and creamy.
Meet Chef Ricky Odbert, looking sharp in his clean, white chef's coat and black apron. With his breast pocket punctuated by choice implements, neat red beard, and focused, steely gaze, he is as prepared as an engineer (an engineer with tattoos of vegetables twisting up one arm).
The 29-year-old fine dining veteran is indeed some sort of scientist. He gave up a hectic life of working in fancy Bay Area kitchens (where he most notably worked as sous chef of Michelin star restaurant Masa's) to create a unique test kitchen that bends the confines of standard culinary knowledge.
Above our heads, strange baubles hang from the rafters. Odbert explains that they are Hoshigaki persimmons—and they, like the vat of funky, fermenting soy sauce or Mason jars of house-made vinegars and oils—are destined for big things.
"These persimmons have been hanging for almost three months now; we peel them, hang them up, and keep a fan going. After about a week, they develop a nice leathery skin. Then you massage the inside, pulling the sugar and tartaric acid to the outside, creating a jam on the inside," Odbert explains.
Some would say, "The way you do one thing is the way you do everything." With Odbert, this is true. Currently, the chef is crafting maniacal meals with last year's persimmon vintage. Plots of microgreens and edible flowers flourish in the garden outside. Odbert loves to add these delicate pops of color to each hand-thrown ceramic dish with a pair of trusty tweezers.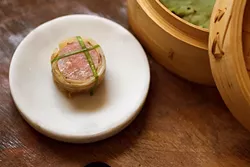 PHOTO COURTESY OF SIX TEST KITCHEN
MANIACALLY CRAFTED: Pork and scallop sausage is served with carefully charred white kimchi.
"I hate the word molecular gastronomy—it's atrocious," Odbert says, "but we do use certain things, like tapioca maltrodextrin, fat powders, and things like that. I love texture, manipulation."
An example: The chef's current chicken dish features butternut squash, cabbage, parsnips, and onions. The twist? It comes in the form of a dumpling steamed in a Cryovac bag. The texture is soft and spongy, a perfect oval of roasted, warm deliciousness. Odbert says his No. 1 task—after ensuring everything tastes good—is answering: "How can I make it interesting?"
Before we go any further, let me just reiterate, Six Test Kitchen is not a restaurant. It is a hands-off demonstration kitchen where Odbert performs cooking classes, and it is 100 percent legal. After starting up November 2015 and experiencing a momentary pause due to wrangling with city regulations, all is well in this stainless steel play space. Note: Hanging out in the swank garage only feels like an underground and slightly subversive activity, and that's really part of the fun.
The kitchen only accommodates six seats—hence the name. Odbert says he decided on the number because that's literally how many plates he had. He's not kidding. When the chef began doing upscale pop-up dinners in uppercrust homes in the Bay Area, he'd always plate six people. These dinners would often go for thousands of dollars a pop.
PHOTO COURTESY OF SIX TEST KITCHEN
BLOW YOUR TONGUE'S MIND : Six Test Kitchen's explosive combination of peach, basil, house-made yogurt, and pistachio is tongue-ticklingly fabulous.
"I found that six is a more manageable number. Four is boring and eight is too much," Odbert says. "The success of those dinners really gave me the idea that I could continue to do this my own way, where I grew up."
The chef's dad helped build the stunning space, a source of familial pride. The chef encourages you to gather up five of your friends, family, coworkers, or neighbors (foodies and non-foodies are welcomed). Each class is $720 total for the group (remember, there's more than a dozen courses per person).
"A huge amount of work goes into what I'm doing, including sourcing things locally at farmers' markets and growing ingredients," Odbert says. "Our butter, we make in house; our bread, we make in house; our ice creams, vinegars are all made by hand. Mass production is not something I'm interested in."
Just being in the room with Odbert, you will learn by instruction and osmosis. Ask him how he gets the pork broth so clear in his dish of Monterey Bay lime-marinated squid topped with smoked chili oil. (Yes, I tried it. Yes it made me very happy.) The chef loves answering technical questions, and—for home cooks especially—it's a joy to rap freely with such a gifted, meticulous chef.

GOT FIVE FRIENDS?: Each class at Six Test Kitchen accommodates a group of six people, no more, no less. Watch as Chef Ricky Odbert crafts 14 courses, and enjoy alongside nonalcoholic beverage pairings including house-made sodas and teas. Gather your own group of six friends, family members, or neighbors and prepare for flavor lift-off. For more information or to make your six-party reservation, email sixtestkitchen@gmail.com or visit sixtestkitchen.com.
Each pairing comes alongside nonalcoholic house-made juices, sodas, and tinctures, and you are welcome to bring your own wine to the party. Most guests bring bottles to sip and share; Odbert sends out an email ahead of time talking about what wines would work best with the meal (riesling and unoaked chardonnay lovers, rejoice—these are the latest paring obsessions).
The demonstrations tend to snowball into full-blown parties as stories are swapped and wines shared. The chef says it's common for his guests—many of them winemakers, brewers, and fellow chefs—to linger over their plates, sopping up the last dribbles of a killer sauce.
"This whole scenario is so weird and strange, people don't see the menu first and they are in the dark, but people are liking that," Odbert said. "When people walk in there's that 'holy shit' moment. Then, they have such a good time and are telling everyone they know."
Maybe that's because Odbert puts so much of himself—his heart and mind—into each dish. He doesn't simply grow herbs or preserve plums, he does so in a way that optimizes their flavor and vitality. He does not simply cook. He stretches each ingredient as far as it will go, then takes it one step further.
"There's a connection with nature and knowledge and that comes with experience," Odbert says. "I do simple dishes, but that dish may have taken a year to get to the plate."
Hayley Thomas Cain doesn't normally like tests at hthomas@newtimesslo.com.