View a slideshow of the delectable goings-on at Flour House.
At Flour House, dough reigns supreme. Metal trays of yeasty white orbs are prized higher than gold.
Chef Alberto Russo, who owns the restaurant alongside wife, Gessica, schedules entire days around this prized ingredient—which he will eagerly tell you is the foundation of any authentic pizza napoletana.
"In the morning, all I focus on is preparing the dough for the following day," Alberto said. "The dough uses a small amount of mother yeast; the flour and water is allowed to ferment itself. This creates the dough's lightness, its softness, with a bit of crunch at the core."
PHOTO BY DYLAN HONEA-BAUMANN
AMERICAN DREAM: Flour House Owners Alberto and Gessica Russo take a break from making pasta and pizzas at their new restaurant, which celebrated its grand opening late last month.
Made with imported "00" (doppio zero) flour, this is the kind of pizza you can easily fold and devour. The kind that Gessica—whose duties include front of house business and making fresh pasta—likes to say, "doesn't leave you in a food coma."
With all the kneading, resting, rolling, and testing—you might say that the couple babies their dough. You'd be 100 percent correct. A native of Salerno, Italy, Alberto takes this as a huge compliment. He is not only a craftsman, but a proud evangelist.
"We try to educate people, first thing, about pizza napoletana; the mother of pizza, where New York pizza originated," Alberto said. "It's not a competition; what I'm offering is simply original. This is pizza the way it was made thousands of years ago."
Hold your horses. Before we get too far into the history of cheese, bread, and tomato sauce, you have to know how this pizza master met his lifelong pizza mate.
Gessica grew up in the restaurant industry, watching her father, Giuseppe Silvestre, run restaurants, including Vieni Vai Trattoria, for nearly 18 years. Many local readers already know that this iconic SLO restaurant is Flour House's famous predecessor; the ghost that lingers in the rafters.
However, like so many kids who grow up in a family business, Gessica never thought she'd take up the torch, instead following family roots to a life as an educator in Italy. There, she landed a job teaching English. This is how she met Alberto (and can we just say he was a star student with extracurricular ideas on his mind?).
The two wed in 2013 in Italy and relocated to San Luis Obispo to give the American Dream a try. Now with a baby on the way, the 20-somethings celebrated their grand opening late last month.
Together, they've completely transformed the restaurant since taking over last year. Flour House all but glows with warm, sparkly chandelier lighting and modern, white walls that beam from down the block.
Sitting in the swank back patio sipping a 32 Via dei Birrai micro brew, you can even imagine you're living out some sort of Italian holiday fantasy. But this story isn't just about tan men in white linen suits exclaiming "ciao bella." The couple knew that without killer food, they'd have nothing.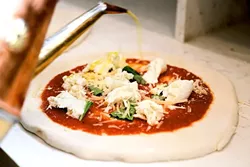 PHOTO BY DYLAN HONEA-BAUMANN
LOVE AT FIRST BITE : Cooked for mere minutes in a 1,000-degree wood-fired oven, this pizza napoletana is topped with Gorgonzola, mozzarella di bufala Campana, flavorful speck, and balsamic reduction.
This is where the "pizza napoletana" concept swooped in. What exactly makes this pizza so sumptuous? Why were the Russos so sure it would be a hit? First you must consider all the things that the pizza is not.
Like true French Champagne or authentic Parmigiano-Reggiano, in Europe, you cannot call any old pizza "pizza napoletana." The name is actually protected by law, and although Alberto wouldn't tell me just what happens to people who try to counterfeit the pie, I like to imagine the punishment is lifetime banishment, perhaps even public ridicule.
At Flour House, the 'za is made only in the authentic way: with Marzano tomatoes, which grow on the volcanic plains to the south of Mount Vesuvius, and mozzarella di bufala Campana, made with the milk of semi-wild water buffalo raised in the marshlands of Campania and Lazio.
Hark! You will find no pepperoni speckling these irregularly shaped rounds. Instead, there's something better. Much, much better, if you ask me. Expect smoky, spiced speck; beefy bresaola; tender prosciutto cotto; salty pancetta; fresh, light burrata cheese; and fragrant, freshly torn basil.
"It takes a lot of love and care to make this pizza," Alberto said of the painstaking attention to detail.
Well, "love" and an extremely expensive wood-fired oven. The centerpiece of the dining room is, without a doubt, the tiled Stefano Ferrara oven, which shines behind glass like a well-oiled Ferrari.
"There are two kinds of wood-burning ovens in the world: regular, and pizza napoletana wood-burning ovens. The materials and engineering are different because the pizza must cook in 60 to 90 seconds—max," Alberto said. "The opening of the oven is also very small, keeping all the heat inside."
I knew this masterful oven would cook quick—at temps of about 950 to 1,000 degrees, it doesn't take long to get a fluffy, puffed-up crust with dark, smoky spots of char along the edges—but truly, this is a powerful weapon, indeed.

WHITE HOT!: Flour House is open for dinner Monday through Thursday and Sundays from 3 to 10 p.m. and Friday and Saturday from 3 to 10:30 p.m. The restaurant is located at 690 Higuera St. in downtown SLO and offers small plate appetizers, homemade pastas, lasagna, and authentic Italian cocktails in addition to a plethora of wood-fired pizza napoletana options. Gluten-free dough is available upon request. For more information, visit the business on

Facebook

or call 544-5282.
I watched as Alberto created two pizzas, a traditional Margherita with tomato, basil, and mozzarella, and another with a spread of Gorgonzola-mozzarella mix topped with speck and balsamic reduction (oh God, yes).
In the time it took me to send an email from my iPhone, both pies were sizzling hot and breathtakingly bubbly.
I learned that eating Flour House pizza is a dance. First, fold then curl any dripping cheeses around your hand and sling them into your mouth. Next, try not to eat the whole pizza. But, even if you do eat the whole thing, you will realize—weirdly—that you still feel pretty good.
The whole experience is surprisingly light, thanks to that precious flour that permeates every aspect of what the Russos create, even lasagna. Notoriously heavy dishes like gnocchi get a lift from this upgrade; the creamy dumplings stuffed with speck and bitter radicchio left me intensely satisfied, not stupefied.
This feeling of simple luxury minus overindulgence—of having your pie and eating it too—is where Flour House holds its ground. There is a slice of this ideal available to all who seek it.
"Now that we see our own dream coming true here, from our own work and vision, the satisfaction is very strong," Alberto said.
"The most beautiful part of the business is the fact that we're now going to be part of people's memories moving forward," Gessica added.
Hayley Thomas believes in forever folding pizza but never her laundry. She can be reached at hthomas@newtimesslo.com.