It's officially summer, which means long, warm, sunny days and beachside concerts from the likes of Slightly Stoopid, the Ocean Beach-based ska/thrash band whose sound first developed in the skate-punk aesthetic of Southern California but has evolved into a breezy reggae style filled with phat horns and hooky melodies.
PHOTO BY JEFF PLISKIN OF RAISED FIST PROPAGANDA
CALI STYLEE! : Slightly Stoopid headlines a four-act reggae and hip-hop show at Avila Beach Resort on July 3.
This Sunday, July 3, Cali Roots, Ineffable Music, and Otter Productions Inc. present "The Slightly Stoopid Return of the Red Eye Summer 2016 Tour" featuring Slightly Stoopid, SOJA, Z*G*E* Zion-I, and The Grouch & Eligh at the Avila Beach Resort (gates open at 2 p.m. and the concert starts at 3p.m.; all ages; $37.73 to $99.14 plus fees at Boo Boo's or returnoftheredeyeavila.eventbrite.com.)
"Fans can expect to hear tracks from Slightly Stoopid's newest release Meanwhile… Back at The Lab, plus cuts from releases over the group's two-decade spanning career. This will be the Summer's BEST BEACH PARTY!" according to organizers.
Slightly Stoopid has released twelve albums (four live and eight studio LPs), and while they may have grown from punk roots, they've developed a sound that blends "rock, reggae, folk, and blues with hip-hop, punk, and funk elements," according to their bio.
Their current line-up includes Kyle McDonald (guitar, bass, vocals), Miles Doughty (guitar, bass, vocals), Ryan "Rymo" Moran (drums), Oguer "OG" Ocon (percussion), Daniel "Dela" Delacruz (saxophone), Paul Wolstencroft (keyboards), Andy Geib (trumpet, trombone), with special guest and "unofficial eight member" Karl Denson (The Rolling Stones/Greyboy Allstars) on saxophone.
Deep grooves, "green" fans, and beachside hip-hop and reggae until dusk! This should be quite a party!
Ethereal folk dreamscapes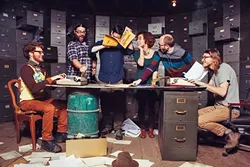 PHOTO COURTESY OF LITTLE TYBEE
FOLKTASTIC: Atlanta's Little Tybee brings their ethereal and eclectic prog-folk to Tooth & Nail Winery on July 1.
In case you're wondering what "folk-prog" sounds like, look no further than Little Tybee, an Atlanta-based sextet with classical and jazz roots who bring a virtuosity and surprising unpredictability to their dreamscape sounds.
Most of their songs begin quietly, built around bandleader Brock Scott's acoustic guitar and lilting voice and added to by Josh Martin's amazing guitar work, often on an eight-string Ibanez. Layer in the classic flair of Nirvana Kelly's violin, Ryan Donald's deep grooving baselines, Pat Brook's steady beats, and Chris Case's driving keyboard arrangements and you're left with a really unusual sound that mixes folk, psych, jazz, and bossa elements.
Check them out this Friday, July 1, during a free pop-up concert at Tooth & Nail Winery at 5 p.m. Oh, and in case you were wondering, they're named after a small island off the coast of Georgia.
Canada's coolest
Hailing from Canada's West Coast, the twice Juno-nominated string and accordion band The Bills have developed into an amazing live act that focuses on traditional music delivered in a sly and beguiling way.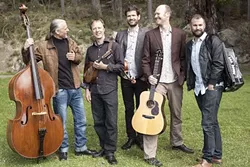 PHOTO COURTESY OF THE BILLS
CANADA'S FINEST: SLOfolks brings acoustic super group The Bills to Castoro Cellars on July 2.
Lead vocalist Chris Frye has a singular voice, and every other band member—Marc Atkinson (mandolin, guitar), Richard Moody (violin, viola), Adrian Dolan (fiddle, piano, accordion), and Scott "Grandpa Bill" White (upright bass)—also adds vocal harmonies.
They're playing Saturday, July 2, at Castoro Cellars (doors at 6 p.m.; show at 7; all ages; $22 at vastorocellars.com/events, 238-0725, or Boo Boo Records) under the auspices of SLOfolks.
A catered dinner with a vegetarian option will be available starting at 6 p.m., with some seating provided but also room on the lawn for blankets and low-back chairs.
"There will be a moment during their show when they hit critical mass and the listener will forget where he or she is. It might be when a four or five part harmony is evoked, or maybe when two fiddles join in on an instrumental, or maybe when an evocative waltz is slowed down to a whisper," according to organizers. "Please be sure to join us; you don't want to miss that moment!"
Suave como mantequilla
PHOTO COURTESY OF PEPE AGUILAR
MEXICAN BARRY WHITE: Pepe Aguilar will bring his mariachi, ranchero, and balladry to Vina Robles Amphitheatre on July 7.
Next Thursday, July 7, Mexican balladeer and mariachi leader Pepe Aguilar comes to Vina Robles Amphitheatre (7:30 p.m.; all-ages; $55 to $95 at vinaroblesamphitheatre.com). I think he's Mexico's Barry White—a real panties melter!
This son of Mexican icons Antonio Aguilar and Flor Silvestre has music in his blood: "Being born during a tour, and having studied my craft on the road has given a particular philosophy to my career," Pepe said in press materials.
He's been a Latin pop star for 25 years, garnered nine Grammy Awards, and has a star on Hollywood's Walk of Fame. He's also recorded more than 25 albums and sold 12 million copies. His newest, No Lo Había Dicho, is now out. Canta desde el corazón!
More music
PHOTO COURTESY OF DEL REY & STEVE JAMES
HILLBILLY DELUXE : The Red Barn Community Music Series presents Del Rey & Steve James in concert on July 2 in Los Osos's Red Barn.
On Friday, July 1, Jeff Peters will play 30s and 40s style popular jazz with bassist Ken Hustad from noon to 1 p.m. in Wilson Hall of the First Presbyterian Church of SLO. Bring your lunch! It's free! Fair Trade coffee and chocolate is available. Call 543-5451 for more information.
The Red Barn Community Music Series presents Del Rey & Steve James in concert this Saturday, July 2 (5 p.m. potluck, concert at 6 p.m.; all ages; $15 at the door). According to organizers, these are "two powerful exponents of American vernacular guitar-playing [who] make musical testament to the hillbilly/smarty-pants/country blues aesthetic. Sharing a sense of humor and a similar manic intensity, their duets are smart, funny, and full of instrumental virtuosity." James plays bottleneck guitar and Rey plays resonator ukulele "and is a complex, pianistic guitarist."
Celebrate America's birthday a couple days early on Saturday, July 2, with PASO POPS, the new Paderewski Festival-sponsored event combining wine, beer, food, family-friendly activities, live music, and fireworks at the Paso Horse Park (5 p.m.; all ages; tickets from $10 to $3,500 for sponsored President tables; learn more at paderewskifest.com/pasopops). The SLO Symphony, paired with Youth Symphony members and led by Tulare County Symphony and Pasadena Symphony conductor Bruce Kiesling, will perform a 90-minute patriotic "Pops" program. Hear "Feeling Good," "Salute to Big Bands," "Allegro Apprasionato" by Saint Saens, performed by two-time Paderewski Festival Youth Piano Competition winner Daniel Ha, "Themes from 007," "Charade," "Salute to the Armed Forces," A "Take Me Out to the Ball Game" sing-a-long, "Marquez Danzon #2," "Fly me to the Moon" with Casey Biggs and Alodie Ayers, "Do you know the way to San Jose?," "Williams, the Flying Theme from E.T.," and "18:12 Overture." There will be lots of kids activities, local wineries, and food trucks.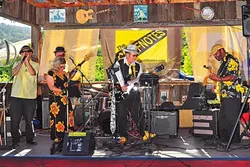 PHOTO COURTESY OF THE CLIFFNOTES
SWAMPIFIED BOOGIE ROCK: The Cliffnotes bring their boogie rock sounds to Poalillo Vineyards on July 2.
The boogie blues and swampified rock of The Cliffnotes will provide the musical backdrop to Poalillo Vineyards only summer concert on Saturday, July 2 (6 to 9 p.m.; all ages; $10 tickets at 238-0621), "and it's their Wine Club Pick-Up Party and Susan Poalillo's Birthday Day Bash," added bandleader Cliff Stepp. The Cliffnotes album features the powerhouse vocals of ex-Big Brother & Holding Co. lead singer Valerie Johnson, and a gourmet dinner by Chef Julie's Pasta Bar is also available for purchase.
The Irene Cathaway Rhythm and Blues Band plays at D'Anbino's in Paso this Saturday, July 2, (8 p.m.; 21-and-older; $12). The R&B singer resides in L.A. but has a great local band featuring Darrell Voss (drums), Ken Hustad (bass), and Dorian Michael (guitar). "Her warmth and sense of humor on stage combined with her deep soulful singing grabs an audience and gets them dancing," Michael said. "Irene is the real deal with raw emotional vocals."
PHOTO COURTESY OF THE IRENE CATHAWAY RHYTHM AND BLUES BAND
R&B DIVA: The Irene Cathaway Rhythm and Blues Band brings their danceable sounds to D'Anbino's on July 2.
This Sunday, July 3, The Famous Jazz Artist Series presents, in concert, The Central Coast Jazz Institute in SLO's Unity Church (2:30 p.m.; all ages; $20 general admission or $10 for students). "Many of the top jazz artists of the Central Coast, including Josh Collins on guitar, will perform," organizer Charlie Shoemake explained. "This is a fundraising event with all proceeds to go for jazz study scholarships at the institute for young artists. Last year four members of the institute were awarded the prize for the best community small jazz combo in America by Downbeat magazine."
The Arroyo Grande Village Summer Concert Series continues on Monday, July 4, with spirited concert band music from the ever-popular Village Band appearing on the Rotary Bandstand (1 p.m.; all ages; free). Rousing patriotic music, barbecue, red, white, & blue decorations—this is going to be a good, old-fashioned, fourth of July! The 30-member band, under the baton of Gary Thompson, will play two sets of everything from John Philip Sousa marches to inspirational patriotic songs.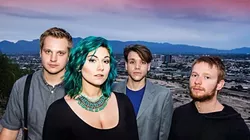 PHOTO COURTESY OF ADARA RAE & THE HOMEWRECKERS
BIG AND BLUESY: Adara Rae & The Homewreckers bring their blues rock to Frog and Peach on July 5, and Last Stage West on July 10.
Tucson's bluesy pop rock band Adara Rae & The Homewreckers recently released their debut album Here Comes the Music and are touring the West Coast, including shows Tuesday, July 5, at Frog and Peach; and Sunday, July 10, at Last State West. Rae, a singer-songwriter, quickly built a following, and after writing and recording a few songs, she created her band a year later with drummer Casey Hadland, bassist David Velasco, and multi instrumentalist Seth Murzyn on viola, sax, keys, and guitar. They were named one of Tucson's top bands of all time by The Tucson Edge earlier this year. Rae has a helluva powerful voice!
Keep up with Glen Starkey via twitter at twitter.com/glenstarkey, friend him at facebook.com/glenstarkey, or contact him at gstarkey@newtimesslo.com.