Two months ago, it looked like hundreds of HIV-positive men and women in Monterey County would lose access to critical housing and medical services. That was when San Luis Obispo-based nonprofit Access Support Network (ASN), formerly the AIDS Support Network, stepped in.
"Things have gone phenomenally well," said ASN Executive Director David Kilburn. "We have been greeted with open arms by the public health department and the nonprofits in the community."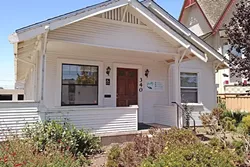 PHOTO COURTESY OF ACCESS SUPPORT NETWORK
NORTHERN EXPANSION: The Access Support Network, formerly the AIDS Support Network, has served the San Luis Obispo community for more than three decades and recently expanded to Monterey County.
ASN, which changed its name to the Access Support Network in July, has served San Luis Obispo County for 31 years, helping hundreds of community members living with HIV or AIDS access housing, medication, and health care from providers knowledgeable about the diseases. Since 2001, it also provides services for clients with hepatitis C.
At the end of May, the Monterey County Public Health Department pleaded for help from ASN, as the county's only HIV/AIDS service organization had suddenly announced that it would close its doors. With only a month to plan the expansion—and figure out if it was even feasible—Kilburn and the rest of the ASN staff kicked into high gear, and by July 1, everything had fallen into place.
"The closure happened so abruptly that everyone was scrambling to see how people would continue to access care," Kilburn said. "We wanted to ensure an uninterrupted delivery of services."
Kilburn estimated that ASN now provides services to a HIV/AIDS population of 360 to 370 people in two Monterey County locations. That is in addition to the San Luis Obispo client base of roughly 200 individuals living with HIV or AIDS and close to 400 with hepatitis C.
"This just shows how supportive our community has been," Kilburn said. "We wouldn't have been able to take on a new county on such short notice without that support."
In a time when many HIV/AIDS organizations are struggling, particularly in less populated counties like San Luis Obispo where the HIV caseload is relatively low, a sudden expansion is no small feat. Kilburn cited ASN's three decades of building a local infrastructure—including volunteers, donors, and participants in the annual Walk for Life fundraiser—as part of what made the move possible.
Still, although ASN has been able to provide critical services to those already living with HIV or AIDS, there's a lack of funds for preventative work and testing. Following severe cuts to the funding for AIDS programs in the California state budget in 2009, and with most of what was left redirected to urban areas with heavy HIV caseloads, ASN had to make do with mostly local funding.
"We were left to try to cobble together enough money to continue prevention work with our youth," Kilburn said.
And that reduction in funding for the only HIV/AIDS service provider in SLO County may be making its presence felt.
"Over the past couple of years, we have seen a huge influx of young people—people in the 18 to 27 age group—coming in and testing positive," Kilburn said. "It's really alarming to see."
On a national level, youth between 13 and 24 are overrepresented among new HIV diagnoses, according to the Centers for Disease Control and Prevention. In 2013, Americans aged 20 to 24 had the highest number of new HIV diagnoses of any age group.
"I don't know if today's youth senses the urgency, because they are not growing up watching people around them die from AIDS," Kilburn said.
Still, the Access Support Network continues its work, now in two counties, to keep the Central Coast informed, to stop the spread of the virus and the stigma surrounding it, and to help those diagnosed with HIV gain access to critical treatment.
For more information on the Access Support Network, visit asn.org or call 781-3660.
Intern Anna Hoernell wrote this week's Strokes and Plugs. Send your business and nonprofit news to strokes@newtimesslo.com.