There are endless ways to experience art. There are, of course, the standard methods—go to a gallery, drink some wine, visit a museum, drink more wine, or sneak into said museum, and sneak some free wine. Then, there are the more relaxed arrangements—parties, festivals, or a personal visit to an artist's home (wine availability unknown). The Open Studios Art Tour, presented by ARTS Obispo, is of the latter category. Now in its 16th year, the Open Studios tour offers a personal peek inside the space where around 200 SLO County artists create their work. It's vast, it's educational, it's fun, and, it's most definitely free. In honor of this annual exposition, I spoke to four artists featured in the tour, whose work varies from intricacies of silversmithing to funky, recycled sculpture.
ART UP CLOSE: The Open Studios Art Tour takes place on Oct. 18 and 19, from 10 a.m. to 5 p.m. It is a free, self-guided tour. To download a catalog and map of locations, or to find where you can pick up one in person, visit artsobispo.org.
NANCY VEST - Atascadero
Painting, jewelry, photography, mixed-media sculpture—Nancy Vest does it all, and with a style and process all her own. For four years, the Chicago-born artist has been participating in the Open Studios tour, showcasing her talent and predilection for the strange and unexpected.
"It's really fun because this year, my studio is full of very unusual and eclectic things," Vest said over the phone. "It's kind of like walking into Disneyland."
Vest's pieces, particularly her three-dimensional works, defy easy description. In her studio, you'll find dismantled guitars, clay masks with fantastical expressions, and concoctions of copper, wood, tin cans, twine, and light bulbs. They form an intriguing and diverse mix that embodies Vest's method of combining repurposed materials found in thrift stores with more traditional sculpture media like clay. For her, this variety and experimentation is the key to why she does what she does.
"What I like to do," she said, "is go to a thrift store and either it'll immediately hit me or pop into my head later what to do. ... It's the creativity. It just feels so good to do. Part of being alive and existing is coming up with something different."
GLYNIS TINGLOF - Los Osos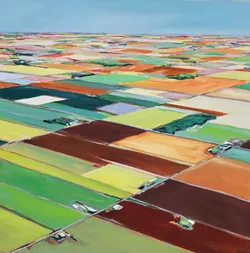 IMAGE COURTESY OF GLYNIS TINGLOF
FIELD OF DREAMS: Glynis Tinglof paints abstract aerials, like 'Color Fields' (pictured), in her Los Osos-based studio.
Down the coast and toward the ocean, you'll find the studio of accomplished painter Glynis Tinglof. A California native, Tinglof has been painting since her teens and has been a part of Open Studios for 13 years now. Over those years, she's developed an engrossing and vibrant series of aerial and abstract pieces that recall the landscapes of Richard Diebenkorn and geometric lines of Piet Mondrian.
"What I like is the challenge of continually having balance on a canvas," Tinglof noted. "When I change one corner, it changes the other corners, and working it as a whole and keeping the balance on the whole has been a hurdle, color-wise and space-wise."
Indeed, Tinglof's work creates an odd balance between recognizable and unfamiliar points of view. For her aerial paintings, she begins with a photograph, gets the lines down, and layers on splotches of richly hued colors until what began as a linear image evolves into something far more complex.
"It's kind of creating chaos," she observed, "and then sort of controlling it. … It's orienting and disorienting, such a different perspective; you kind of have to find what looks familiar on the planet."
CRISSA HEWITT - San Luis Obispo
Unlike Tinglof, Crissa Hewitt works in more tangible and concrete forms. A silversmith by trade, she has been crafting fine jewelry, boxes, and the occasional piece of furniture since the late '60s. This is her sixth year with the Open Studios tour, an opportunity she uses to showcase the intricate and laborious process of working with materials like silver, wood, stones, and marble.
"It's an interesting combination," Hewitt said over the phone. "The material is kind of resistive, and I like the fact that for the most part, if you bend it, it stays there. I enjoy the control factor. I can make all the mistakes I want."
Hewitt's jewelry and boxes reflect that element of control. She forms her pieces in a clean and elegant style that speaks to the honed craftsmanship of somebody who's mastered her technique over years.
"There's a lot of pleasure in the physical activity of it," she said. "You are hoping that what comes out at the other end is worth the effort. And, it's worth the effort for me because I had fun making it."
DEBRA SIEVERS - Shell Beach
If you are a person, then Debra Sievers is interested in you. For more than 30 years, she's been painting and drawing portraits, alongside an impressive portfolio of landscapes and still lifes, in a variety of styles from a classical oil aesthetic to rough, charcoal sketches.
"I love painting people," she mentioned over the phone. "Just to catch them when they're being themselves, to capture their energy, their inner light, and who they are. I've had some incredible experiences of people seeing their portraits and crying. They see something they never knew was in them."
PHOTO COURTESY OF ARTS OBISPO
EUREKA!: Atascadero-based artist Nancy Vest repurposes found materials for her unique and eclectic sculptures.
Sievers' very personal approach to art is in the same spirit of the Open Studios tour in general. Her art aims to connect in a visceral and profound way.
"I love just the viscosity of the paint and the feel of it," she said. "It's the same of when we were children—that kind of feeling of putting oils on a surface. Every time, I'm a 5-year-old again. The bigger the joy is, I think, it's the connection of touching the inside of something whether it's this moment in time, or this person who is a complete stranger, but I can go inside and see what's there, what connects it."
Send your best portrait of Jessica Peña to jpena@newtimesslo.com.