UPDATE: This article has been updated to correct a factual error. Since it was last amended, the list of creditors in Moriarty's federal bankruptcy now include nearly all of his alleged local victims, according to Deputy District Attorney Steve von Dohlen, who was not available for comment prior to press time.

Von Dohlen explained that the decision to release the six residential and commercial properties to the bankruptcy trustee was to minimize costs associated with the properties.

"All six properties are upside-down," von Dohlen told New Times. "The decision to have them released was to minimize all the costs that would be incurred that would eat into the potential [restitution] pool."

He added that the properties were already under the jurisdiction of the Federal Bankruptcy Court, and had been under its jurisdiction prior to the filing of the criminal case. He said the Federal Bankruptcy Court had previously issued orders regarding each of the six properties, orders that could not be complied with while they remained under the freeze in the criminal case.

Moriarty's other assets, including vehicles and jewelry, which he listed in his original bankruptcy filing, remain under Judge LaBarbera's order.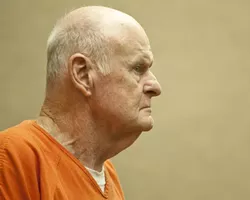 FILE PHOTO BY STEVE E. MILLER
I HAVE NOTHING: Al Moriarty, the former Grover Beach financer accused of flimflamming local clients out of some $22 million, recently had his remaining property released by a SLO County judge to the trustee assigned to his federal bankruptcy case. But how will that affect local alleged victims?
ORIGINAL ARTICLE: At the request of the San Luis Obispo County District Attorney's Office, a superior court judge has released a former Grover Beach financier's six commercial and residential properties into the custody of a trustee assigned to his ongoing federal bankruptcy case.
What that means for the alleged victims of Al Moriarty—most of them elderly, without means to replace the savings they lost—is less than clear.
The criminal case against Moriarty, 80, includes charges ranging from grand theft by embezzlement to selling securities and investments without a license in a $22 million "Ponzi-like" scheme. County prosecutors filed charges against him in May, nearly a year after he filed for Chapter 7 bankruptcy in Washington State, claiming some $18 million in debt to more than 100 creditors.
Moriarty now sits in SLO County Jail pending $5 million bail, awaiting trial, which is expected to start sometime in fall.
But recent developments have Moriarty's alleged victims wondering if they'll ever see a dime—even if he's convicted of all charges—and alleging that the D.A.'s Office violated their victims' rights.
On May 3, SLO Superior Court Judge Barry LaBarbera issued an order freezing Moriarty's assets, which include six residential and commercial properties, from any action pending the completion of the local criminal case against him.
But in a move that stunned many people following the case, the DA's Office filed an ex parte—or emergency—request on July 10 to release those assets to the trustee assigned to Moriarty's federal bankruptcy.
In the request, prosecutors point out that the bankruptcy case preceded the criminal case, and removing the property to the bankruptcy court "may complete liquidation of the Bankruptcy Estate for the benefit of the Creditors, many of whom are also listed as alleged victims in this criminal case," according to the filing.
That order was signed off by Judge Jacquelyn Duffy.
Many of the creditors listed on Moriarty's bankruptcy filing are financial institutions and credit card companies, but a number of Moriarty's local alleged victims have filed motions in the bankruptcy case opposing the filing, as well.
Moriarty's attorney, Tom Allen, also informally objected to the order, arguing that the assessed values for the properties listed in the bankruptcy case are "insufficient," according to records.
Under California law, freezing the assets would have preserved them for payment to Moriarty's alleged victims, whereas the new order releases them to the bankruptcy trustee in Washington, who divides up proceeds from whatever property is salvaged to the creditors.
Alleged victims and other interested parties in the case told New Times they were never notified by the DA of the move, or they would have formally objected. The federal Securities and Exchange Commission, which is working with local authorities on the case, declined to comment on the move or whether it was notified beforehand.
Deputy District Attorney Steve von Dohlen, the office's prosecutor assigned to Moriarty's case, couldn't immediately be reached for comment on the move, nor how it will affect local victims' ability to recover their lost savings before the other, non-human creditors get their hands on it.
Chief Deputy District Attorney Jerret Gran, acting spokesman for the office, similarly couldn't be reached before press time.
Moriarty is scheduled for another preliminary court hearing in SLO on Aug. 14.