San Luis Obispo County and the U.S. Army Corps of Engineers are accelerating long-simmering talks to transfer ownership of the Salinas Dam into local hands—but many questions remain.
The World War II-era dam that forms Santa Margarita Lake serves as a drinking water source for the city of SLO. But it only delivers at half capacity because the Corps never installed the originally planned spillway gates.
Now, the Corps is looking to discard the dam and reservoir—and the county is eyeing an opportunity to augment its water resources.
On Sept. 22, the SLO County Board of Supervisors authorized sending a letter to the U.S. Army Corps of Engineers expressing interest in the asset.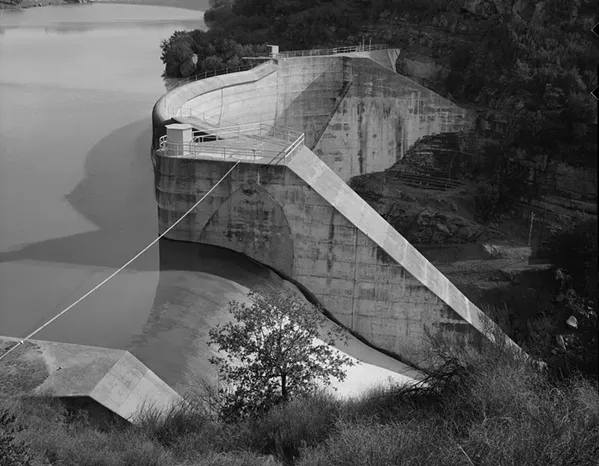 Photo Courtesy Of The Library Of Congress
MORE WATER? San Luis Obispo County has expressed interest in taking over ownership of the Salinas Dam (pictured) from the U.S. Army Corps of Engineers and expanding the reservoir's capacity.
"The Salinas Dam is surplus federal property and no longer necessary for federal purposes. However, the dam is an essential part of our local water supply and recreational waterway portfolio," reads the letter, signed by board Chair Lynn Compton. "There is broad interest locally in maintaining and enhancing the dam for the future."
A potential project to install spillway gates on the dam could theoretically expand the reservoir's capacity by 20,000 or so acre-feet. That extra water could be deployed to help other struggling water sources, like the Paso Robles Groundwater Basin.
But there are looming roadblocks and complications, officials said.
If the county assumed ownership of the dam, regulatory oversight would fall to the state Division of Safety of Dams. That agency has already told the county that if the swap were to happen, it'd require a seismic retrofit. According to a 2018 Corps study, the 79-year-old dam is "low risk," but has some safety deficiencies.
On top of the retrofit, any plans to expand the dam would also have to go through the state and its requirements and standards. The cumulative price tag, 2nd District Supervisor Bruce Gibson said at the Sept. 22 meeting, could render the entire exchange impractical. If a retrofit is "at a scale we're unable to fund," Gibson noted, the county could "politely decline that gift."
County officials said they'll continue discussions with the Army Corps of Engineers and work to understand the technical requirements of retrofitting and expanding the dam under state standards. They'll also open a dialogue with the city of SLO, which currently has the water rights.
While much about the project remains up in the air, 4th District Supervisor Compton said she's hopeful the dam can serve as an asset for expanding local water resources going forward.
"This is something the county has been working on for a long time," Compton said. "This makes me happy to see that we might be moving forward." Δ