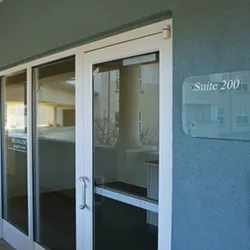 PHOTO BY STEVE E. MILLER
OUT WITH THE OLD: Visit San Luis Obispo County has left its former office in south San Luis Obispo.
The county's lead tourism agency has chosen Paso Robles for its new home, but don't read too much into the move.
At least that's what the agency's executive director, Stacie Jacob, told New Times. Jacob pointed out that the bulk of Visit San Luis Obispo County's work is marketing—which these days is highly virtual—and entails traveling the county, whereas the conventional, stationary tourism center has never really been their purview.
"As the tourism model has evolved, communities have really taken ownership of the tourism centers," Jacob said.
In fact, the organization founded in 1990 and formerly known as the San Luis Obispo County Visitors and Conference Bureau—a nonprofit that receives an annual grant from the county as well as funding from communities in the area—wasn't centrally located anyway. Before the move, headquarters were an office off of south Broad Street between Orcutt and Tank Farm roads. Now, Visit SLO County employees have gone from working in an industrial office park in San Luis Obispo to a downtown Paso Robles office above one of the city's newest restaurants: La Cosecha.
Employee satisfaction was actually a big reason for the move in the first place. Jacob said most of the organization's employees live in North County, so once the organization started looking for another office with more square footage, the decision to look north seemed logical.
"We were really just driving … to an office space," Jacob said of the long daily commute from north to south. "We weren't really part of a surrounding community."
Up in Paso Robles, Shonna Howenstine, tourism coordinator for the city, said it sounds like folks will be happy to have the group in town.
"I think the fact that they're right downtown, there's going to be another level of excitement. They're going to be in the thick of things," Howenstine said.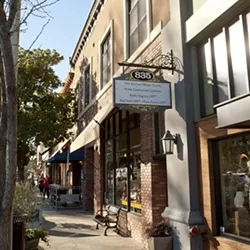 PHOTO BY STEVE E. MILLER
IN WITH THE NEW: Visit San Luis Obispo County's new, larger, second-floor office in downtown Paso Robles.
As for the underlying question of whether the move represents an emerging dominance of Paso Robles in the county tourism scene, the symbolism may not necessarily reflect reality. While Paso Robles tourism has grown significantly in the long term, with help from the booming wine and restaurant industries and the construction of hotels offering tourists a quick route west to Hearst Castle, other cities—such as Avila and Pismo Beach—saw a high percentage of growth in recent years, too, when tourism bounced back from the recession, with Paso Robles trailing behind a bit, according to Howenstine. But it's still undeniable that Paso Robles has undergone quite the transformation in the last decade or two.
"Tourism used to be the MidState Fair in Paso Robles," Jacob said.
Visit SLO County has three elements to its promotional core, which highlights the three pieces that attract tourists to the area: culinary, coastal, and cultural.
The culinary category includes wine tasting and restaurants; the coastal piece is notable for access to the many beaches and off-road recreation; and the heavy hitter for the cultural category is Hearst Castle in San Simeon, while the missions and other landmarks contribute. All three of these categories attract different sets of tourists: International travelers flock to Hearst Castle, the coast is especially popular for residents of the Central Valley, and the food and drink brings its own set of explorers. That's where some look toward Paso Robles and the surrounding wine county as an emerging attraction.
"In the past 10 to 15 years, all of a sudden there's been a shining light in that category," Jacob said.
But all three categories function as a dynamic mix, where travelers move around and engage in more than just one particular area. And the menu of activities within the culinary experience is vast. Just look at the list of restaurants participating in the annual Restaurant Month in January, a promotional drive put on by Visit SLO County. During the month, restaurants feature a set three-course meal menu, usually for a cost of $30, giving patrons a chance to taste the array of food available. As for the town with the most participants in the promotional drive? It's San Luis Obispo. And while Paso Robles holds the anchor of North County's wine country and was recently noted as the Wine Region of the Year by Wine Enthusiast, San Luis Obispo sits right beside Edna Valley, which gets plenty of notoriety as well. Visit SLO County's biggest event of the year, Savor the Central Coast, put on in partnership with Sunset Magazine, consists of events all over the county, and is headquartered in Santa Margarita, which is central to the county, though technically in North County.
With the dynamic interaction of the culinary, coastal, and cultural attractions, it's a sort of "rising tide lifts all boats" situation. Within that, San Luis Obispo still enjoys a leg up for its central location and variety of food and lodging options. San Luis Obispo Mayor Jan Marx told New Times that the city has found success in attracting people to stay there and encouraging them to take day trips elsewhere, leaving the bed tax behind. Marx noted that this mix has been beneficial for the county, pointing out that hotel occupancy is way up, even more than it was before the recession.
As for being bothered that Visit SLO decided to leave town and go up to Paso Robles, Marx doesn't seem to mind.
"I don't feel slighted in the least," Marx said. "Anybody driving to Paso from Southern California has got to go through San Luis Obispo anyway."
Staff writer Jono Kinkade can be reached at jkinkade@newtimesslo.com.
-- Melody DeMeritt - former city council member, Morro Bay