Numbskull and Good Medicine Presents may not be booking shows into the recently closed SLO Brew anymore, but that hasn't slowed them down one bit. As Good Medicine chief Todd Newman recently reminded me, "We're keeping local music alive by booking seven different venues—the Fremont Theater, the Grange Hall, the Graduate, Tooth & Nail, Tap It, Madonna Expo, and the Cayucos Vets Hall. We also have seven shows in 10 days at the Fremont, and we're supporting local music with the SLO Gathering series."
Yep, there's still a ton of music fun to be had, including the first SLO Gathering show this Friday, Jan. 15, at the Fremont with Moonshiner Collective, Ragged Jubilee, Próxima Parada, and Bear Market Riot (7 p.m.; all ages; $10 presale at ticketfly.com/event/1028169 or $12 at the door).
PHOTO COURTESY OF MOONSHINER COLLECTIVE
GATHER 'ROUND: Moonshiner Collective headlines a four-band show at the Fremont Theater on Jan. 15, the first of three SLO Gathering concerts highlighting local talent.
"SLO Gathering's focus is to support and promote local artists whose efforts create the abundance of culture available to the community at large. We feel very fortunate to have the opportunity to showcase local talent and thankful that the historic Fremont Theater's owners were willing to make it possible. The beat goes on, and SLO's live music culture is alive and well," Newman said.
This Friday's headliner is Moonshiner Collective fronted by Dan Curcio. He formed his first band, Longview, as a Cal Poly Student, and after a brief stint as The New Longview (since another band had the name Longview), they changed their name to Still Time, put out a couple of great records, and embarked on a couple of national tours. Curcio eventually decided to downsize a bit—marriage will do that to you—and has since been in a loose collective called Moonshiner.
"What started as a duo of myself and Ryan House (drummer) has turned into a four-piece band with the addition of brothers Daniel (violin/vocals) and Vince Cimo (bass/guitar/vocals)," Curcio explained. "We're singing three- and four-part harmonies, we each play a variety of different instruments throughout our live shows, and it's added an entirely different level of positive energy to our music. We've just finished recording a 10-song album called Consequential Campers that we'll be releasing for free on our site in early April. Vince and Daniel both write songs as well, so the album has a really diverse lineup of songs that with our vocal harmonies as a glue really unifies our varied styles together. This group just kind of came to be after a pretty random set of circumstances brought us together, and we work so well with each other musically and as friends—it definitely feels meant to be."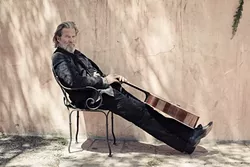 PHOTO BY DANNY CLINCH
THE RETURN OF BAD BLAKE: Academy Award winner Jeff Bridges & The Abiders play the Fremont Theater on Jan. 16 for an evening of Bridges' soulful country sounds.
The band's vibe is like a group of friends jamming around a campfire, trying to outdo one another.
"We're each kind of ramblers in our own ways, just trusting this life thing to guide us in the right direction if our intentions our good and true, so this album Consequential Campers has that theme of believing in and enjoying the journey in different ways throughout the songs. We're really excited about the opportunity to headline the Fremont Theater with some of our favorite local bands. I think it's so damn awesome that Todd and Korie [Newman] from Good Medicine and Eddy [Burgos] from Numbskull are highlighting the local music scene with these shows. They've always been family to me with Still Time and now Moonshiner Collective, and to continue doing shows with them beyond the SLO Brew years is a perfect fit for us. We've got former Still Time harmonica player T-Bone Steak escaping the blizzards of Durango, Colorado, to come jam with us for this one as well, and we haven't seen him around here for years, so it's gonna be a party and we can't wait."
The next SLO Gatherings happen on Thursday, Jan. 21, at the Fremont with Captain Nasty, Zongo All-Stars, Wordsauce, and Resination (7 p.m.; all ages; $10 presale at ticketfly.com/event/1045267 or $12 at the door); and Saturday, Jan. 23, with the Drive-In Romeos, Tipsy Gypsies, Inga Swearingen, and the Gypsy All-Stars (7 p.m.; all ages; $10 presale at ticketfly.com/ event/1041701 or $12 at the door). If you want to see all three SLO Gathering shows, you can buy a special trio pass for $20.
This week also marks the return of Bad Blake, otherwise known as Jeff Bridges & The Abiders, who return for another Numbskull and Good Medicine show this Saturday, Jan. 16, at the Fremont Theater (6:30 p.m.; all ages; $27.50 to $40 at ticketfly.com/event/1024967).
Bridges—best known as an actor in films such as The Last Picture Show, The Big Lebowski, Iron Man, and True Grit—has enjoyed a lifelong love of music, which came to light to filmgoers first in The Fabulous Bakers Boys and more recently in Crazy Heart, for which Bridges won a Best Actor Academy Award. The film also won a Best Original Song Oscar for "The Weary Kind" by Ryan Bingham and T Bone Burnett, and it helped launch Bridges' music career.
Bridges is just as warm and entertaining as you'd hope he'd be, and his backing band is first rate. This will be a great show.
PHOTO COURTESY OF STICK FIGURE
REGGAE NITE: Stick Figure headlines a three-band reggae show at the Fremont Theater on Jan. 17.
Also this week from Good Medicine is a Saturday, Jan. 16, Cory Morrow concert at Tooth & Nail Winery (7 p.m.; 21-and-older; $10 presale at ticketfly.com/event/1005217 or $12 at the door). The Houston singer-songwriter is inspired by Townes Van Zandt and Robert Earl Keen. Nataly Lola opens.
Then it's back to the Fremont for a big reggae show on Sunday, Jan. 17, with Stick Figure, Fortunate Youth, and Katastro (6p.m.; all ages; $19 presale at ticketfly.com/event/965237 or $22 at the door). Stick Figure is Scott Woodruff. A self-taught musician who started as a one-man-band, he found he needed live collaborators as his fame grew along with the demands for live performances. Fortunate Youth is an independent reggae band from LA that's "spreading the message of peace, love, and unity to all around." Embrace the love, people!
Visit goodmedicinepresents.com for tickets and more info about their other upcoming shows: Led Zepagain, High Voltage, and Makeover on Jan. 22 at the Fremont; Paul Thorn and Derek Senn on Jan. 24 at the Fremont; and the Devil Makes Three and Parker Milsap on Jan. 25 at the Madonna Expo Center. Tickets for all Good Medicine Presents shows are also available at Boo Boo Records.
Practical magic
PHOTO COURTESY OF KARLA MI LUGO
NEO VAUDEVILLE: Oakland-based performer Karla Mi Lugo sounds like Billie Holiday, whistles like a champ, and may draw your portrait on a balloon between her charming accordion-driven songs on Jan. 16 at Linnaea's Café.
Have you ever heard of Karla Mi Lugo? I hadn't, and then I looked her up on the interwebs and was blown away by the arty, eclectic, unique performer. Her voice sounds a lot like Billie Holiday, her vibrato whistling is a thing to behold, she plays accordion, her general vibe is that of a vaudeville performer, and her songs are perfectly flawed little gems I can't get enough of.
The Oakland-based performer plays Linnaea's Café this Saturday, Jan. 16, from 8 to 10 p.m.
"My specialties are creating ambiance and drawing people's portraits on balloons," her online bio proclaims. "I perform regularly on the streets, in theaters, at festivals, farmers markets, parties, and events for children and adults. I was highly creative as a child and never lost my sense of imagination. Most of my material has been born from street performing and traveling the world. I'm passionate about positive social change, using art as a catalyst."
I think this show is going to be really special!
The best of the best
PHOTO BY SIMONE CECCHETTI
MAGIC FINGERS: Amazing finger style guitarist Tommy Emmanuel returns to the PAC for an evening of acoustic magic on Jan. 21.
If you missed master guitarist Tommy Emmanuel the last time he played the Performing Arts Center, you're in luck because he returns next Thursday, Jan. 21 (7:30 p.m.; all ages; $24 to $45 at 756-4849 or order online at calpolyarts.org).
The two-time Grammy Award nominee has enjoyed a five-decade career and has a huge fan base, largely because there are few guitarists with the precision, technique, and soul of Emmanuel. He calls his solo acoustic performance the It's Never Too Late show after his new album by the same name, and in it, he'll move gracefully between folk, rock, jazz, country, and blues sounds, delivering finger-style playing of such speed and accuracy that you'll be blown away.
According to press materials, "One of Australia's most respected musicians, Emmanuel has been voted 'Favorite Acoustic Guitarist' in both Guitar Player Magazine and Acoustic Guitar Magazine's reader polls and is a YouTube sensation. His videos have more than 29 million views and have led to sold-out shows in new markets all over the U.S. Emmanuel has also been seen all over the United States in his Public Television pledge specials, Center Stage, and Tommy Emmanuel and Friends."
The Wisherkeepers will open his performance.
More music …
Música Del Río presents Freddy & Francine in Atascadero this Friday, Jan. 15, at an 8 p.m. house concert (reservations at 466-6941 or visit musicadelrio.org; $20). "The Americana-soul duo Freddy & Francine made us instant believers at the Folk Alliance International's FAR-West conference this past fall," said concert organizer Fred Munroe. "Freddy & Francine are actually singer-songwriters Lee Ferris and Bianca Caruso. How Lee and Bianca became Freddy & Francine is an engaging story unto itself and you will have to join us on Jan. 15 to hear more of this tale."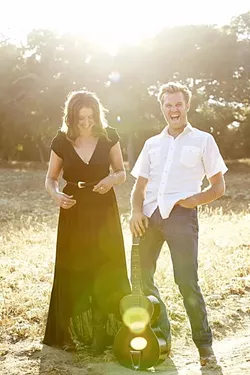 PHOTO COURTESY OF FREDDY & FRANCINE
F & F FOLK: Freddy & Francine, really singer-songwriters Lee Ferris and Bianca Caruso, play Jan. 15 at the next Música Del Río House Concert.
Indie-folk duo Whitherward returns to the area for a series of shows: Barrel House Brewing at 5:30 p.m. on Friday, Jan. 15, in Paso; Shell Café at 11 a.m. on Saturday, Jan. 16, in Pismo; Bang the Drum Brewing at 6 p.m. also on Saturday, Jan. 16, in SLO; Frog and Peach at 10 p.m. on Sunday, Jan. 17, in SLO; and Last Stage West at 6 p.m. on Tuesday, Jan. 19, on Hwy 41 between Morro Bay and Atascadero. These are two soulful voices!
On Monday, Jan. 18, ukulele master Paul Hemmings hosts a workshop suitable for all players followed by a concert with his trio at the SLO Museum of Art from 3:45 to 5:15 p.m. "Paul Hemmings has mastered the uncommon and highly compelling art of jazz ukulele," according to press materials. "On The Blues and the Abstract Uke (the title clearly a nod to the great Oliver Nelson), Hemmings reveals a richness of harmony, a bell-like tone, and a deep, unforced sense of swing that many will not expect from the small four-stringed instrument."
Hometown guitar hero the Travis Larson Band is coming in for a landing after a concert series called Shift Happens that took his band through Hayward, Concord, Sacramento, and Monterey. On Monday, Jan. 18, the prog-rock guitar shredder plays Paso's The Pour House at 7 p.m. and then SLO's Frog and Peach at 9 p.m. on Tuesday, Jan. 19. Both shows also feature Magic Elf and the Dave LaRue Band. That's going to be a whole lot of serious guitar ripping.
Cal Poly presents Bach Week at various locations on campus, in Mission San Luis Obispo de Tolosa, and in Santa Barbara, from Tuesday, Jan. 19, through Sunday, Jan. 24. The week-long event includes a recital by musicians of Mensa Sonora California, a guest artist lecture, and a guest artist master class. You can get the full rundown of events as well as ticket information at bachweek.calpoly.edu. Fun fact! J. S. Bach fathered 20 children! Sad fact: Only half of his children reached adulthood.
Keep up with Glen Starkey via twitter at twitter.com/glenstarkey, friend him at facebook.com/glenstarkey, or contact him at gstarkey@newtimesslo.com.