It's hard to imagine a time when the inexplicably popular-yet-lukewarm romances of Bella and Edward or Anastasia and Christian were not dominating the movie screens and the minds of people all across the country. But trust me, there was a time when romance in movies were actually relatable, and the actors actually had something called chemistry between them instead of just air. So, instead of jumping on the bandwagon and seeing the dull faux-BDSM flick, why not treat yourself to something that's more than halfway enjoyable?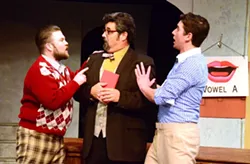 PHOTO COURTESY OF JAMIE FOSTER PHOTOGRAPHY
BUY A VOWEL: Cosmo Brown (Zach Johnson) and Don Lockwood (Jeff Salsbury) torture a pompous diction coach (John Mackey) with their vaudevillian antics.
That's right. Gird your loins, because the classic Hollywood musical Singin' in the Rain, which starred greats like Gene Kelly, Donald O'Connor, and Debbie Reynolds, can be seen at the SLO Little Theatre this month. Sure, we may be in the midst of a drought, but that doesn't mean we can't still pretend that rain is a real phenomenon that happens more than once a year. I mean, this is a play that has everything: singing, dancing, romance, and lots of screwball antics.
The play, directed by Kevin Harris, begins in Hollywood, California, in the year 1927, the tail end of the Silent Film era. Leading man—and heartbreaker—Don Lockwood is continually paired up with the vapid and shallow actress Lina Lamont for all their wildly successful movies. Unfortunately for Don, Lina has convinced herself that the tabloid stories of their fairy-tale romance are true and that she's Don's "fiancey." But on the day of premiere of their new film, The Royal Rascal, Don meets Kathy Selden, a chorus girl with dreams of being on Broadway.
Don immediately falls for the young ingénue, but the feeling is definitely not mutual. Amid the struggles of transitioning the movie studio from silent to talking pictures, and with the help of his energetic friend Cosmo Brown, Don tries his darndest to woo Kathy while staving off the clumsy advances of Lina.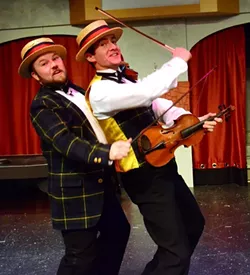 PHOTO COURTESY OF JAMIE FOSTER PHOTOGRAPHY
FIDDLERS ON THE STAGE: Dynamic duo Cosmo (Zach Johnson) and Don (Jeff Salsbury) reminisce about their less-than-humble beginnings in show business.
It can be a risky doing this kind of a play. Mostly because the movie is just so iconic, the actors so beloved, and man are there some truly spectacular dance sequences. That leaves room for mistakes and flat performances that can distract from the great songs and story. But that's not the case here. The cast was great, and for non-professional dancers, the dancing was very impressive. The set was fantastic, even featuring real rain for the titular song.
Jeff Salsbury, who plays heartthrob Don Lockwood, was consistently enjoyable on the stage. An excellent singer with great comedic timing, it was the scenes that showcased his dancing skills where he really shined. During the aforementioned titular song, he tap-danced his way around the stage, jumping in puddles and swinging his umbrella around, smiling the whole time. It wasn't just that he was an adept dancer; it was that he looked like he was actually having fun, rather than just going through the motions of a performance.
In addition, the scene where Don and Cosmo—the latter played by Zach Johnson, who also choreographed the show—mess with a pontifical diction coach was another highlight of the play. Salsbury and Johnson were riffing off of each other while they danced in unison, leaping and jumping over desks and on tables. It's one of many quintessential scenes from the movie, and the energy that the two performers brought, as well as the chemistry between them, made it great fun to watch.
Johnson's solo, "Make 'Em Laugh," was amazing to watch. While his voice was a little breathy through the song, it was easily forgiven and completely understandable, given that he was catapulting himself across the stage with all the tenacity of a stick of dynamite. He did cartwheels, he leapt onto desks, benches, over a piano, and even ran up a wall. It was incredibly impressive and just a little scary.

BROADWAY MELODY: 'Singin' in the Rain' runs at the SLO Little Theatre through March 15. For more information about show times and ticket prices, go to slolittletheatre.org or call 786-2440.
However it was Melanie Portney, who played the ditzy villainess Lina Lamont, who was the standout performance. Portney absolutely nailed the nasally New York accent that gives the character the all-important comedic effect. She practically stole every scene that she was in. The part where Don and Lina are filming a gushy, overly romantic scene for their upcoming silent film, The Dueling Cavaliers, in particular was enjoyable. Seconds before the camera rolls, Lina confesses to Don that she caused Kathy Selden—played by Kerry DiMaggio—to lose her job. So while pretending to be madly in love with the peroxide blonde, Don mutters insults at her, calling her a "rattlesnake," to which Lina gleefully counters back, smacking him with her lacy fan.
All in all, this was a very entertaining performance. And die-hard fans of the movie like me will not be disappointed in the least. Seriously, you'll be tap-dancing in your seat. 
So go share in that oh-so-glorious feeling with the rest of the SLO Little Theatre, ya big lummox.
Intern Adriana Catanzarite lives by one motto: Dignity, always dignity. Send her kudos via Arts Editor Jessica Peña at jpena@newtimesslo.com.