The holidays can be a sad and lonely time. It's cold, it's wet, and those damn Kay Jewelers commercials won't stop. "Every kiss begins with Kay." When will their cruel monopoly over romance end? When Judy Garland sings, "we'll have to muddle through somehow" in "Have Yourself a Merry Little Christmas," truer words have never been spoken. It's not until you see two mothers fighting each other in a Walmart McDonald's over a Teenie Beanie Baby that you know holidays bring the worst out in humanity. And nobody knows this better than David Sedaris, whose sardonic short story, The Santaland Diaries, can currently be seen on stage at the SLO Little Theatre.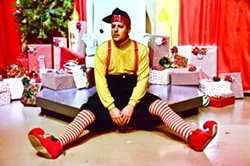 PHOTO COURTESY OF JAMIE FOSTER PHOTOGRAPHY
ELFIE PORTRAIT: The SLO Little Theatre's managing artistic director, Kevin Harris, stars as David Sedaris and his department store counterpart, Crumpet the elf, in an adaptation of one of Sedaris' most popular short stories.
It's a well-known story. In the early '90s, while struggling in New York and well into his 30s, Sedaris came across an unusual want ad. "Macy's Herald Square, the largest store in the world, has big opportunities for outgoing, fun-loving people of all shapes and sizes who want more than just a holiday job!" it announced. The job? An elf. For an entire holiday season, Sedaris donned a pair of "green velvet knickers" and endured the obnoxious parents, even-more-obnoxious children, and wearing the artificial cheer of Macy's Santaland. Ira Glass, producer of This American Life, had Sedaris read his account on the show. It's become a staple ever since.
It looks like the Little Theatre is hoping for the same kind of holiday standard. This is the second year they've staged Joe Mantello's theatrical adaptation, with the theater's managing artistic director, Kevin Harris, starring as Sedaris and his elf counterpart, Crumpet. Last year, New Times contributor Clementine Gray praised the one-man show and Harris' ability to convey the nuances of Sedaris' style—his wry cynicism, his playful deviance, his nasal and comforting voice. Much of the same can be said this time around.
The show opens on a dressed-down set. There's nothing on the stage save for a plush wingback chair and a heap of presents at its feet. This is ideal. This is a show about dialogue and about expression. You don't need to see the absurdity of Santaland's Magic Tree, a "tunnel designed to resemble a complex system of roots." You can hear it in Harris' adept inflections and see it in his mocking gestures. Santaland is hell, and hell can be hilarious.
That's a tricky tone to convey. A large part of Sedaris' charm derives from his ability to be equal parts sarcastic and sensitive. It would be easy to go full-tilt on the former, emphasizing the monologue's diatribes against pushy parents and over-eager elves. To his complete credit, Harris avoids this. He edges that emotional tightrope admirably, progressing, as Sedaris does in the story, from jaded to comical to introspective toward the end without missing a beat.
CARE FOR A CRUMPET?: 'The Santaland Diaries' plays at the SLO Little Theatre through Dec. 21. On Friday and Saturday, it plays right after the main stage show at 9:45 p.m. On Sundays, the show starts at 7p.m. Tickets are $20. For more information, visit slolittletheatre.org.
In one of the show's many highlights, Harris plops down into the chair. Crumpet's at the end of his tinsel-tied rope. One of the more method actor Santas, "Santa Santa," requests the elf to sing "Away in a Manger." "So I sang it the way Billie Holiday might have sang if she had ever put out a Christmas album," he snides. Harris then begins to belt out in glee. It's the perfect embodiment of what makes Sedaris' work so exceptional. He is surprising and subtle all in one, petite elf package.
I suppose that's what made some parts of The Santaland Diaries on stage a little strange. To perform anything, you have to heighten the expression. You have to ham it up a little. And that's not a criticism. Everybody loves a Christmas ham. But the tension between Sedaris' subtlety and Harris' exuberant performance could sometimes seem out of place. To note, that does not mean either was anything less than entertaining and astute.
Though, the truth is, you can't go wrong here. Harris enhances what is already a pretty perfect piece. Sedaris is an exemplary writer, and The Santaland Diaries is one of his finest pieces. In the midst of a cold and commercial Christmas, his dark humor is just the comfort we need to get through the holidays.
Jessica Peña's elf name would be Pringle, because the fun just don't stop. You can contact her at jpena@newtimesslo.com.